Home
/
Defence and security
/
New in the military
/
Recommended
Hrachya Arzumanyan "Edge Of Chaos. Complex thinking and network: a paradigm of nonlinearity and the security environment of the XXI century"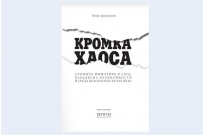 Recent decades in world history characterized by most researchers, state and public figures as the era of profound and rapid change.
It is possible to speak of a peculiarity of the emerging era, when the development of philosophical and conceptual foundations of the new world is paralleled by the changes. In these conditions the only reliable basis for understanding the new times becomes ascertaining the mobility of the theoretical pillars on which it is comprehended and constructed. This suggests the possibility and even the necessity of changes not only in the "ornament", but also built the Foundation of the world, which turns out to be "catastrophically fragile and brittle and deformable or movable like lava"... In response to challenged the interest is obtained on the basis of the paradigm of nonlinear synthesis of complex thinking, system and Network. In particular, as part of the process of transformation of the military sphere in Western military thought has put forward the concept of Settentrionali, which was intensively developed, implemented and evolved over the past decades. The process of introducing the language of complexity and nonlinearity in military theory can be observed at all levels of war.
The electronic version of books in pdf format, is available here: http://www.iarex.ru/books/book89.pdf