Home
/
Defence and security
/
New in the military
/
Articles
Covert operations: the Americans are preparing for hybrid wars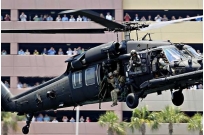 Military analysts the US is going to prepare the American army to unconventional methods of warfare. What specifically are going to prepare the States, and what we should expect from the Pentagon?
Special operations command the United States recommended that the U.S. military preparing for hybrid wars. Talking about the operations where the external forces can use the rebels against the governments. The report does not indicate which position you plan to take U.S. troops: the army is going to prevent such cases, or, conversely, to lead. Observers note that the report appeared before lawmakers finally approved the military budget. It should be added that in such operations for the U.S. is nothing new.
In the report, incidentally, States that the army need to be prepared to conduct several types of transactions, among which non-conventional fight, and the assistance to foreign States in homeland security. Provides and fighting with rebels. Highlights: all of this work can be carried out both in individual country and in many countries at the same time. Indicates that the scale and the specifics of operations are yet to be determined States and partner countries.
By the way, about secret American operations in the U.S. caught the crook. He worked as the Director of civil intelligence of the Navy, took the authorities six hundred thousand million on research, of which eight thousand were manufactured at a friend defective silencers for AK-47. He was going to sell at an exorbitant price to the Navy, the rest of the money Affairs is not clear where. As it turned out, when he was asked to show a license to manufacture silencers, he pleaded that it was a secret order for covert operations of special forces in an unnamed country. He immediately and unconditionally believed that makes you wonder how many more people here now, secretly, weapons and related devices made in the USA, and how many of these American commandos have conducted, if the work of his representatives was for the mechanics routine?
It should be noted that the riots in different locations — whether Cairo's Tahrir square, or the Maidan — were initiated with firing of unknown snipers.
---