Home
/
Defence and security
/
New in the military
/
Recommended
The Valetsky, O. V. "Methods of struggle against mines and IEDs"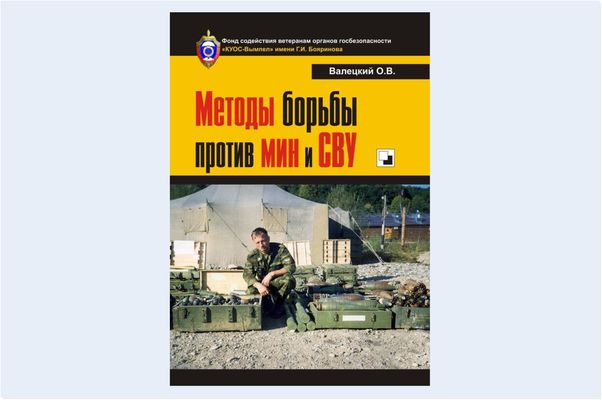 Mines continue to pose a serious threat as during the war and after its end. Easy to manufacture and cheap to produce, they allow the weaker opponent to cause damage to most modern armies in the world.
The practice of development and application of various terrorist organizations of improvised explosive devices is not much different from the practice of armies in the 1970-1980-ies, and, moreover, there has been a rapid progress in the development of new IEDs by terrorists.
It is impossible to counteract the threats of IEDs such, lacking knowledge about the historical development of the peaceful weapons, and its practical application and ways of struggle against it.
The Valetsky, O. V. Methods of struggle against mines and IEDs , ed. by O. Yu., Ponomarenko / Fund "kuos-Vympel", the Center for strategic market — M.: Publisher A.V. Vorobyov, 2018. — 304 p.
ISBN 978-5-93883-362-3

Review of the book by Valetsky O. In "Fight methods against mines and SVU"

The book "Fight Methods against Mines and SVU" is very useful and interesting both to the expert and the ordinary reader of t. to the set of comparisons is given in her, conclusions and useful material the author of the book publishes. He has very competently and in detail told in the edition about all working moments and problems which have personally been revealed by him during receiving fighting experience. The author has in full pointed to all available tears in questions of mine clearing both in combat conditions and at humanitarian mine clearing. The terrorist groups banned in Russia apply more sophisticated methods of fight against civilians and army divisions, and also pro-government forces, using chemical weapon (are made of components of chemicals) before production of self-made explosive devices which gather from make-shifts and materials (the gas and oxygen cylinders filled with the striking elements etc.). The present international situation has changed the approaches and methods of fight against the international terrorism radically. The author in the book clearly lets know as well as by what methods it is necessary to eradicate this phenomenon. It is possible to prove long and persistently what methods of fight against terrorism are more effective, but I consider the most important component in supports of terrorism it is finance, there will be no financing to the terrorist organizations because of the ocean and Europe, there will be no terrorism also. In the conclusion about this book, I can tell the following: The author of this edition has very rich fighting experience in hot spots and not only in Russia but also beyond her limits, than he also differs from some theorists, he has a mass of various, interesting and useful editions, magazines and books where he publishes various materials on this subject.

Director of LLC RAZUM DEMAYNING Matveev D.N.

---
Source: http://conjuncture.ru/book-valetskiy-methods-fighting-against-mines-2018/