Home
/
Defence and security
/
New in the military
/
Articles
Politely and quietly. The military aspect of the "Russian Spring" of 2014 in the Crimea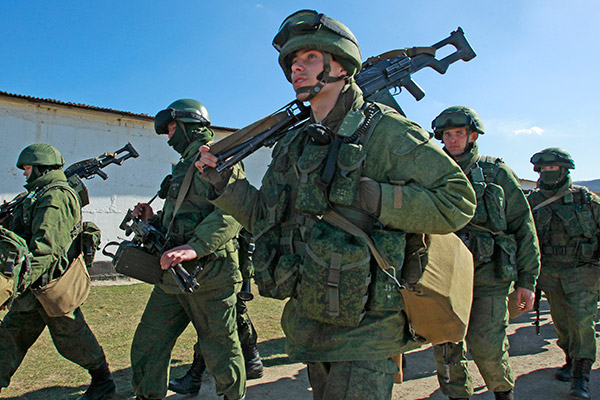 Crimean events a year ago, gave an interesting phenomenon of modern Russia
What did we see?
Occurred from the military point of view it is possible to divide into some aspects: actually actions on a capture under control of key objects of peninsula and-or to blocking of the Ukrainian military units, the subsequent deduction of a situation under control and PR-effect of events.
Sudden and fast occurrence of perfectly organised armed divisions has caused shock not only in domestic observers, but also at western, including those who on a post should trace similar movings.
«It was classical maskirovka», - so have characterised happened in the NATO. Russian word "masking" as a series of measures for concealment of own actions from the opponent until when reaction to them will not appear either inefficient, or simply overdue, is used for a long time in the western military texts without transfer, in a transliteration. Comparing the Crimean operation to the classical western experts repeatedly shown, it is possible to tell that the basic difference - in concealment of intentions to start actions. That the western countries are going to operate in Iraq (both times), in Yugoslavia, in Afghanistan, was clear one weeks, and even months prior to operation. The question was only in exact date, objects and the tactical organisation of blow, as made secret up to the first attack.
«Russian spring» can be counted from February, 23rd, 2014 when in reply to revolution in Kiev meeting in Sevastopol has proclaimed Alexey Chalogo's national mayor, and in a city and vicinities formation of groups of self-defence has begun. About any plans of Russia concerning Crimea speeches did not go to this moment. Though now, after the words of Vladimir Putin that the question on returning of Crimea has arisen in the night from 22 for February, 23rd, we understand, how events actually developed.
Outwardly, however, any changes it was not appreciable. The information vacuum remained up to the operation beginning. Nobody could tell with confidence when there were «polite people». Unequivocally to establish their accessory too it was not possible. Assorting a course of events in details, now it is possible to note the following:
- Visible the stranger the beginning of events in Crimea (capture by the unknown armed people of a building of the Supreme body of Crimea in the night from 26 for February, 27th, 2014) has coincided with scale doctrines of the Central and Western military districts that has been apprehended by a number of observers as a masking stage.
- The actual beginning of operation in the NATO has been fixed with delay at least for 4-5 days - including the Russian stage of expansion, and on 2-3 - including reserved expansion of new Russian forces in Crimea. As a result in Washington and Bruxelles have managed to realise an event, only having seen moving of tens helicopters and planes to air space of Crimea and a northeast part of Black sea on screens of a radar in the night from 27 for February, 28th.
- Actions of "polite people» have coincided on time with strengthening of the Russian military contingent in Crimea, spent within the limits of the established limits - to the resolved quota of 25 thousand persons (on the eve of events on peninsula was less than half of this number of armies, including nearby 2000 persons as a part of 810th brigade of marines). The arrived reinforcement was used for protection of the Russian military facilities - from beacons and ranges to sanatorium of the Navy of Russia in Yalta.
Since February, 28th and further in air space of Crimea fighting helicopters of the Russian manufacture, including modern Mi-8AmTsH, Mi-8MTV5, Mi-35 were repeatedly noticed. In the night from February, 28th for March, 1st the air space over Crimea has been closed till the evening on March, 1st. Under messages of some mass-media, at this time in peninsula airdromes, first of all on Guards, made landing planes Silt-76 unstated because of darkness of the state accessory, presumably - the Air Forces of the Russian Federation.
«Polite people», by this time already declared by "forces of self-defence» Crimea, operated rather operatively. By the morning on March, 1st in Crimea actually remains blocked by "polite forces» military units of the Ukrainian army, and blockade of airdromes and ports excluded their delivery from the outside. By estimations of the western analysts, operation has been spent much faster, than it is required for usual, even well prepared armed forces. On blocking of the basic military units and airdromes has left less than days. All objects were are taken under control without a use of weapons.
Victims was not (not including followed already after incident in Simferopol) though as a part of the Ukrainian armies in Crimea there was a certain share «мотивированного» a contingent from the Western and the Central Ukraine. It speaks about well executed preliminary phase of psychological processing and exclusive endurance of the armies involved in operation.
Actions in other regions have served its purpose also. In East Mediterranean the powerful Russian naval grouping, including an aircraft carrier «the Admiral of Smiths», a heavy nuclear rocket cruiser "Peter the Great", submarines and a number of other fighting and auxiliary units has been collected. This grouping in a combination to the shock parts of the Air Forces of the Western military district resulted in alertness and Distant aircraft "has counterbalanced" American авианосную a striking force led by an aircraft carrier "George Bush", developed in the same area. The Russian grouping has executed function classical Fleet in being - its presence held down opponents, forcing to consider possible response in case the USA would decide to give to Ukraine military support against «polite people».
Important role the fleet in to Crimea has played also: first, without having allowed the Navies of Ukraine to prevent somehow to developed events, secondly, without having allowed to leave ships UkrNavy the bases. The most known episode - flooding on an exit from lake Donuzlav of the written off big anti-submarine ship of the Black Sea fleet "Ochakov" on purpose to block the Ukrainian ships which were there and not to allow them to leave base, without using thus the weapon.
The considerable part of staff UkrNavy, including the new appointed commander-in-chief - rear admiral Denis Berezovsky, has come over to the side of the risen Crimea, and then and the Russian Federation. In many respects it spoke closer mutual relations between the seamen of both fleet dividing for two, as a matter of fact, the same historical Main base, than between military men of other combat arms, more remote from each other.
Game on contrast
The capture of key objects of peninsula under control was only the first step in population safety. This measure has given actually military effect, having guaranteed impossibility of "a reciprocal step» from parts ВС of Ukraine supervised by present authorities, however in the subsequent success a dominant role obvious and carefully underlined contrast between protecting Crimea «polite people» on the one hand and recent events on the Maidan - with another has played.
Aggressive attacks and threats, promises of "friendship trains» to Crimea and on the southeast the next day after power capture of the power in Kiev, epidemic of a pulling down of monuments - and not only to Lenin and other Soviet figures, but also, for example, Kutuzov - all it has made impression upon the peninsula population. To prepare for defence in Crimea as it is already told above, have begun still before the first «polite people» have appeared on roads at military units and airdromes, and their arrival in itself has been apprehended by local residents as protection against quite real threat.
Despite presence in Crimea in total more than 40 thousand military men with hundreds units of armour and other arms from both parties, all has passed marvellously without blood - ensign ВС of Ukraine killed by the unknown sniper on March, 18th, 2014 has appeared the unique victim. The greatest danger, according to the persons concerning events, during this period represented just the groups of insurgents which are not supervised by local commanders ВС of Ukraine, however this threat as a result it was possible to neutralise.
To whom to tell thanks?
The state accessory of "polite people» long time remained not confirmed - until then while use in Crimea of Armed forces of Russia did not recognise Vladimir Putin. Many observers contrast between obvious training and good equipment confused «polite people» and habitual representations about the Russian army. Actually in Crimea Russia and the whole world have seen for the first time the Armed forces of the Russian Federation updated by means of scale military reform in business.
First of all both Russia, and the world have seen боеготовые the armed forces capable by order of within two days to develop grouping by total number from above полутораста of thousand of persons c by corresponding arms and technics (with the account and those forces that were involved in demonstrative doctrines near to the Ukrainian border). It is necessary to tell About arms and the technician separately - such expansion demands presence in serviceability and readiness of many thousand units of armour (in maneuvers it has been involved more than 900 tanks and some thousand fighting vehicles of other classes), tens thousand cars and other means. About intensity of actions of aircraft it is direct in days of operation it is not informed, however, under the indirect data, it can be estimated an indicator over 1000 departures a day, including hundreds departures of military-transport planes of different types in days of operation and in parallel developed doctrines. The scale of these doctrines has allowed to hide true intentions and a direction of actions, having dissolved them in lump and to show readiness of armed forces for any possible succession of events.
To spring of 2014 Armed forces of Russia were in ready best condition, than for a moment «wars 888» when reforming, as a matter of fact, only began, and the more so than during both Chechen wars. The detailed analysis both Crimean events, and their communication with the reform of armed forces begun in 2008, still ahead, but the first result has appeared impressing.
Ilya Kramnik