Home
/
Defence and security
/
The Armed Forces of the Russian Federation: yesterday, today and tomorrow
/
Weekdays
Heroes of Novorossia: Igor Bezler, the commander of the militia Gorlovka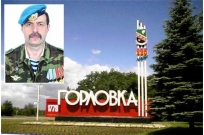 Kiev junta with desperate tenacity stamps on the resistance in the Southeast blatant lies and composes myths. One of the most famous myths is about the commander of the defense of the city Gorlovka (DPR) Igor Bezler.
From the first days of the confrontation in the Donbass, Ukrainian media say about him not only as about the current Colonel of the Main intelligence Directorate of the General staff of the Russian Federation with the Callsign "Demon". However, the facts speak about something else entirely.
According to the available fragmentary information, Igor Bezler served in Airborne troops of the Soviet army. Participated in the war in Afghanistan, is awarded the order the red Star. Several years ago he retired and settled in Gorlovka Donetsk region. There he went into business, quite far from their previous activity, namely the provision of funeral services. Parallel helped a former fellow of the "winged infantry", leading the local organization of veteran paratroopers.
The life of the retired Colonel changed the Nazi coup in Kiev. When after the establishment of the ultra-right Junta rushed to rehabilitate Nazism and to prohibit Russian language, Butler joined the protests in the South-East. And when at the suppression of rebellious region went "national guard", "Right sector" and bandits of the "Dnieper", "Donbassa"and "Azovo", a former military remembered the fact that I devoted most of my life. And headed Gorlovka self-defence.
The Ukrainian authorities were discouraged by how quickly lost Gorlovka, and to justify its unpopularity and incompetence — has created the myth of Superman, nicknamed "Demon" — Lieutenant Colonel of GRU overthrew the Ukrainian government. That did the usual retiree with the support of local civilians and defected to the side of the police — frankly it was embarrassing.
But most of all the Butler popularity increased after he managed to force the surrender of three officers of the elite special forces of Ukraine "alpha", abandoned in Gorlovka, to capture the leader of the defense and other local activists. These commandos, the leadership of Donetsk national Republic then traded kidnapped and tortured in Kiev "people's Governor" Donbass Paul Gubarev.
After the operation carried out by Bezler said the activist of the self-defense units of the DPR Evgeniy Gorbik:
"The special group SBU arrived to capture Bezler — man holding ATC gorlovki. Bezler himself seized those who hunt for him, and brought them here, and so shall it be with all."
Today in the Ukrainian press, referring to Western news sources spread information that this is Butler destroyed the Ukrainian checkpoint near Volnovakha motorized infantry. But the information looks at least doubtful, as its told journalists an unknown man in camouflage and mask-Balaclava, presented "the Devil."
Himself a man of legend Igor Bezler to popularity does not seek, interview to TV channels, blogs and does not lead to positions in government does not appoint himself.
It seems that what he really seeks is a peaceful and quiet life after fascism will leave the land of Novorossia.