Home
/
Defence and security
/
The Armed Forces of the Russian Federation: yesterday, today and tomorrow
/
Weekdays
Heroes of Russia: the sixth company of the 104th parachute regiment of the 76th (Pskov) airborne division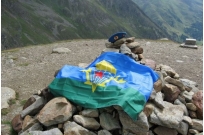 From February 29 till morning March 1, 2000, the fighters of the 6th company of the 104th parachute regiment of the 76th (Pskov) airborne division under the command of Lieutenant Colonel Mark Evtyugina engaged in battle with a major illegal armed formation under the Argun in Chechnya at the turn of Ulus-Kert—Selmentauzen, at the height of 776.
The fight lasted from one o'clock until five in the morning of the first of March. According to various sources, the number of fighters was estimated from 1.5 to 2.5 thousand.

In the battle killed 84 soldiers, including 13 officers. In only six survived men. Losses of fighters was estimated at between 370 to 700 people.

The presidential decree of 22 paratroopers were presented with the title Hero of Russia (21 — posthumously), 69 officers and soldiers of the 6th squadron was awarded the Order of Courage (63 of them — posthumously).

Death heroically took the fight on 6 th company Pskov paratroopers stirred the whole country, not leaving indifferent even far from the army and war people. Feat the airborne infantry became the symbol of valor and the new Russian army.
A list of the killed paratroopers of the 6th company
Source: http://6vdv.ru/