Home
/
Defence and security
/
The Armed Forces of the Russian Federation: yesterday, today and tomorrow
/
Recommended
Golovin NN 'Thoughts on the device of the future of the Russian armed forces'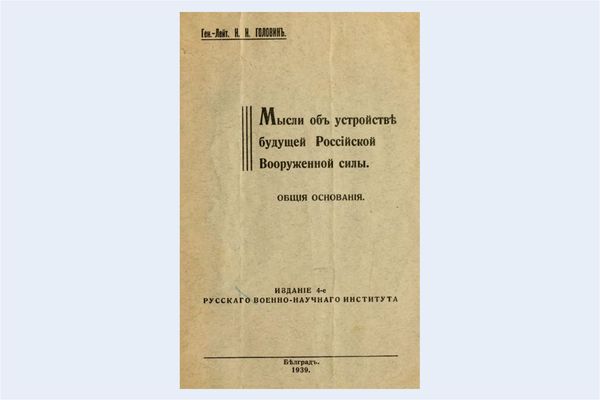 The aim of

work is

to outline

the ways in

which

to

be

a revival

of the Russian Armed

Forces

Reproduced in

the author's original

spelling edition in

1939 (

published by "

Belgrade: the publication of

Russian

military research

institute

").
About the author: Golovin Nikolay Nikolaevich (1875-1944), the lieutenant general of Russian army. Formation has received in the Pazhesky case (1894) and the Nikolaev academy of the Joint Staff (1900). Served in various, mainly Guards, staffs. With 10/17/1905 the senior aide-de-camp of a staff of armies of guards and Petersburg IN. 5.11.1905-22.6.1910 armies managing by movement on railway and to waterways of the Petersburg-Riga area. The military historian, in 1905-1907 secretary of the Society of adherents of military knowledge. Repeatedly komandirovyvalsja to France for studying of service of the Joint Staff, after returning conducted a course «Joint Staff Service» in military academy. With 2/6/1908 extraordinary, with 4/18/1909 the ordinary professor of the Nikolaev military academy. With 1/7/1914 the commander of 20th dragoon Finnish regiment. 7/25/1914 it is appointed by the commander of lejb-guards of the Grodno hussar regiment in which head has acted on front. With 11/3/1914 i.d. general квартирмейстера a staff of 9th army. 3/9/1915 it is awarded by the Georgievsky weapon. With 10/24/1915 i.d. The chief of a staff of 7th army. 12/9/1916 for scheduling of actions of army in May 1916 on Strype it is awarded the order St. George of 4th degree. After February revolution of 4/17/1917 G it is entrusted i.d. The chief of a staff of the assistant to the commander-in-chief armies of the Romanian front. 10/15/1917 it is translated in the order of the minister-chairman and Supreme commander in chief A.F.Kerensky. In Civil war has left on the South of Russia, and then to France. 8/26/1919 has arrived from France to army A.V. Kolchaka which has offered it a post of the chief of a staff and the Minister of War. Then - again in VSJUR. In November 1920 it was evacuated from Crimea in Gallipoli, then to France. 3/22/1927 has created and has headed the Higher military-scientific courses ROVS in Paris. During 2nd world war was the helper of the German military authorities, was engaged in sending of Russian emigrants for works to Germany. It is sentenced to death by the French communists, but has suddenly died a natural death.