Home
/
Defence and security
/
The Armed Forces of the Russian Federation: yesterday, today and tomorrow
/
Weekdays
The commander of the battalion "East": Kiev found that the region lost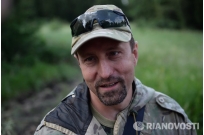 The head of the security Service DND Alexander Khodakovsky, former commander of the Donetsk detachment "alpha" of the SBU, today is the most senior security official, defected to the side of the Donetsk national Republic. In early may he began to form a battalion "East" — the official armed forces of the DNI, it is the most efficient division.
The battalion has participated in several serious engagements, as a good for DNR and no, in particular in the battle for the Donetsk airport. About the prospects of the DPR, about the everyday life of a battalion "the East", about the battle at the airport and their personal motives Khodakovsky said in an interview with RIA Novosti.

— Alexander, what's in the name of the battalion "East"? Once there is an Association with the Chechen battalion "East" that existed before 2008.
— Just decided to try to be original. We are still East of Ukraine. The number was originally the size of a battalion, so he determined battalion. Tolstoy was such a phrase. He said: "War is a strange thing. In war a battalion is sometimes stronger division and sometimes weaker than a company". Everything depends on morale, the readiness to sacrifice.
As for the Chechens, they were really there. Now they are not. It was about twenty something people, less than 30. Now no. We asked them to return to their historical homeland, in order not to confuse the local population.
— It is now more of a battalion?
— Much more. We are forming new battalions.
— Are not you afraid that this "Chechen" name scare Ukrainian population? It is convenient to use in propaganda. You so-called Chechen battalion.
— If to speak about people outside of the DNR — they do not scare. They are already intimidated by the Ukrainian media, which are absolutely true and biased. One invention is superimposed on another — it will not change anything.
And local understand what's going on here.
— Actually from Russia a lot of people?
A little, less than one percent. By the way, Russia does not welcome their participation. They broke through here with violation of the Russian border. No instructor or military personnel from Russia here.
— And from other regions of Ukraine?
— Kharkov, Odessa, Nikolaev, Kherson, Dnepropetrovsk, Zaporozhye. We have become the center of attraction. But 90 percent — from the Donbas.
— You have a serious weapons. Anti-aircraft guns, anti-tank "Bassoons", "Needle"... Where did you receive?
— Partly with military bases. We are not one the military took over the control. Thank you Ukrainian army supplies than can (laughs).
— You pay your people?
No, here people do not pay. Sometimes we get sponsorship and give it to people that help their families.
— From the new President of Ukraine Petro Poroshenko promised that "the operation will take not weeks, but hours." When can we expect the implementation of these promises?
— They policy. Easy to promise. But to implement them will be simple soldiers, which we will kill, and they will try to kill us. No we don't want that. Neither they. Therefore, the task Poroshenko will perform is not so easy. Ukraine put a lot of efforts, even to cope with Slovyansk — so far, the results do not see.
— You can predict the next actions of the Ukrainian army? What will they do?
— The options a bit. A total of three. First they did nothing, never will do. To support its position. Second option: take the troops. Either they go in a desperate futile attack. Will find money somewhere to refuel its military equipment that is with empty tanks. Maybe somewhere a couple of rations would get.
— Of the three options which is most likely?
— Rock, scissors, paper (laughs). Not able to say anything now.
— At the time, the leaders of military operations promised "surgical strikes that don't will suffer the civilians". How are they likely? Attack on the Luhansk regional state administration — this is their beginning?
— After the airport I wouldn't be surprised. I was convinced that the Ukrainian government will not agree to the use of aircraft in relation to the airport. It was expected the war of nerves. We wanted to get to the airport powerful group to dominate in this area, to control the runway. We are tired of that through this airport supplied weapons and manpower of our enemy. Naturally, we had to stop it.
We have a "Needle". But we haven't even taken them — did not anticipate that Ukraine will be wise enough to apply aircraft. Still, the airport is a multi-billion dollar project. His only "Euro-2012" did. To what degree of cynicism need to reach, to do such a thing?
But the Ukrainian government decided to go on principle. It was just a massacre of the innocents. Still aviabombardirovka dangerous.
Apparently, Kiev decided that for him this region is lost. Accordingly, why not protect him?
— Do you regret that you went there in the airport?
— Whose expression, Mark TWAIN? Better to regret what you did than about what did not. We were not going to kill anyone. We had an agreement with the military that guard the airport is Kirovograd brigade of the GRU. We put them on notice that we will be here, taking control of dominant height and not going to cause any harm. I told the commander of the Kirovograd part that we care about the lives of those military personnel that we face uncontrollably. We scored the machines do not. This is the usual normal people, we don't want them dead.
But all these agreements have been cancelled by one side, which was used on the aircraft.
Ultra-nationalists, mercenaries — they played the script Maidan when shot at one, and in the other direction. To stimulate aggression. In the end, Kirovograd part, knowing that for him shoot his own, has deployed anti-aircraft installation and shot the hell out of sniper position, which was in control Centre of flights.
— What kind of people you call nationalists and mercenaries?
— The fact that loyal to the Kiev forces are rather isolated. There is the army, which has its sense of honour and ethics, which are not trained to fight against their own people. And fight against us, they don't want.
And there are nationalists, of which form the battalions of the National guard. It's out of his inflated ideology of people from Maidan and Western Ukraine. Ideological comrades, which simply recorded in the National guard. Us ready to cut and kill. Battalions "Dnepr", "Azov", "Donbass" are guided by rules. They have an enemy and by all available means to fight this enemy. All under the knife.
For example, as it was in Mariupol (Khodakovsky is referring to the clashes in Mariupol on 9 may, which killed about ten people — approx. ed.). Was formed the gang of these ideological comrades, absolutely civil, which was only formally added to the national guard. Two days before the event, the number 7, the head of Eastern territorial command of internal troops of Mr. Swan gave them at the mercy of a part of internal troops in Mariupol. Those two days came, dressed in uniforms of the national guard, without any documents got all the weapons brought weapons to fight at some range. And 9 may have shown us what they can do. People shot anywhere and to anybody.
— Supporters of the DPR often talk about foreign mercenaries who allegedly are fighting against you. Who are these people, how many mercenaries do you have any evidence of their presence?
— How many of them, I hard to say, but we're on the air during the fight constantly hear foreign call signs, English language. They converse with one another, give orders.
This is primarily snipers. As well as the pilots, I think this is also a foreigners. It is difficult to assume that the Ukrainian pilots with their scanty bloom could do such high-level aerobatics.
Mercenaries are a special breed. No matter they are Americans or Russians. These are people who reject any moral standards.
For the money they are willing to kill anyone. They are not limited by any rules. There are also international conventions that imply the attitude to the wounded, for the dead. We to this day cannot pick up their dead from the airport. Imagine what's going on? Warm weather...
— How much a person lies?
I think no less than ten.
— Much your the lost battalion on 26 may, when there was a fight, and in the following days?
— 60 to 70 people. Inaccurate because we cannot determine the fate of those people whom we miss in our ranks.
— Don't you think the situation is a stalemate? Nor Kiev can not crush you or you can't run an army?
— The situation is really a stalemate. And this predetermines the possibility of a political solution to the conflict. If someone dominated, the dominant side inevitably there would be a desire to realize their potential. And so there is the opportunity to negotiate. Us from Kiev, many do not. Only that they left the boundaries of our region.
— Kiev to surrender? After all, there are sure that the Donbass region of Ukraine.
— He will be forced to go for it. Because we believe otherwise. You can safely, to disperse peacefully and remain friends. And it is possible to shed as much blood, which in all ages will not pay off.
— How do you see the future of Donbass? It's part of Ukraine, part of Russia an independent state?
— Covertly answer: the Donbass is not self-sufficient. He was very much integrated into the system of market relations of Ukraine with other countries, with Russia in particular. If we lived in subsistence agriculture, then it would be possible to speak about full autonomy...
Once spun off from one economy, it is necessary to prepodavatelya to another.
— There is a chance that DNR will remain part of the Ukraine as some autonomy?
— Let them decide policy. Because in the battalion apolitical people. They come with arms in his hands not for something and against something. Against the prospect that awaits us.
— What will happen to the Donbass, if he stays in Ukraine?
— The logic is simple. Forces, which declared about the democratic development of the country, very non-democratic way came to power. Whatever Yanukovych, he was the legitimate President. It is impossible to declare the same values, and behave quite differently and not to capatalise.
With the coming to power, they demonstrated how to act in the future — violating any laws, common decency, morals, ethics and everything else.
Plus they have demonstrated their predisposition to America. Enlisting the support of America, they determined the future course of development of the country and the political course of this country. The whole Southeast rose against the future.
To be with America means in the current environment, when there is a radical polarization in the world, to be against Russia. And as the South-East could be against Russia? We're just trying to prevent the prospect of becoming an enemy of Russia.
— Think, such a prospect is real?
— Of course. Ukraine — palasiatica country. We do not need to hold a referendum to join or not to join NATO. Enough to plant Pro-American President, to plant Pro-American military — and the whole country will be Pro-American.
We gladly will pump all sorts of means of struggle with a potential enemy (Russia — approx. ed.), we will become for Russia a serious threat. While the South-East part of the Russian world. The prospect of being against the Russian world us completely satisfied.
Russia needs to understand one simple fact. We here are not fighting for ourselves, we fight for Russia. By the way, is very well aware of the Ossetians and Chechens. Everyone thinks we are fighting for their selfish interests, but it is not.
We're just a small segment in all of this redistribution. Just maybe, that we ax around which porridge cooked.
— When have you decided to go over to the DNR?
— I am a participant in the events on the Maidan. Head of Donetsk (group "alpha" — approx. ed.). We were there for a long time — you know how long these events lasted. We missed all these events. And it's so vividly reflected on us...
We did not use weapons and were not going to apply. Because the dogma was there are our citizens. We throw in a bottle, but we don't shoot. Because from the point of view of jurisprudence it would be exceeding the limits of necessary defense.
Even when the plan was developed "Stripping" the House of trade unions (19 February — approx. ed.), we developed it into the detriment from the point of view of tactical bases, only to bring all the people who were there. So they escaped the threat of explosion or fire because there was a lot of combustible materials and explosives. And we did everything to ensure that people are not killed.
And when the power came illegally those people who are now themselves this power is called, we knew that now they will use us to solve their problems.
I don't even know what adjective to choose to describe this state. We humanely confronted them — can competently say that during the events in Kiev any military cartridge was expended. I as the unit commander had no idea how I would have executed the decrees of new leaders who we are slandered, trampled into the mud after those events. We got less than "the Eagle", but still went. And the prospect that the authorities which came to power, would force us to struggle with protests that have forced us to reconsider its position in this power structure.
— When you are from the "alpha" quit?
— I was placed at the disposal (for the state — approx. ed.). Further my human fate in all these events is unknown to me.
Once here in March, the event started, we became participants of the public movement "Patriotic forces of Donbass".
Just when the trouble came, we have nothing left... If we were dealing with the state forces — army, police, security forces — the dialogue would be on another level. But, since it's on the other side, began to form "battalions of death".... We have the right and obligation to defend ourselves from these people. Us army cut not going. Go these — without a doubt.
The issue of DNR was not. For me DND is do not understand education, to be honest. The question was one directed edge. Came enemies — to defend their land. In the framework of the NPT or not in the framework — no difference.
— Your former command knows that you're here?
— Of course.
— Tried to contact you?
— What's the point? We stand on different sides of the barricades. They all understand, we all understand.
— Are not you afraid that your former colleagues at the "alpha" will throw against you?
— Can throw. But that's their decision to go to follow orders or not. In clashes with the militia they have joined is true, "alface" not from Donetsk, and other regions. And the battle was in Slavyansk. However, my good friends from Kiev and the Deputy head of a Department, Sasha, died. At the hands of militias. This is a war. Everyone makes his choice.
I warned them that there should not meddle. And not only warned — one of the leaders of the operation personally drove to Slavyansk, showed how much the city is well fortified, how well equipped are people who hold the defence of the city. So they concluded that they are not three or four criminals with guns will take, and what they have to do the job for which they are not ready.
— You get mad at the commander of the defense Slavyansk Igor strelkov, from the hands of his people killed your friends?
— We must understand that Strelkov is fighting the last ten years (he was a volunteer in Transnistria, Bosnia — approx. ed.). His attitude to such things, prosaic. Fighting means fighting. We treat the system of law and order. For us human life is valuable is much greater than for strelkov.
But I can't blame him. It is in the context of military action, and all enemies and opponents. Accordingly, he did what thought was right. Imagine the militia, on which a traveling column. Naturally, they react. In the end, death, injury. From alpha killed at least three people.