Home
/
Defence and security
/
The Armed Forces of the Russian Federation: yesterday, today and tomorrow
/
Recommended
Novospassky K. M. "Battle of Prokhorovka"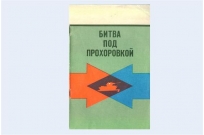 The book "Battle of Prokhorovka" talk about a Grand strategic operation, known in history as the battle of Kursk, which was crucial in keeping radical change in the course of the great Patriotic war.
Field, Russian field wide! On black soil, slightly sloping plains with deep ravines and hollows, bordered with forest green stripes, gold spill maturing loaves and structure of farm villages, branches of state farm "October"; in the clear blue sky.
The rivers Seversky Donets and Psla. Now it, in remembrance of the terrible and glorious events of July 1943, is referred to as Field tank battles. Sternly remind them, remaining forever in the hearts of the people, monuments, sculptures, obelisks on the mass graves with the names of heroic soldiers who died in Belgorod, fighting for their Homeland, for the Communist future. One of these monuments stands near a paved highway Yakovlevo — Prokhorovka. On a high pedestal tank T-34, No. 213. The inscription reads:
"Here, on this field, July 12, 1943 there was the greatest in the history of the great Patriotic war, tank battle, which has played an important role in the defeat of Nazi forces at the Kursk bulge".
Behind, like covering the map, two weapons fighter artillery, whose shells were turned into scrap armor of enemy vehicles, made of steel of the Ruhr. And next — a sign:
"The pilots of 162-th guards Vilenskogo orders of Suvorov, Bogdan Khmelnitskiy bomber aviation regiment of the 2nd air army, who died in the battles of Kursk and Prokhorovka over the field of battle, from soldiers who carried the victory flag to Berlin and Prague.
"Nobody is forgotten, nothing is forgotten!"