Home
/
Defence and security
/
The Armed Forces of the Russian Federation: yesterday, today and tomorrow
/
Articles
The defense Ministry was held honoring the winners of the prize named after A. E. Snesarev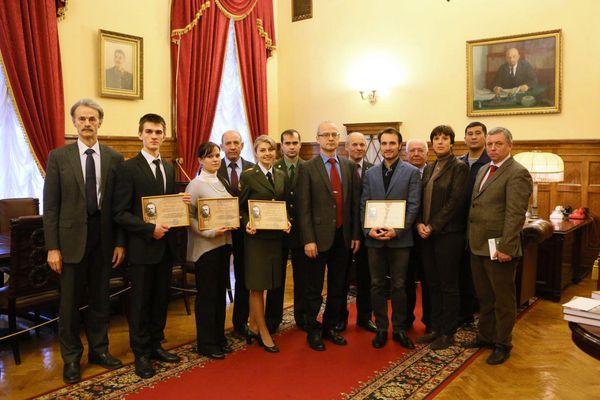 4 December the Ministry of defence of the Russian Federation held a celebration in honour of laureates of the prize named after Andrei Evgenievich Snesarev.
The competition presents research from Vladivostok, Chelyabinsk, Krasnodar, Tambov, Lipetsk, Voronezh, Yelets, Tomsk, Volgograd, Moscow, St. Petersburg, Ukraine, Greece, Armenia and Uzbekistan.
Prize awarded on the results of competitive selection of scientific works performed in the sphere of military-scientific research, international relations and geopolitics, the winners of which were young scientists — graduate students, cadets, students.
One of the best works received awards, and there were about 50, acknowledged the work of student 3-year student of the Military University Catherine Kolesovoy in geopolitics.
Also, according to the decision of the competition Commission, in 2014 the laureates were:
Ekaterina Krivelskaya, graduate student of Moscow state linguistic University for his work in the field of history;

Alexey Mironov, PhD student, Academy of national economy and state service under the President of the Russian Federation;

Alexei Teteruk, graduate student of the Moscow state Institute of international relations of MFA of Russia.
Reference:
The award is named after A. E. Snesarev established in honor of the Russian scientist, geopolitics, General staff officer – Andrew E. Snesarev (1965-1937).
The main purpose of the award is to promote among young scientists of the heritage of outstanding thinkers of the Russian state, political and military actors, aimed at strengthening of moral and Patriotic qualities of youth, development of its creative potential, commitment to research activities.
---
Source: http://function.mil.ru/news_page/country/more.htm?id=12003031@egNews