Home
/
Defence and security
/
/
Analytics
The foundations of economic security of the state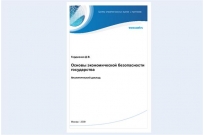 Material posted: -
Publication date: 21-12-2010
The changes in the international situation marked the beginning of new approaches in the sphere of political, economic and military relations of the countries of the world community. In these circumstances, national security is closely linked to economic issues. However, as the threat of war in the modern world is not finally removed, especially acute problem of providing economic security of the state and practical steps in this direction.
One of the main threats to national stability and security by international terrorism. International terrorism – an active destructive force, extensive use of financial and organizational support from the outside. His actions are coordinated. Combating international terrorism requires strengthening inter-state cooperation, development of military-political and military-economic integration.
The relevance of the problem is due to a number of circumstances, internal and external.
First, the complication of domestic economic and socio-political problems in some countries: deficits, unemployment, and rampant "shadow economy" and other negative effects of production decline, political instability and social unrest in the society. This results in the destruction of the economic foundations of national security.
Secondly, in terms of weakening some countries there is a growing desire of other powers to the military-technological superiority over them, use "economic leverage" pressure to achieve their political interests.
Third, vitally important are the issues of keeping a certain balance between the positive and negative impacts of external economic relations on the course and pace of socio-economic transformation, as well as ensuring the defense of the state.
Thus, one of the most important priorities of any state of the world at the present time is to achieve such a level of economic security that would ensure internal stability, active participation of the country in the international division of labor while guaranteeing its national security.