Home
/
Defence and security
/
/
Articles
A third of working Russians admit the loss of a job soon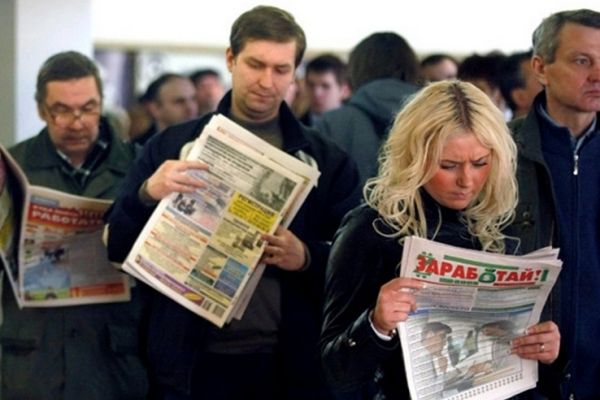 Shocking results of a sociological survey on issues of employment,unveiled the Fund "Public opinion".
Many Russians grimly assess the reality and people are pessimistic about even in the near future.
A record high mark is reached, according to the survey, in 2016 the number of dismissals on grounds of redundancy. If during 2008-2014 years with such cases in their enterprises faced only 10-11% of respondents as a whole, in 2016, is 18-19% (or one third of the respondents working citizens).
Increased significantly and the percentage of those who work for companies, sending people on forced unpaid leave (7% in 2014 to 12-13% in 2016).
16-17% of the respondents (almost 30% of workers) had experienced wage cuts during the last two-three months (compared to 9% in 2014).
18% of all respondents (about one-third of working respondents) stated that they have a risk in the next two to three months to be fired! Number fear of dismissal has increased by half even compared to 2013.
21% of respondents (about 40% of workers) stated that in the case of dismissal job with the same salary as today, they could be found... This figure is over three years also increased by half.
As the high estimated real unemployment rate in Russia 57% of respondents. As low - 10%. As the average is 22%.
53% of respondents said that the unemployment rate in Russia is growing. 24% - that remains the same. And only 6% - it goes down...
38% of respondents suggested that next year the unemployment rate will be higher than it is now. 26% think it will be the same as today. 11% think it will decrease.
So. Frankly speaking, it is not pleasing nor an evaluation of the existing situation, neither the expectations of the citizens. A third of workers pessimistic about their own prospects, more than half of the General population sad look on everything happening in the field of employment. And this is FOM so that it is difficult to reproach in a negative, prejudiced attitude to the authorities.
The crisis objectively exists. Most of the population sees him. And there's nowhere to go. And the crisis is not due to global events...
Refusing to realize the reality I ask not to poke me with links to "high" level of unemployment in the West. Yes, of course, the unemployment rate is higher at times. But at times there are higher and wages. As well as social benefits that allow you to live a normal life even unemployed. In Russia, however, that the existing 4 thousand benefits that the planned 8 - really do not give adult even to survive. Therefore, the work in Russia is, forgive for pathos, the key to life. And, if unemployment in Russia will grow, the consequences will be very sad.
---
Source: http://politrussia.com/ekonomika/dozhili-30-rabotayushchikh-298/