Home
/
Defence and security
/
The tragedy of Yugoslavia: Lessons and Conclusions
/
Other
Bolton M., Griffiths H. "Bosnian political landmines."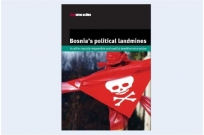 In 2006 in the UK edition of the "Landmine Action UK published the book "Bosnian political landmines-a Call for social responsibility and politkorektnosti in mine action("Bosnia"s political landmines-A call for socially responsible and conflict-sensitive mine action")"
Its authors, Matthew Bolton(Matthew Bolton and Hugh Griffiths(Hugh Griffiths) described the cases of corruption and nepotism in the field of mine action,citing specific names and names of organizations.
All this was the subject of several investigative cases in Bosnia and Herzegovina, as the change of the former head of the OHR(the international office for the supervision of the position of DL in Bosnia and Herzegovina paddy Ashdown, all members of the state Commission of demining, however, in the end things went under the carpet.
The reason is quite simple, as the ultimate mine-clearance operations led the international funds under the control of the UN and the World Bank, in which positions of influence has received certain group of "international community", which had several other goals, rather than proclaimed by the UN.