Home
/
Defence and security
/
The tragedy of Yugoslavia: Lessons and Conclusions
/
Recommended
Manachinsky A. J. `Yugoslavia: the Verdict`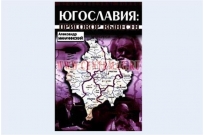 The author refers to the tragic fate of Yugoslavia, recent developments which have dramatically changed
the appearance of such a complex region like the Balkans.
The book reflects also the history and formation of the state of the South Slavs.Special attention is paid to the causes of the Balkan conflicts and the role of third countries in their promotion and settlement. Shows the escalation of tensions in early 1998, which led in March 1999, the NATO aggression against the Socialist Federative Republic of Yugoslavia. It is devoted to the dramatic events associated with the negotiation process in Rambouillet and Paris, which ended without results and demonstrated the superiority of military force, thus solving the fate of the Yugoslav province of Kosovo and Yugoslavia in General. The book is intended for a broad readership.
Publisher: RUMB
ISBN: 966-96521-0-3
Year: 2005