Home
/
Defence and security
/
The tragedy of Yugoslavia: Lessons and Conclusions
/
Other
`Liberation force. A study on the effectiveness of the airlines`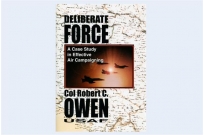 In the book "Liberation force Study on the effectiveness of airline" Robert Aries("Deliberate Force-A Case Study in Effective Air Campaigning". Col Robert C. Owen.Air University Press. Maxwell Air Force Base, Alabama.January 2000) describes the operation to strikes on the Bosnian Serbs in August-September 1995.
This operation was commanded by an American Admiral Leighton Smith( Leighton W. Smith) commander of the "Southern command" of NATO - Allied Forces Southern Europe (AFSOUTH), with the headquarters(CINCSOUTH) in Naples,while the direct command of the airline was in the hands of an American Lieutenant General Michael Ryan(Mike Ryan Lt Gen) PhD, commander of NATO air forces in southern Europe Allied Air Forces Southern Europe (AIRSOUTH) and at the same time the commander of the U.S. air force(USAF), also with headquarters(COMAIRSOUTH) in Naples, operational management was carried out by Italian Lieutenant General Andrea Fornasiero(Lt Gen'an drea Fornasiero) commander of the 5th Tactical group(5 ATAF), with headquarters in air base Del Molin(Dal Molin) under the Vincenza in Italy.
By order of the U.S. air force(USAFE Special Order GD-19) from 30th June to 31st base wing was established the headquarters 7490 Wing at Aviano air base in which there were officers of the U.S. air force,air force US naval aviation Corps, U.S. marine corps,the U.S. air force Reserve,the Royal air force and the air force of Spain.