Home
/
Defence and security
/
The tragedy of Yugoslavia: Lessons and Conclusions
/
Recommended
The Sekulic M. "Knin fell in Belgrade"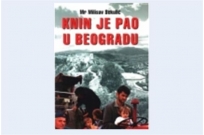 Milisav sekulič born 11 November 1935, in the village of Trbusnica under Loznitsa. After graduating from high school in 1954 he entered the Military Academy of the JNA from which he graduated in early October 1957.
As an officer of the JNA served until 1991 in the territories of Croatia and Serbia. In the guard units have served ten years and was commander of the guards regiment. He graduated from the Higher Military Academy, the Political school of the JNA, the School of "national defense" and the Studio of military art. Graduated at the faculty of Philosophy at the Belrad group(Philosophy). The party war as part of the JNA until July 1, 1992 the army of Republika Srpska Krajina in 1994 and 1995 (until September). Produced more than 250 publications,including ten books, including "Yugoslavia no one protected, and the Supreme command betrayed her", "Knin fell in Belgrade", "Volunteers - the untold truth", "the Tragedy that we had to forget", "Veterans of Rakovica in the wars 1990-1999". "The battle of the CERA - a gem of the art of war", "the Tenth edition of the Military Academy of JNA - fifty years after", "In Belgrade do not consider the lost" "General Danone Moritz - Misha, a slave's honor," "the Strategy of the Croatian war against the Serbs in the XX century", "kovačević] - hero five States". To the rank of General of the army of Republika Srpska Krajina being made for the posts of head of the Operational Department of the "Main" headquarters of the army of Republika Srpska Krajina.