Home
/
Defence and security
/
The tragedy of Yugoslavia: Lessons and Conclusions
/
Articles
Senator Murphy: the Ukrainian scenario in Serbia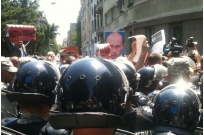 The U.S. role in the Western Balkans. Statement of Senator Christopher Murphy, head of the Subcommittee on Europe of the Senate Committee on foreign policy at the German Marshall Fund of the results of his trips through the Balkans on January 26, 2015
Senator Christopher Murphy is a rising star in American politics, in his work he focuses on the U.S. return to the Balkans, who lost to America after 2001, a red thread runs speech the idea that US interest in the region and its countries due to the confrontation with Russia, a desire to limit its presence and to squeeze Moscow out of this part of Europe. This applies equally to the political sphere, military cooperation, Economics, and information policy.
It is also clear that currently the U.S. is not prepared to offer the countries of the region, primarily Serbia, no real economic bonuses for loyalty to Euro-Atlanticism.
Describes his visit to Belgrade.
Was in a football match (Serbia-Albania), where there was a scandal with the drone, highlighted a meeting with an angry Vucic. Left Belgrade on the day of Putin's arrival, to meet the Russians were flying the MiGs. MiGs — disturbing symptom, but it's very important that violence after a football match it was a small, little incident. People reacted calmly to the incident, which would be explosive 10-15 years ago.
Although the visit of EDI Rama to Vucic was postponed, it was finally implemented. Putin has gained by his visit, but hoped for more.
Putin thought to get more in Serbia in the field of military cooperation, counting on South stream, but due to the fact that Serbia and other countries in the region decided to stay in the Euro-Atlantic path, and they reaffirmed that commitment.... /expansion of cooperation with Russia failed to prevent/
You can talk about many things today that the United States should play a Central role in the region, everywhere people talk about corruption, the rule of law. Everywhere where I was, American companies want to be in the Balkans, they want to invest, but they want their funds were safe. All this is true, but it is very different from 15 years ago, when people thought about the safety of their peoples. Now we are talking about the security of their money, on the security of investments.
I reaffirm my commitment to address the region while I remain in Congress. Now I'm the expert on the Balkans at the Congress, /as now very few who do it/ interested not disappeared, but moved to Afghanistan, Iraq, China, so I look forward to doing it again soon to return to the region.
Kosovo
Need to bring back to life the dialog between Kosovo and Serbia. The very fact that there is a temporary agreement under which the Serbian government has not officially recognized Kosovo, but is ready to work with him as with an equal partner — amazing! We could never think it would happen so fast! Even five years ago ! At least my personal impression that the current government of Serbia is absolutely committed to the normalization of relations with Kosovo. I advised Vucic, Dacic and others, with whom I met that they will be easier to recognize Kosovo but no one from politicians on both sides/ does not think that dialogue will not prodoljaetsya.
I was there at the time of formation of the government in Pristina, which gave a pretext to break the dialogue. Now we have a government in Kosovo and I hope that we will continue this movement.
I was particularly struck by in Belgrade, the degree to which local political elite agrees on how important for them to stay on the path of European integration, than a comb old grudges. Of course the last steps are the hardest but I remain optimistic, it is /recognition/ ostavatsa possible.
The attitude of Croatia and Serbia
The pace of European integration of Serbia depends on Serbia. I hope that Croatia, has successfully passed this way and abemama in time become an example for the region, will remain faithful and will not interfere with Serbia. But Serbia itself has to make a number of hard steps.
The EU expressed reluctance to immediately expand so that Serbia has a time. Croatia is in a different position, her new power — after all, Croatia has not yet received the economic fruits of European integration, in what she hoped.
So if the United States will provide Croatia, its economy additional support, we hope that it will show more goodwill toward their neighbors.
Investment USA
The U.S. is ready to invest in different industries once you see noticeable progress in the area of rule of law. Once will be done to remove the legacy of corruption from the process. I wouldn't want to single out any sector of the economy, the most important thing that the countries in the region have focused on the establishment of an independent justice. Then many us companies will go there. But still remain serious problems.
Attacks on journalists in Montenegro has to stop. American companies find it difficult to work in a country where journalists are persecuted, although to the country, the interest they have.
Energy possible priority, but this is not true — if the countries ensure the get American business, there will come many branches.
Of course, in the region for American firms, but they are worried about their money, that they are not stolen
South stream/Slate
I was involved /in a struggle/ I was in Bulgaria with Senator John McCain on the day of freezing of the project, I also sought to provide the government With Herbie that I am glad that this project is not being developed. But not only must oppose South stream, but also to offer an alternative, it is natural. For the U.S., the alternative to LNG is the potential exports from the US, so we need infrastructure for its delivery in the region, the new terminal that is being discussed in Croatia. We must change our laws to allow direct export of LNG and oil in countries such as the Balkans.
/Yes, Russian gas is cheaper and better than LNG, so you need the stimulation of LNG across the Atlantic/ the Region must not rely on subsidies from the United States But also there are other sources, absolutely local sources of energy with which we can help.

We are talking about renewable, geothermal energy, developing their own shale deposits. Yes, there are different concerns, but the U.S. proved that if it is reasonable to develop shale gas and oil, you can get more profit.
The US has the technology to help the countries of the Balkans in this field
NPP in Bulgaria
Yes the NPP has a future in Europe and in the region. I am concerned that such a leading economy like Germany away from nuclear power plants, which increases their dependence on Russian gas and away from dirtier fossil fuels /coal, oil/. I hope that the US and company like Westinghouse will continue to partner with countries like Bulgaria, because there is no reason to abandon nuclear energy.
Turkey and Russia in the region
This is a very important question. Part of the debate about gas exports to the United States boil down to the fact that we should not use it on the Russian model. We don't want to use it as a political tool.
This does not mean that we do not need in the first place to send it to the countries that most need it, not so. However, we do not need to micromanage the distribution of gas and oil as do the Russians.
And here we warn Turkey that if she's sure she wants to join the EU, it will not be able to use their transit position in the energy sector as Russia is doing.
Terrorism
The US has great achievements in wrestling. For example, our partnership with the government of Kosovo in the legal field plays an important role in the fight against terrorism. I deeply know this area. President Jahjaga really committed to the fight against foreign fighters /ISIS/.
The police do not give the full effect, they may be less than half the solution. In Kosovo, more than half of young men are unemployed. If you do not do the deep roots of extremism, not to fight with radical imams, no the police will not be able to eliminate the departure of the Jihad.
If the United States will be able to invest more in the region and improve the economy and quality of life of people, the potential for recruitment significantly reduced. So the US must strengthen its partnership with the region, particularly Kosovo and Macedonia, where these problems are most pronounced, to resolve deep roots.
New Congress and foreign policy
The foreign policy Committee in the past the Senate was one of the few really working committees. We worked in the format duparinova cooperation, have supported legislation in support of Ukraine, held a permit to use the army against ISIL. I hope it will continue. Two top priorities, vliyanie Congress on the negotiations on the Iranian nuclear program (I think we should allow the administration to negotiate freely), and further permit the use of armed forces against ISIL.
I think that Congress must consent to this new war. This is a war, and we've approved it would be a violation of the Constitution.
Yes, now we see the outbreak in the East of Ukraine, not even for a flash, hundreds of victims since mid-January and I think we should go back to the analysis of U.S. policy in the conflict in Eastern Ukraine. I gradually came to the conclusion that it was not my primary position is that we should provide greater support for defensive weapons for the Ukrainian army. I think there are opportunities to help them effectively use this support and we should discuss in the weeks and months to come.
Will Congress and the Administration time for the Balkans in the context of Iran, ISIS, Ukraine?
We didn't really manage preventive foreign policy, but I say with all authority, to whom can you reach about what is happening in Serbia and in Montenegro, for plans of Russia and the growing influence there. Many scolded me for such a comparison, but what is happening now in Belgrade and what was happening in Kiev.
I'm not comparing in any way Vucic with Yanukovych, but these situations are in fact similar. If we do not address the situation and not come to the countries like Serbia in a new way, if we will not give strong signals on issues like South stream, in the end, the Serbian government will put before a choice — Russia, you are our allies or them? When Yanukovych put before such a choice, he chose the Alliance with Russia.
The events that followed led us to where we are now — the bloody conflict in Eastern Ukraine. I say it will happen in Serbia or Montenegro, but if we fail to pay attention to this region, if we fail to do simple things — such as the increase of exchange programs, military cooperation, do not offer NATO membership to countries such as Montenegro, which is ready — it gives Putin the opportunity to run his hands up in the region, where governments seek outside assistance. If they do not receive assistance from its allies in Europe and the USA.
Bosnia Anglo-German project wants to overtake the U.S. in the reform of the Constitution and Macedonia?
And here I am in these two countries never reached. We should not lower their expectations in Bosnia. The US needs to return to the table of the reform process. In the region all welcome the EU and its new organ on foreign policy, but they want the USA to come back, continue American leadership. They are concerned about the hodgepodge of signals received from Europe. All of them want different things /there is no single policy/. The USA also have this problem, but all of our signals are much more homogeneous and clear. I think the U.S. should be more involved in Bosnia than it is now.
Yes, Macedonia is ready for NATO membership, maybe even more than Montenegro.
Yes it's small countries, which give some increment to the potential of NATO, but I think no one will argue that until the dispute be resolved by name /she will not take/. Bad of course, that these disputes are drawn. Earlier Macedonia was a model of success for the region, showing a very rapid progress in the field of rule of law, protecting freedom of the press, and in recent years they have deteriorated markedly in these areas. That's no excuse for such regression, but having done all that was demanded from them, they feel that the US has abandoned them. We can put pressure on Macedonia, to return to the correct path, but we must do more to use U.S. leadership in resolving their dispute with Greece.
Regional political climate
Need a sober approach to young democracies. And we were not the most effective democracy in the first years. We must praise the region for its progress and help them move towards a more Mature democratic institutions. In Albania I said to the opposition, that we are such serious disagreement with our government as you do, but we never think of just to get out of the Parliament. We stay in the Senate and struggle within him. Nothing could be done by a simple exit from institutions. But of course you need time to understand the right way to interact with the government. In different countries of the region have different understandings of the responsibility that brings power. But I think that General trend, with some exceptions, is moving in the right direction. I repeat — if the US leaves the region, and on some issues happens, you need to recognize.
For example, our presence in Belgrade today is fundamentally different from the situation 5-6 years ago. If the U.S. decides to terminate the USAID, to roll other partnership programmes, we will reduce the pressure on the government and the opposition for the purpose of advancing.
From USA not require any revolutionary changes in the work — you just need to preserve these investments. Actually it's a measly penny. To save the exchange program you need much less money than we spend in other regions.
Greece
Yes the situation there is changing and can affect all of southern Europe, so it DISI a new reason for the US leadership of the EU and NATO must also be more active in addressing these issues. NATO should be open to new members and make the way easier, not create problems.
Bulgaria
We have a sense of oblivion by Obama in 2008-2012 and what are you going to do with public diplomacy — the Art of the United States seriously lose in the region in the hybrid war /police Bulgaria/
In 2007-08 we were occupied in Iraq and Afghanistan and not put a lot zanyats drugimi regions...a year and a Half ago, when Russia invaded Crimea and Ukraine, and Snowden scandal, created in Europe, the Congress had to pay attention to the region, the administration had taken.
War propaganda and information is of extreme importance. Russia is a powerful paramilitary machine information.
They perceive propaganda and information as a military tool. Of course, it is a part of modern warfare. The U.S. and our allies are just trying to inform as required. If I need to post an article or video, I'm not lying as RT. USA now reduces Radio Free Europe, their funds are not comparable with RT, propaganda in countries such as Georgia, Moldova and the Balkans. I had an interesting conversation with Senator Johnson and Corker about possible departing bills on investing in an information campaign. All we need is to give true and accurate information, to correct the false propaganda machine of Russia. And that's it. That's enough. I think both parties can cooperate.
Compared Serbia with Ukraine?
I brought this comparison to reproach US, and I don't blame Serbia. To explain my country, why we need to work more actively in the region and especially in Serbia. Yes, prior to the entry of Serbia into the EU will be a long time and it must be used properly. We can no longer live in a world in which countries in a wide neighborhood of Russia must choose between political and economic cooperation with Russia or with the EU and the US. /said — Russia has no right to influence the policies and actions of their neighbors, we must do everything to deprive her of this possibility/. Now Putin does not allow to carry such a policy at the same time. We need to build such relations with Russia when countries like Serbia can keep a good relationship with her, to have her economic and political transactions and to simultaneously join the EU. It is clear that such an option was not available to Ukraine and still don't. We continue to work on it. You are right. It's not a fantastic comparison, but I want to understand — Russia is not going anywhere, she will continue to push and probe. In Montenegro they offered, it is public information, a lot of billion-dollar deal for a new naval base on the coast. For a country facing such economic difficulties, it is difficult to refuse such offer. But they refused, they said No. Consistently. Because they want to be part of NATO and the EU. But in the long run, it is impossible not to give the partner who refuses for you billion.
Djukanovic said to me, "the EU comes in and says you have to do one thing, the Germans arrive and require a different, French — third and so on. What am I supposed to do?". They need to decide who the main — or Steinmaur new Commissioner for external Affairs /Federica Mogherini/.
Macedonia-Greece
The state Department knows better what to do there.
I want to revive interest and the U.S. presence in the Balkans.
Source: http://ruskiekspres.rs/blog/2015/02/01/%D1%81%D0%B5%D0%BD%D0%B0%D1%82%D0%BE%D1%80-%D0%BC%D1%8D%D1%80%D1%84%D0%B8-%D1%83%D0%BA%D1%80%D0%B0%D0%B8%D0%BD%D1%81%D0%BA%D0%B8%D0%B9-%D1%81%D1%86%D0%B5%D0%BD%D0%B0%D1%80%D0%B8%D0%B9-%D0%B4%D0%BB/