Home
/
Defence and security
/
The tragedy of Yugoslavia: Lessons and Conclusions
/
Articles
Serbia warned Kosovo's readiness to defend its territory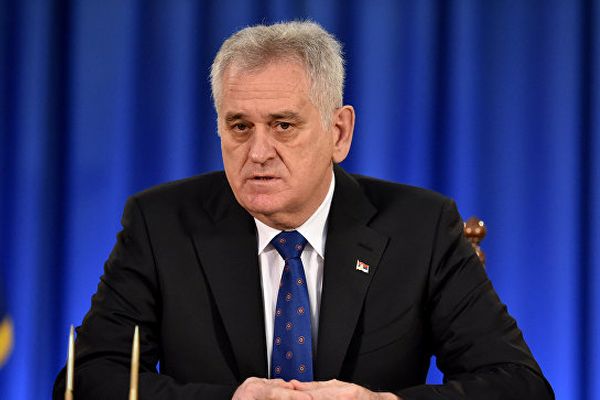 Serbia will send armed forces into Kosovo in the event of a threat to the Serbian population by Albanians, told reporters on Sunday the country's President Tomislav Nikolic.
Relations between Serbia and the self-proclaimed Albanian authorities of Kosovo escalated dramatically yesterday because Kosovar Albanians refused to pass EN route from Belgrade to the Serbian passenger train and is threatening to use its special forces.
"If they kill Serbs, Yes. And not only the army, we're all going. I'll go first, I'm no stranger," — said Nikolic after meeting of national security Council on the question of the willingness of Belgrade to send into Kosovo armed forces.
The President noted that Serbia has not committed to the conflict and does not want to attack anyone, but as a state under the Constitution is obliged to protect its citizens.
"As long as I am in this post, I will try with no one to fight, but if this cannot be avoided, I as the Supreme commander will assume responsibility for every decision," — said Nikolic.
The passenger train which caused controversy, went from Belgrade to Kosovska Mitrovica for the first time since 1999 and did not reach the destination due to security threats, by staying in the town of Raska in front of the administrative border between Central Serbia and Kosovo. After a few hours of waiting, he went back, back in Belgrade early on Sunday morning. Kosovo Albanians declared unilateral independence in 2008, saw the train as a threat to their "sovereignty" and threatening to stop him by force.
Serbia, in fact, lost control over Kosovo in 1999, has no right to its own army in Kosovo, as recorded in Kumanovska agreement. This military-technical agreement was signed by Belgrade and NATO on 9 June 1999, in the Macedonian town of Kumanovo after a long bombing by NATO forces of Serbian territory. Since Serbian troops have no right to come closer than five kilometers to the administrative border with Kosovo (for aircraft this area is 25 kilometers). In the case that Serbs need to do this, Belgrade must request permission from the head of the military mission under NATO command in Kosovo (KFOR).
---