Home
/
Defence and security
/
The tragedy of Yugoslavia: Lessons and Conclusions
/
Recommended
Walecki O. V. 'White wolves'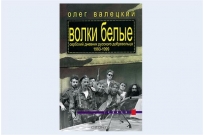 Unique diary entries of Oleg Beleckogo, the front scout-volunteer at Serbian war 1993-1999, can cause deep feelings at all.
It's kind of the tragedy of "Guernica", but set out in the Russian literary language and the Serbian-Bosnian "material", with the exact signs of place of action and ways of doing aimed fire from grenade launchers...
In addition, the author often gives short, reasonable from a technological point of view and somewhat cynical description of his understanding of the causes and mechanisms of this terrible war in Yugoslavia. Great simplicity and rigidity of the book make it an invaluable boon for the Russian reader, seriously interested in the modern history of wars in the countries of the "soft underbelly" of Russia.
Publisher: Gryphon M
ISBN 5-98862-023-X; 2006
To order in the "Ozone":