Home
/
Defence and security
/
Special Operations: Theory and capabilities
/
Articles
The big day of the Armenian special forces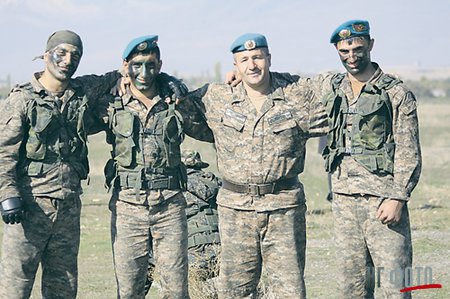 Last week, in addition to all the historical and revolutionary festivals, in the CIS countries celebrated the Day of the scout, who, as you know, is on the 5th of November. Especially clearly occurred in Armenia. Maybe because the representative of the "HBO" had the opportunity to observe this without exaggeration folk festival.
He passed near, in thirty kilometers from Yerevan, at a military airfield Arzni, which also serves as something of a proving ground for local commandos. On him, as expected, has arrived all management of the Ministry of defense headed by the head of the military Department Seyran Ohanyan, first Deputy Minister Davit Tonoyan, chief of the General staff Colonel-General Yuri Khachaturov, other big and small chiefs and commanders. There have arrived representatives of military diplomatic corps accredited in the capital of Armenia. And of course, there were a lot of veterans, active military personnel with their wives and children, as well as pupils, who on this festival brought teachers of military Affairs. And the feast, of course, failed.
It had everything that usually takes place on a similar spetsnaz show. Show modern weapons of the special forces and their equipment, techniques, covert observation of the enemy, including the excavation of holes. Throwing knives and target shooting with a crossbow. The crackle of gunfire (of course, blanks) from ambushes. Demonstration of techniques Sambo, karate and JIU-jitsu along with other national techniques and martial arts, where not forgotten, and Wushu.
These techniques with great enthusiasm and well-honed combat skills showed not only the Armenian military units and similar units from Nagorno-Karabakh, but also pupils of children's and youth sports schools.
Of course, there were the skydiving, though not from aircraft, and from helicopters Mi-17, landing with the same "fans" along the rope. It was covered by his maneuvers in the sky shock Mi-24. Viewers saw grips and the release of armored personnel carriers, transport vehicles and even sport aircraft, smashing fists and elbows no, not bricks, concrete blocks and burning, including bookcases from such concrete plates (where such a show without such effects?!). And jumping to a height of the second floor on the backs of comrades with a broken slate boards and much more, without which it can not do any holiday of paratroopers, spies and commandos. And then there were the awarding of the best of the best and a solemn March participants of the show before the leadership of the armed forces.
I must admit, these holidays a little brighter or a little more modest, the author of these lines, like many, not one year served or serves in the army and Navy, seen not once, not twice. They are not very much different from each other. But here's the interesting part. I asked the organizers of the show to introduce me to some of its members, wanted to talk to them, find out how they serve in the Armenian army and its elite spetsnaz units. To me summed up the three guys. In "Indian" livery, that is, not yet cooled from the study is indicative of combat. Said:
"These soldiers are fluent in Russian. It will be easy to talk with them.
I asked the boys to call themselves.
-Airman Nicholas Ohanian, Sergeant Hakobyan Razmik, private Harutyun Harutyunyan, 23-th separate brigade of special purpose – they presented themselves. Moreover, without the slightest Armenian accent.
-Where did you get such a good Russian language – I was surprised.
-We are from Russia, " smiled my interlocutors. – From Astrakhan, Kemerovo, Tolyatti. Lived in Russia, and came to serve in Armenia.
...We talk a lot about patriotism, I thought. But, if the guys from Russia, where serve in the army for a year, came to serve in the Armenian army, where he served as two years, and a great opportunity to be on the front line, it means something. What? Let everyone decides for himself.
Viktor Litovkin
---