Home
/
Defence and security
/
Special Operations: Theory and capabilities
/
Recommended
Messner, E. "the Mutiny - the name of the third world"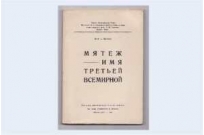 The third part of the tetralogy *war and peace*.
The author Eugene E. Messner (1891-1974) Colonel of the tsarist army, the last chief of staff of the Kornilov shock division, who lived in South America. This outstanding military theorist, introduced the concepts of *materially*, *unbounded terror* and in the '60s and' 70s, has warned that military conflicts in the new world will have completely new scripts, and the laws of development different from the familiar laws for centuries and scenarios.
Content:
I. world revolution. Permanent revolution - a Revolution of consciousness - a Revolution of morals - Revolution the social Revolution the economic Revolution the political - diplomatic Revolution.
II. The people's movement. About the psychology of popular movements. About the revolutionary movements. About the war in the revolutionary era. About the psychology of materialy - About the participants of materiali.
III. Re-revolution. The revolutionary reaction. The re-revolution of the mind and morals - Re-revolution in the areas of social and economic - Re-revolution in politics and diplomacy - Re-revolutionaries.
IV. Materiala. Psychological conquest - the conquest Irregular - Regular the conquest.
The edition of the South American Division "of the Institute for the study of problems of war and peace Professor named Gene. N. N. Golovin"*.
The first lifetime edition.
Edition of 500 copies.