Home
/
Defence and security
/
Special Operations: Theory and capabilities
/
Recommended
I. G. Starinov `Belotinska mines and traps and fight with them`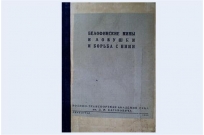 In the barrier system, installed belorusskimi gangs, mining is one of the most important elements. The Finns used anti-tank mines, various booby traps and land mines. The most effective Finns believed anti-tank mines; the use of different traps was intended mainly "to bring the enemy into confusion and instilling in him a sense of uncertainty" (the Manual on the fences, 1931).
The same Admonition was given a number of circuits of the device traps and primitive anti-tank mines (attachment N: 1). During the 8 years that have passed since the publication of the Guidance, the technique of mining the white Finns were slightly enriched at the expense of application of grating electronically and igniters.
Fighters and commanders of the red Army quickly mastered the methods and ways of mining of the white Finns, and the cunning plan failed. Skillful the destruction and decontamination of mining areas makes them quite safe.
Supply routes and waste belotinska gangs not miniroots and advance in our fast paced offensive the enemy will not have time to set mines and traps.
As shown by prisoners and how this is evident from captured documents, the execution of the plan of mining has been widely deployed in the month of October.
Setting anti-tank mines and traps had resulted in numerous accidents and victims not only in belotinska parts, made the installation, but in moving or located close to mined areas. There were victims among the civilian population.
In October 1939 the command of the 1st chasseur battalion are three manual in which clarifies the ways of the mines and traps, and given the safety instructions (Annex N: 2).
However, until now the Finns do not have a reliable guard and it not only significantly slows down the rate of setting mines and traps, but also causes losses among installers mines and traps.