Home
/
Defence and security
/
Special Operations: Theory and capabilities
/
Recommended
Vwic I. V. `Small war`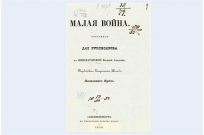 Small war — fighting a small force to Harry the enemy and his troops to provide favorable conditions for the decisive battles. A small war is being waged both on land and at sea. Sometimes a Small war is synonymous of a local conflict. The term first appeared in the 18th century. Small war on land - azodivaleric, sabotage, partisan and terrorist actions of small units.
The book consists of two parts:
Part 1 - the Protection of troops against sudden attacks;
Part 2 - About bands. (content see below).
CONTENT:
Introduction
PART ONE. The cordon of troops from surprise attacks
General concepts

The DEPARTMENT I. the location of the outposts near the enemy.
1. The composition avamposto location
2. Arrangement of outposts
3. Application avamposto location to location
4. The administration of advanced service for the posts:
a) Service in the chain
b) Service in the pickets
C) Service on the main guard
g) Service in the reserves of the outposts
e) office of the chief outposts
5. Steps outposts in alarm and attack the enemy
6. The special part avamposto location:
a) a Separate, Supervisory or intermediate pickets
b} the Secrets
7. Content outposts Cossacks

DEPARTMENT II.
The location of the outposts away from the enemy.
a) When camping or camp location
b) When the location of the apartments
DEPARTMENT III.
Patrols and patrols
General remarks and rules for the protection of troops
PART TWO. About the action groups.
1. Reconnaissance
2. Ambushes and unexpected
attacks in General
a) Ambush
b) unintentional attacks generally
3. Support transports, or transports and attack them
a) Escort the convoy out of danger from the enemy
b) support of the convoy while waiting for the attack
b) Attack on enemy convoys
4. Foraging and attack on the foragers
a) Order the production of furazhirovki
b) Formation of furazhirovki from attacks
b) Foraging performance
g) Attacking enemy foragers
5. Guerrilla activities