Home
/
Defence and security
/
Equipment and armament: yesterday, today and prospect
/
Other
A. D. Barker 'Improvised explosive devices in southern Afghanistan and Northern Pakistan'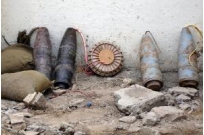 Us army in Afghanistan has faced a lot of difficulties with protivodeistvia tactics of the Taliban using improvised explosive devices and mines.
According to the article "Improvised Explosive Devices in Southern Afghanistan and Western Pakistan, 2002-2009" author Alec Barker (Alec D. Barker) published in April 2010 in the publication "New America Foundation" in Afghanistan from 2004 to 2009 there has been a steady increase of cases of attacks on coalition forces, "ISAF".
In Afghanistan in 2008, was recorded a sharp jump in the use of improvised explosive devices compared to 2007, 45% more, so if in 2007, at the main theater of military operations in three provinces of Afghanistan Helmand, Naruse, Kandahar was recorded — 221 attack involving IEDs, while in 2008 their number increased to 315.
Also according to article Alec Barker in the aforementioned three provinces from 2002 to 2009, during 1102 filed of application of the forces of the Taliban IEDs killed or wounded 4804 army soldiers and Afghan police and ISAF forces, while according to this source, one third used an IED (although it would be more accurate to write the IDP as it is often used, and anti-tank mines) were action of the pressure and two-thirds were RC,then a small portion was accounted for by the IEDs managed by provada and IED with the IR sensor reacts to crossing of the beam.