Home
/
Defence and security
/
Equipment and armament: yesterday, today and prospect
/
Articles
The first steps of Russia after Syria: to strengthen the tank T-72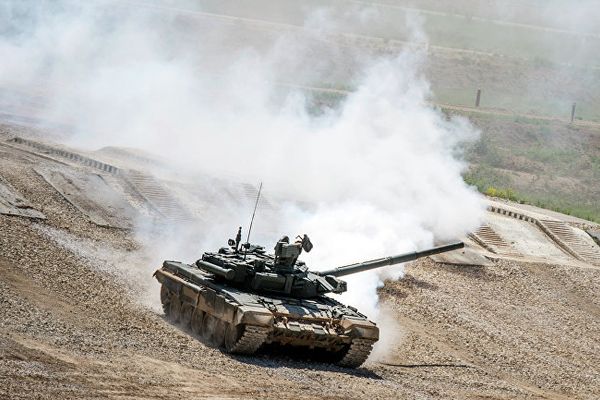 While the world is watching the Russian air campaign in Syria, Moscow continues to modernize its army. The Kremlin plans to upgrade 150 main battle tanks of the Soviet era T-72B, bringing them to the level of T-72Б3М. The performance characteristics of the upgraded vehicles will be comparable with a much more modern tank the T-90, but at a much lower cost.
Russia has in service has more than 500 modern tanks T-90A and T-90АМ, but most of her land forces rely on the venerable T-72 and its numerous varieties. To quickly upgrade their ground forces, especially in times of economic turmoil, the Kremlin is upgrading its older main battle tank and simultaneously continues to work on the creation of new vehicles T-14 "Armata".

As reported by the Russian newspaper "Izvestia", Deputy General Director of Uralvagonzavod, Alexey Zharich, Russia plans to spend 2.5 billion rubles on the modernization of 150 tanks T-72B to bring them to the standards of the new T-72Б3М. On average, the modernization of one tank will be spent 17 million rubles. In dollar terms, this represents 35 million overall and 234 000 for a tank. These figures suggest that the upgrades will cost relatively cheap, if you look at the opportunities that will find updated tank.

According to the newspaper "Izvestia", the upgraded tank will get a new 125 mm smoothbore gun 2A46M5, as well as a new sight "Sosna-U", coupled with the fire control system 1А40-4. The car will also get a modern digital ballistic computer for increased accuracy. Perhaps even more important point is that the T-72Б3М established by the independent panoramic sight for the tank commander with its own thermal imaging system.

The T-72Б3М will also be a new complex dynamic protection "Relic", which was first used on the T-90АМ. "Relic" will replace an older system "Contact-5", and expected to be twice as efficient. It is unclear whether the Russians modified passive armour protection, although it would be quite logical. Further, some sources report that T-72Б3М can be equipped with a complex of active protection "arena-e", though it's unclear whether he's on the production version.

T-72Б3М will also receive a new engine IN-92С2Ф capacity of 1 130 HP It will replace the diesel installation on a New 780 HP engine paired with the automatic gear shift and improved transmission, which should increase the mobility of the T-72. The driver will also have a new TV rear view camera that improves the ownership situation.

According to the newspaper, the first batch of 32 modernized machines have to join the army sometime in 2016. In service with the Russian army already has more than 500 older T-72Б3 with less than perfect features. Perhaps Russia will upgrade the numerous T-72 tanks, exported to different countries of the world.
Dave Majumdar
---
Source: http://inosmi.ru/military/20160317/235748518.html