Home
/
Defence and security
/
Equipment and armament: yesterday, today and prospect
/
Articles
The X-47B is extended for another two years and envisages a significant expansion of the functionality of a flying robot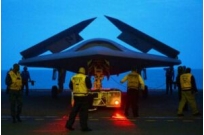 Last month, an unmanned aircraft X-47B UCAV (Unmanned Combat Air Vehicle) company Northrop Grumman as a whole successfully coped with the completion of the main program their flight tests. Apparatus X-47B, having made a takeoff and landing on an aircraft carrier deck in automatic mode and via remote control, has demonstrated the possibility of using drones as the deck naval aviation.
According to previous plans, after the completion of the test programme both drone X-47B had to be disarmed and become the exhibits of the aviation Museum. But fate decreed otherwise by them, the command of the U.S. Navy took the decision to extend the programme at least a further two years, providing for a significant expansion of the functionality of unmanned aerial vehicles.
Under the new plans the drone X-47B in two years, will appear on Board of aircraft carriers three more times, each time performing various tasks. The first deployment should happen at the end of this year, the second in the next year and the third in late 2014 or early 2015.
During the first two deployments, nothing extremely special will not occur. The drones will perform the operation on the in-flight refueling, which they never got during the main trial. The main purpose of the first two flight tests will be to develop aircraft carriers, installation of additional equipment to ensure the successful conduct of military operations involving unmanned vehicles. The second objective will assist the crew of an aircraft carrier and other military ships to overcome the psychological barrier when dealing with armed and potentially dangerous machines-robots that can operate completely independently without the involvement of people.
But the most interesting promises to be the third test. Drone X-47B should be included in and become a full member of the aviation wing of 70 aircraft of various types. Within a few weeks, the drone will take part in a training flight with other aircraft in training and combat, which will take place in conditions close to real combat. The third phase is to develop the technique of interaction of planes piloted by people with unmanned vehicles to ensure maximum combat effectiveness of all aviation units in General.
In addition to the main tasks during all three phases of additional tests as necessary will be carried out modernization of the structures of the nodes of the drone, debugging, and modifying software of the control system of the UAV and control systems installed on the aircraft carrier.
---
Source: http://www.dailytechinfo.org/military/5087-programma-x-47b-prodlevaetsya-esche-na-dva-goda-i-predusmatrivaet-znachitelnoe-rasshirenie-funkcionalnosti-letayuschego-robota.html