Home
/
Defence and security
/
Equipment and armament: yesterday, today and prospect
/
Articles
Developing main battle tanks shifted to the East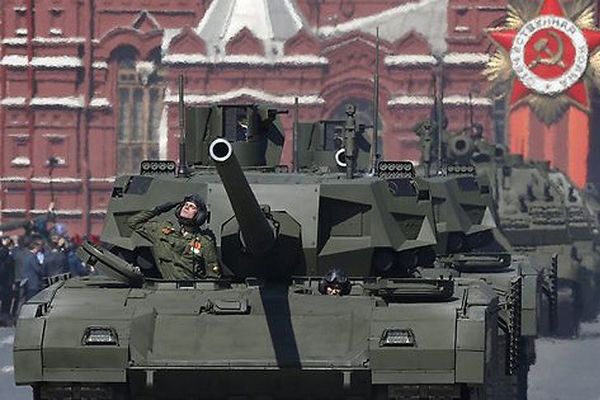 This year marks

one hundred

years

since the beginning of

the development of

the tank

,

at the expense of

the machine

tried to

resolve the

stalemate

on the Western Front

.

Although the origin of

the roots of

the tank

is located

in Western Europe

-

a region that

except Germany

reduced its

capacity for

design, development

and production of

main battle tanks

(

MBT),

in the industry

of other

countries,

the situation is

almost

the reverse

, especially in Asia.
In Europe the industry consolidation, reduced budgets and long programs on fighting vehicles became the reason of that the countries which have once created own capacities on creation and manufacture OBT - for example, Sweden with tank Bofors S and Switzerland with tanks Pz 61 and Pz 68 - have refused them in favour of ready import products. Both these countries have chosen tank Leopard of 2 companies Krauss-Maffei Wegmann (KMW), thus a few having calmed the local industry and having thrown it a bone in the form of manufacturing in the country of subsystems, for example diesel engine MTU.
Swedish Leopard are one of the most well protected tanks in the world, confirming with that an unusual tendency when many countries choose more likely ready import tanks, than working out own and thus frequently receive more efficient cars in comparison with cars of the original developer.
For example, 436 tanks Leclerc of the United Arab Emirates (unique export cars this of French OBT) have higher characteristics in comparison with tanks of the French army, and also improvement for operation in a hot climate of this country. Installation of diesel engine MTU by 883 capacity of 1500 h.p. instead of original engine SACM became probably, most considerable change. Engine MTU also has been established on the French armour recovery vehicle Leclerc ARV.
Already after receipt on arms of the United Arab Emirates modernised the OBT at the expense of installation of the complete set of protection AZUR (Action en Zone Urban) company Nexter workings out; recently these cars have been developed by an allied coalition in Yemen. For comparison, France has not chosen additional protection for own tanks Leclerc.
Company KMW is now the basic contractor on tank Leopard 2 which became the most successful European tank project recently, widely exported and podvergshimsja to considerable modernisations. Licence manufacture also was carried out in Greece and Spain, but now actually all works on tank Leopard 2 are concentrated to modernisation of existing platforms as the European operators aspire to get rid of cars and to consolidate the parks. A unique exception is manufacture of 64 new tanks which should descend from an industrial line and go to Qatar.
Even new tanks Leopard 2A7 the German army, ordered in company KMW, represent modernisation Leopard 2A7 from presence of the Dutch army, and also passed major repairs and the cars of a variant finished to the new standard 2A4.
Though concrete plans are not present on the near future, replacement to tank Leopard 2 can quite become new OBT, developed together with France for which replacement of the OBT Leclerc in long-term prospect also will be necessary. These possibilities have been supported by recent merge of companies KMW and Nexter Systems, but for today all attempts on joint working out have failed because of the conflict of interests.
The modern factory of company General Dynamics European Land Systems constructed for manufacture of tanks Leopard in Spain (absolutely new, but at present in its shops the silence) shows a symbol of manufacture European OBT. If the tank-building companies of Europe do not provide to themselves modernisation of tanks, their capacities and qualification degrade.
Russia
Even the slow Russian armoured industry has been reduced and consolidated. Working out and manufacture of four basic industrial platforms now it is transferred on Ural Carriage-Building Plant in Nizhni Tagil which has developed tanks T-62, T-72 and T-90; last is made till now for the foreign markets. The factory in Omsk where it was made OBT T-80, was included now into huge concern Ural Carriage-Building Plant and, most likely, has concentrated on more specialised OBT-PLATFORMS.
After false start with OBT T-95 which has been armed established in the external image of 152-mm by a smooth-bore gun 2A83, the Russian efforts were switched to working out OBT T-14 of Armata which has been officially shown on military parade in May, 2015.
Tank T-14 has revolutionary configuration: three crewmen take place ahead in very strong case (including a complex of active protection), shells in established in the external image smooth-bore 125-mm to a gun 2A82A move the automatic machine zarjazhanija, established in a fodder niche of a tower. Base case T-14 (modified in certain cases) will form base for full family of armoured combat vehicles, and heavy infantry fighting vehicle Т-15 became the first of them.
Pre-series copies T-14 pass now tests and in case of success Russia plans to make, at least, 2000 cars which will replace tanks T-72, T-80 and in long-term prospect T-90 though it is not absolutely clear, whether there will be a financing sufficient for this purpose. In the meantime, Russia continues to make and export OBT and to support foreign manufacturers.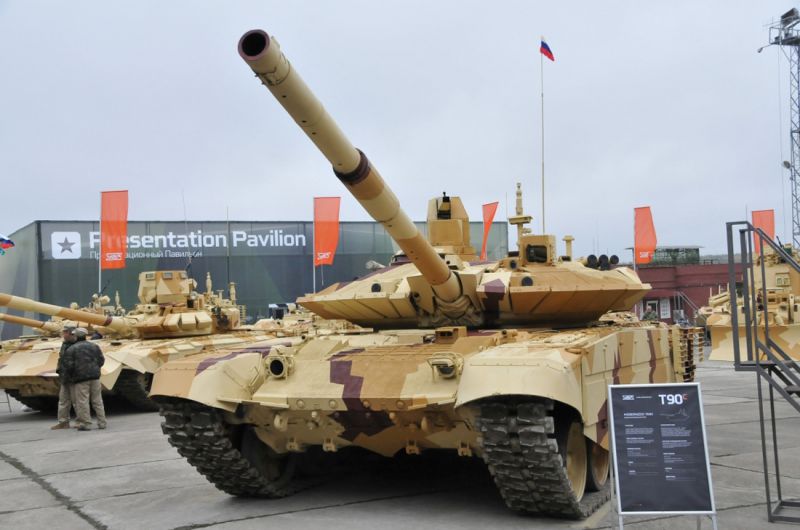 The Russian tank T-90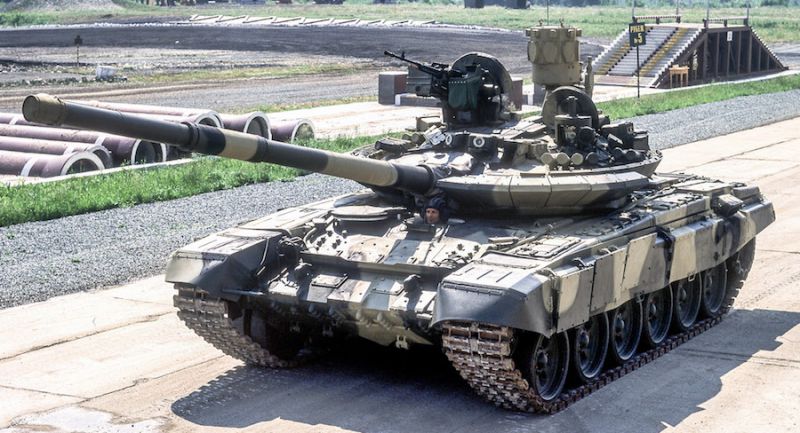 The Russian tank T-72M1M
Ukraine
In Soviet period Ukraine has saved up a wide experience of designing, working out and manufacture OBT, including model T-80УД on which the diesel engine of local working out, instead of gluttonous and expensive gazoturbinnyj the engine of Russian tanks T-80U has been established compact and with good specific capacity.
Works have proceeded and after disintegration of Soviet Union; the further working out of tank T-80UD has led to creation of variant T-84. Subsequently, in the late nineties T-84 has been sold to Pakistan though not settled relations between Russia and Ukraine meant that there are some disagreements concerning for example of objections of Russia concerning technology of cast towers. In this connection some cars have been put with towers from tank T-80.
Tank designing conducts the Kharkov design office on mechanical engineering it. Morozova, and the state tank factory of Malysheva is engaged in manufacturing. This factory has made also the beginnings of delivery of the first party of 49 tanks BM the Stronghold to Thailand in the beginning of 2014, but the exact status of this transaction is not clear in the light of a present situation in Ukraine and the decision accepted in the beginning of 2015 and consisting in concentrating all workings out and manufacture to satisfaction of requirements of the Ukrainian armed forces.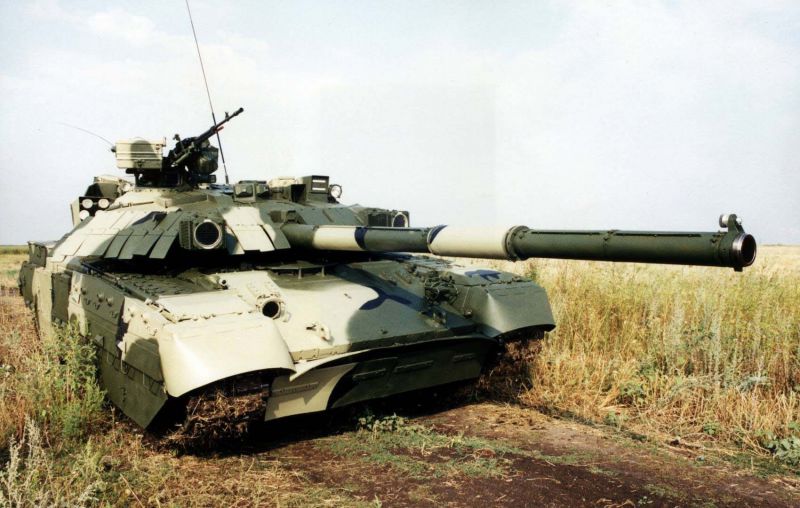 Tank BM the Stronghold
Israel
The assembly line of tanks Abrams M1A1 at tank factory near Cairo does Egypt by the unique country in the North Africa possessing capacities on manufacture of the modern tank, but in the Near East the unique country which has developed own OBT, the next Israel is. And that, the tank in last variant Merkava Mk 4 is not made (though modernisation goes), and its diesel engine import (represents variant GD883 General Dynamics of engine MTU).
And nevertheless, that fact that the family of innovative tanks has been successfully designed and made, speaks about much. Tank Merkava developed by a consortium of the Israeli companies, "has strained" the national defensive industry how it would be impossible in the majority of other countries. Its creation assemblage by company Israeli Ordnance Corps became which final chord, has demanded very high level of cooperation and integration between many Israeli companies.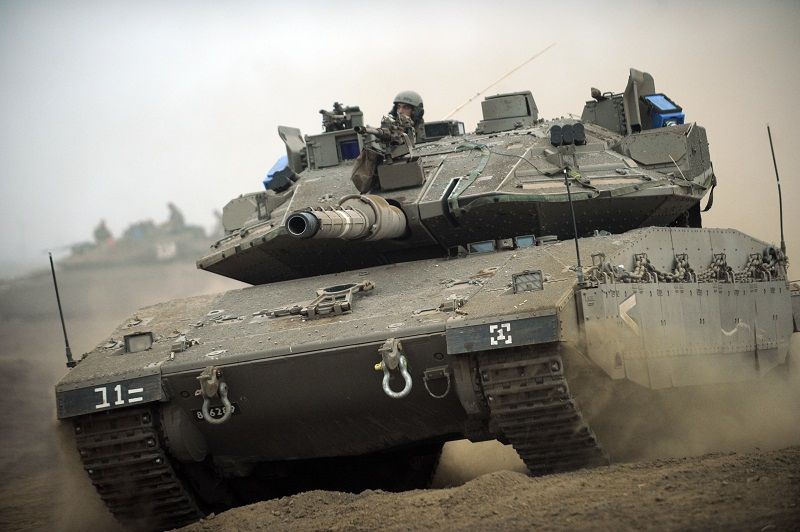 All OBT Merkava have good protection and differ unusual configuration with a forward arrangement of the engine. The tank of the newest configuration Mk 4 is equipped KAZ Rafael Trophy
The tank design is unusual that the power block takes place ahead, and the tower is shifted to a car stern. Designers give reason for it that such configuration raises survivability of crew (crew can leave the car through back hatches, is thus provided though any protection against enemy fire), and also allows to release space for landing branch.
On tank Mk 4 many systems of local working out, including a complex of active protection Trophy of company Rafael are established.
Turkey
Having received considerable experience of modernisation become outdated OBT, Turkey has decided to construct the own tank last decade and in August, 2008 has concluded the contract with company Otokar on project Altay.
The contract in cost of 500 million dollars provided designing, working out and manufacturing of the experimental sample for check of running characteristics MTR (Mobility Test Rig), the experimental sample for strelbovyh tests FTR (Firing Test Rig) and two skilled cars (PV1 and PV2) which all tests are at present complete. Now negotiations on manufacturing of the first party from 250 tanks Altay with engine MTU EuroPowerPack capacity of 1500 h.p. though Turkey in the future wants to make the power block developed by the local enterprises are carried on.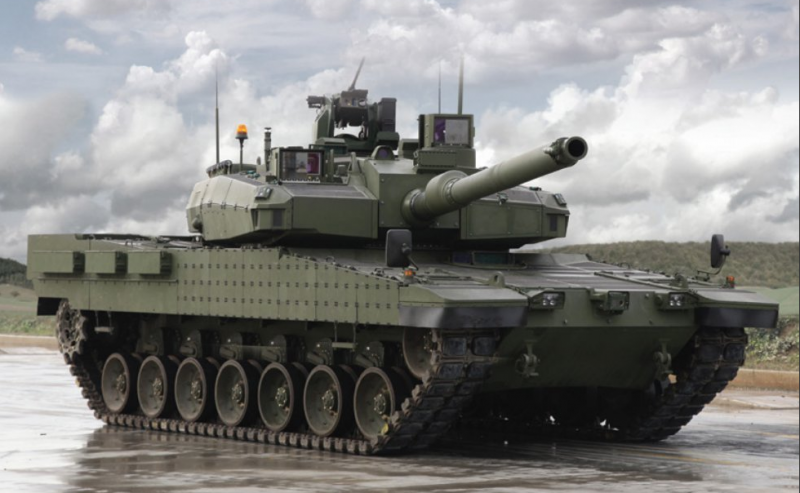 Turkey unique of the NATO countries has begun the program of working out and manufacture own OBT Altay
According to the general standard West European practice tank Altay is armed by 120-mm smooth-bore gun L/55 which also is established on many tanks Leopard 2A6 and others OBT. The gun manual zarjazhanija is connected to a control system of fire (SUO) local working out, and prompting is carried out by means of the stabilised day and night sights.
Possibilities of the Turkish tank will develop stage by stage. Though for the serial car installation is provided, for example, the modern complete set of booking, in long-term it is expected to prospect that it will be equipped with a complex of active protection against company Aselsan.
South Korea
Turkish company Otokar is assisted by the South Korean company of Hyundai Rotem which has own experience of working out and manufacture of basic fighting tanks K1 and K2. South Korea is quite self-sufficient now in working out and manufacture of tanks, caterpillar and wheel armoured vehicles.
This process has begun with working out of the first prototype of tank K1 made by the American company of Chrysler (now General Dynamics Land Systems) in 1983. Then the Korean car has passed a long way, including four basis cycles of working out and modernisation, in which end (and at last!) in 2013 the present tank of standard K1A2 has arrived on arms.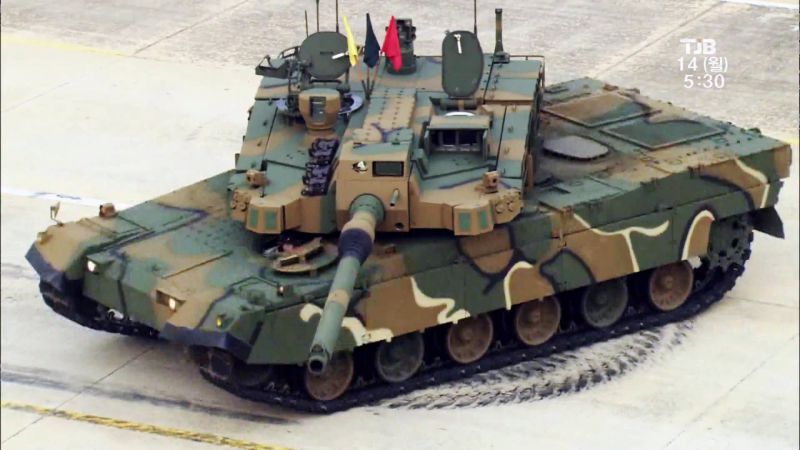 K2 Hyundai Rotem companies is already the second OBT created by southern Koreans, but working out of the local power block has appeared not such simple business and cars of the first party are equipped with engine MTU
In total 1500 cars have been made approximately, but orders from foreign countries on this car did not arrive.
In parallel, within the limits of absolutely new project Hyundai Rotem company has developed OBT K2 with higher level of the protection, armed with smooth-bore gun L/55 with the automatic machine zarjazhanija, placed in a fodder niche of a tower that has allowed to receive essentially big rate of fire in comparison with tank K1 (to 10 shots in a minute).
According to the general tendency on tank K2 the local power block, but the problems arisen by working out and connected with achievement of sufficient capacity and reliability of the new engine should be established, have forced Hyundai Rotem company to return to engine MTU MT833 though workings out thus have not been stopped.
The general configuration at the Korean tank traditional enough, but is not deprived the several innovative moments, including an active suspension bracket which allows to regulate a road clearance and a case inclination in enough big limits. The car can "kneel and fire at the purposes from shelter or"assume airs"for the purpose of increase in a corner of vertical prompting for firing on highly located purposes. Also all case can rise and fall depending on an overcome relief.
The batch production has begun in 2013, the first tanks have arrived on arms in June, 2014, and since then their release proceeds (receipt of 100 tanks by 2017) is expected. At present, on the tank there are no export orders, but it is regularly shown to interested potential customers, including participates in competition on Peruvian OBT, competing to the Ukrainian Stronghold and Russian Т-90.
China
As well as the most part of the Chinese military technology, tanks of this country are based on Russian OBT. First manufacturing of the Soviet copies went in considerable quantities, but subsequently the local industry has started to get hand in and was typed it until China is not become capable to develop own projects from a blank leaf. China has begun with T-54 on which base tanks Type 59, Type 69 and Type 79 have been created. Them has followed Type 80 which had the new case with a tower armed in 105-mm by a gun of the standard of the NATO, connected with computerised SUO. The further development in 80 and 90th years has poured out in cars with more and more characteristic Chinese shape.
To the newest OBT, arrived on arms of the Chinese army, became Type 99 (the number specifies for a year when the tank has been shown on military parade). Though its case is similar to tank T-72 case, by working out experience of participation of this tank in operations, including the Russian presence at Afghanistan and unsatisfactory fighting qualities of the Iraq tanks has been carefully studied during operation «the Storm in desert», for the purpose of increase of level of protection and approbation of some innovations. Among them, for example, a complex of active protection and the laser blinding device.
The tank also has received a new tower from 125-mm a smooth-bore gun shells in which submits the automatic machine zarjazhanija, located under a tower epaulet.
All tanks were made in considerable quantities for the local market, but possibilities of the Chinese industry also allowed it to deliver various models of tanks in many countries of the world. The Chinese company North Industries Corporation (NORINCO) advances now tanks MBT-3000 (VT-4), MBT-2000 and VT-2, all from 125-mm a smooth-bore gun and the automatic machine zarjazhanija.
About the future plans on Chinese OBT a little that is known, but it is possible to carry easy tank Type to last workings out 62 from 105-mm a gun (also it is known as ZTQ). At that time when the basic fighting tanks of other countries all become heavier, the easy car Type 62 intended for actions in a hilly terrain, has weight only 21 ton and crew 4 persons.
India
Diligence of India to develop the OBT Arjun well-known, they perfectly illustrate the shared problems connected with working out of the competitive car in the country, and also the problems specific only for India. Numerous delays, technical problems and the cost which has flown to heavens of delivery of 124 problem cars Mk1 in 2004 (30 years after the working out beginning), the second "farfetched" order for 118 tanks modernised to standard Mk2 in 2014, and also cost of one car, by different estimations a component from 8 to 10 million the dollars, it does all OBT Arjun by the most expensive tank in the world.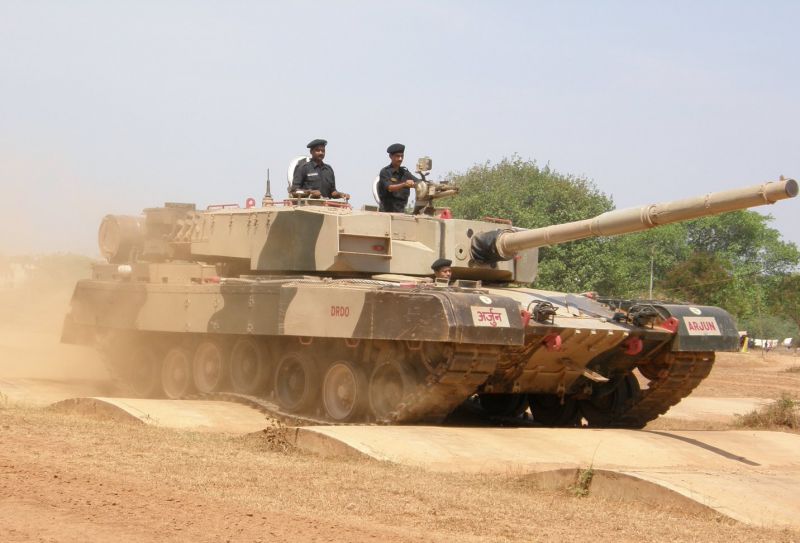 The Indian tank Arjun
In spite of the fact that in essence tank Arjun is considered the modern project, it has some strange lacks, including 120-mm a cut gun that pushes together India with the same problems with fire power with which Great Britain and Oman have faced tank Challenger.
To compensate the problems connected with working out of the tank, India has bought tanks Russian T-72M1 and T-90 which were made under the licence and were modernised at the expense of installation of ready systems, for example sights Catherine of company Thales. So, despite set of problems with working out, India has received a wide experience of manufacture of tanks in the country.
Pakistan
Pakistan instead of beginning working out new OBT with zero, has made much more reasonable decision, having fastened close cooperation communications with China.
These two countries co-operate already for a long time. They have begun with party Chinese OBT Type 59 manufactures of company NORINCO which Pakistan modernised at the factory (including installation of a cut gun new 105-mm and computerised SUO) then local assemblage/manufacture of tanks Type 69-II, Type 85 and, finally, MBT-2000, received the Pakistan designation Al Khalid has followed. Since 2001 it has been made more than 300 tanks Al Khalid and their manufacture proceeds.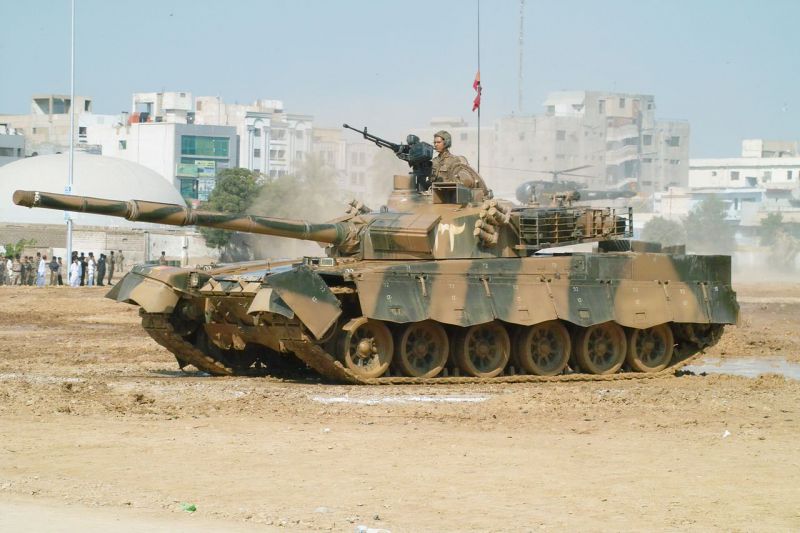 The Pakistan tank Al Khalid
After realisation of successful project Al Khalid Pakistan bears now plans at first manufactures of the localised variant of tank VT-4/MBT-3000 of company NORINCO under designation Al-Hyder which tests have passed successfully in the end of 2014. That is now this country garantirovanno keeps possibilities on manufacture of modern tanks.
Japan
While we remain in Asia and we will look at possibilities of Japan in this sphere. This of the countries has a working out and manufacture OBT wide experience, but its pacifistic policy does not allow (while, but will soon allow) to it to offer the tanks to other countries.
The newest Japanese OBT Mitsubishi Type 10 visually illustrates advantages of working out of the tank according to national requirements as this tank in weight of 44 tons runs counter to the general tendency of increase in weight. It was necessary for Japan to develop easier tank with the smaller sizes as the previous models Type 50 and Type 90 experienced difficulties at moving on automobile and to the railways of this country.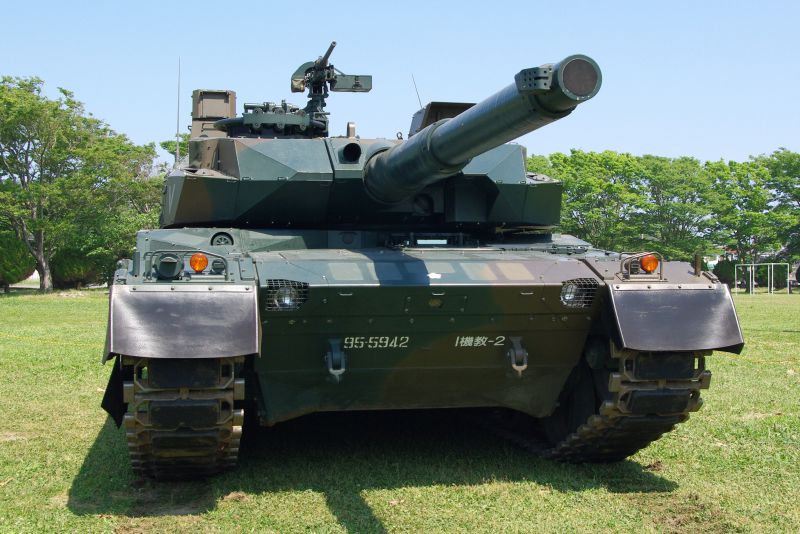 Japanese tank Type 10
The United States
Armoured power of the United States will be based on tanks M1 Abrams up to 2050th years. That the tank corresponded to modern threats, it passes some consecutive modernisations, since configuration M1A3 expected in the beginning next decade.
Manufacture of this tank proceeds, cars were exported to Australia (M1A1 ATM), Egypt (co-production M1A1), Iraq (M1A1SA, some tanks have been lost in fights with the Islamic state), Kuwait (M1A2) and Saudi Arabia (M1A2) so the USA have all possibilities and a know-how which will allow to create the tank of following generation.
In the meantime, in connection with replacement of tanks Abrams in the American army many conversations concerning possibility of working out of uninhabited easy tanks for involvement in scenarios to which big and heavy OBT cannot correspond, or concerning escalating of its fighting possibilities within the limits of the concept of association of the manned and uninhabited systems, similar to those that is realised with assault helicopters and pilotless flying machines are conducted.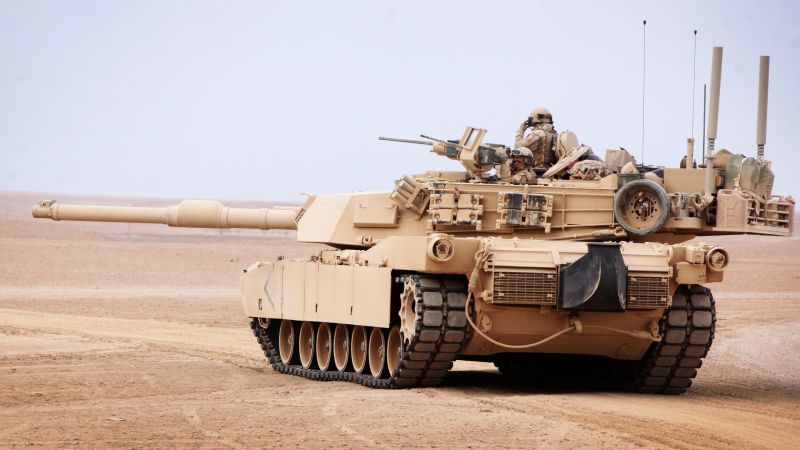 The American tank M1A2 Abrams
The comment
While death OBT predicted already some times, especially after defeat of tank groupings of Syria and Egypt in Doomsday War in 1973 and in connection with the termination of Cold war, till now there is no other system of arms which could replace OBT.
Though its dominant role on destruction of others OBT was in a greater degree incurred by other systems of arms, the tank repeatedly proved the value, supporting speshennuju infantry during operations in Russia, Afghanistan and Iraq.
It is necessary to guess only as will look future OBT, for example project T-14 of Armata with distantsionno an operated tower offers the vision of the future.
Completely distantsionno operated platforms already are used in special operations, for example they take part in mine clearing, and in the future similar systems can have the further development for the purpose of their participation in operations.
Materials are used
www.uvz.ru <http://www.uvz.ru>
www.morozovkmdb.com <http://www.morozovkmdb.com>
www.otokar.com.tr <http://www.otokar.com.tr>
www.hyundai-rotem.co.k <http://www.hyundai-rotem.co.k>
www.norinco.com <http://www.norinco.com>
www.drdo.gov.in <http://www.drdo.gov.in>
www.mitsubishicorp.com <http://www.mitsubishicorp.com>
www.wikipedia.org <http://www.wikipedia.org>
Transfer Alex Alexeev
---
Source: <http://topwar.ru/87739-razrabotka-osnovnyh-boevyh-tankov-smeschaetsya-na-vostok.html>