Home
/
Defence and security
/
Ukrainian myatezhevoyna
/
Recommended
Bychok C., Kochetkov A. 'Euromaidan named after Stepan Bandera. From democracy to dictatorship'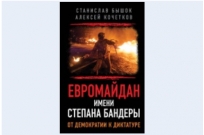 "I dont have time, the Moskal!" - this chant was jumping, warming, protesters at Kiev independence square in winter 2013 In the "brave new world" of the Ukrainian revolution under the banner of Stepan Bandera no one wanted to pass for the original enemy of the Ukrainian statehood - "Moskal".
At first it was a protest against the ineffectual and corrupt government, against police and bureaucratic tyranny, against the indistinctness and inappropriateness of the political course of the President and the government. But the peaceful protest turned bloody revolution. Any revolution as a positive program uses prevailing in the society the ideas. In the Russian Empire in 1917 in the trend were radical left ideology, in the Arab countries during the "Arab spring" (2010) - radical Islamism, in Ukraine in 2013-2014 this trend became radical nationalism. This book describes the development of Ukrainian nationalist groups from 1991 to the present, the emphasis is on the history of the parliamentary Svoboda party and the extraparliamentary party "Right sector", examines the ideology, psychology and methods of political struggle of these structures. The Appendix contains the main program documents of these organizations, as well as a digest of the most serious crimes committed during the Ukrainian anarchy in February-March 2014
Authors: Stanislav Bychok, Alexei Kochetkov
Publisher: Book world, FRIGO "public diplomacy"
ISBN 978-5-8041-0708-7; 2014.