Home
/
Defence and security
/
Civil war in Syria: preliminary conclusions and lessons
/
Articles
Rules of fight. The president of Israel already in Moscow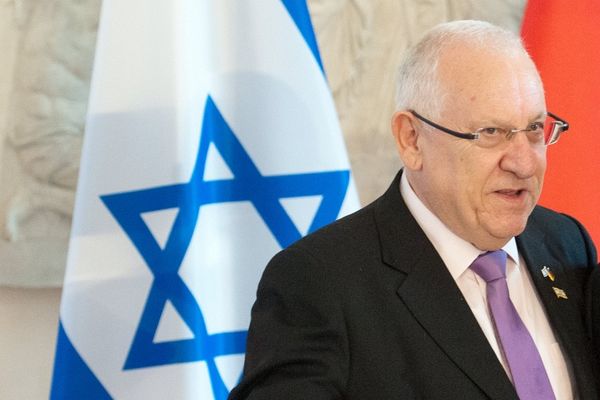 Hardly Putin's announcement of the beginning of withdrawal of troops has taken Israelis unawares. Today's visit of the president of Israel, Reuven Rivlin, to Moscow, has been coordinated in advance. But in Jerusalem yet not up to the end understand what stands behind this decision, and Rivlin's task - to find out further intentions of Russians in Syria.
Some hours prior to a departure Rivlin communicated by phone both with Netanijagu, and with the head of Joint Staff TsAhAla Spoil Ajzenkotom, agreing with them with a position at negotiations with Putin and Medvedev. Rivlin again will repeat at these meetings: it is impossible, that attempts of the Syrian settlement have led to strengthening there Iran and Hizballah.
"There is a necessity to co-ordinate action with Russia, in that situation that we now are", - Rivlin to journalists accompanying it has told. - there is a general understanding that the organisation "Islamic state" (it is prohibited in Russia - "Expert Online") bears danger to the whole world, but Shiit fundamentalism of Iran for us - danger absolutely not smaller. We also will mention adherence of Russia of integrity and safety of Israel, obligations which were in conversation are taken by Russians on myself during Putin's visit to Israel in 2012 ".
In the morning Rivlinu have been given the renewed reports of investigation and security services on a situation in region. At negotiations danger of a leakage of the Russian arms to Hizballah will be discussed again. However, a trip use and for discussion of questions of development of economic cooperation - Russia last years was included into ten the largest trading partners of Israel, and is not excluded that Israel becomes the first western state which will agree to adjoin the Euroasian economic union.
"I welcome Putin's decision, it means that Asadu will be difficult to try on again the crown", - has declared Ejjub the Penalty, the deputy minister on regional cooperation. This deputy from party in office Likud represents in the Knesseth druzskuju a community. And the newspaper "Maariv" gives today of a word of the unnamed representative of the Israeli system of safety: "We understand interests of Russians, also as Russia understands ours. It not game with zero result. Russians too have the interests similar to ours. They too do not want strengthening of Iran which will extend terror to southern borders of their country, they too understand that anything good will not be, if the Hizballah can remain in Syria and will create there the bases".
Active non-interference
"Israel is not a conflict part in Syria, but we - a part of the Near East". Binjamin Netanijagu has said these words in the Kremlin, in September of last year, during a meeting with the president of Russia Vladimir Putin. The Israeli delegation then entirely consisted of people of military men who have agreed the Russian colleagues with contours of interaction of the Russian forces and TSAHALa in Syria.
Since then the parties regularly support the closest business contacts, observing established "fight rules". The Russian planes, by mistake interfering in air space of Israel, will not be brought down. And the Russian systems of air defence "will not notice", how "the neolearnt planes" burn to ashes the next weapon caravan, moving to Lebanon.
External interests of the parties in the conflict opposite, but this only seeming contradiction. After all the Near East - business not that very thin, more likely, the multilayered is excessive. Participants of any process, military or political, here always more than it would be desirable, and their interests are imposed against each other, besides often changing.
Till last moment the Arabian monarchy, having refused idea "to dump Jews in the sea", assigned a part to Israel of a lightning rod. They threw money in kosterok the arabo-Jewish conflict in Palestin and distracted the citizens business of protection of "Al Aksy". But them occupied struggle for hegemony in sunnitskom the world and opposition with the Shiits, which else recently, till 1979 much more, concerned Jews quite friendly. Even when the mode ajatoll declared Israel "a small Satan", the Syrian-Israeli border remained a quiet boundary of the Jewish state. However soon Iran and Hizballah became the most dangerous enemies. Bridling of the Iranian expansion in the Near East was and remains the main task and the purpose of Israel to this day. It also determines degree of non-interference of Jerusalem in the conflict storming in territory of Syria.
District map
"From among neighbours, with Egypt and Jordan at us relations are normalised for a long time, problem remained only with Syria and Lebanon. More precisely, Lebanon on a national level of problems does not create, but there ball corrects Hizballah. Now Syria is dead. He/she is not so strategic enemy. It in general is not present more. Almost half of its population, about 10 million persons, became refugees, from them 4 million in the country. The infrastructure is completely destroyed. You saw, what remains from Homs? It is less, than from Dresden after World War II", - doctor Moti Kejdar speaks arabist. It has many years ago predicted disintegration of Syria on some "specific princedoms" - Kurdish, druzskoe, alavitskoe … Doctor's has protected in 1998 in the Bar-Ilansky University, it has been devoted work of the Syrian mass-media." They tried to create visibility of a unification of the people, as though justifying it the fact of existence of the state, existence of tribes, nationalities, religions and faiths under a uniform hand. But practice shows what co-exist they can, only while a certain dictator unites them. Otherwise - as well as Soviet Union, as well as Yugoslavia - Syria should break up from the first push ".
Today the card of Syria reminds a scrappy blanket. Alavity will keep a coastal zone, for them it is fight for a survival, it it is exact not before "return of the occupied Golan heights". More close to Jordan - druzy which with Israel not on knifes, even those from them who in Madzhd-el Shams village on Golanah has not accepted the Israeli citizenship and counts itself as the Syrian, has made it, more likely, with caution for tomorrow, rather than of ideological promptings. And such it is not enough. Kurdish battalions "Peshmerga" near border for interests of Israel, of course, will not battle to Turkey, but they and not enemies. Bedouins far. In the centre (Damascus, Aleppo, up to borders with Lebanon) - porridge from fighting crews. To borders of Israel crews "Dzhebhat at-Nusra" - departments "al Kaide" have filtered. The control sauditov behind actions of its insurgents is extremely limited, though they it and podpityvali. Far away - insurgents of the Islamic State, haredzhity, testing where the big hostility to all above-named competitors, than to Israel. They even on aggressive rhetoric to Israel distract seldom, what for time to lose?
Who there still? "Hundreds militias, in which fiendish difficulty. Local, religious, clan and so on, - doctor Moshe Kejdar summarises. - They constantly conclude among themselves the different unions against others, but next day their interests can already exchange". As an example we will result "Crew of martyrs of Jarmuka" which near border with Israel has won a territory slice, them assotsiirujut with NFOP, but them only nearby 600. Who knows, than, for example, the crew "Dzhejsh Al-Mudzhaheddin" differs from grouping «Liva Shuhada Badr»? Yes they and do not know it. Sometimes surrender in hiring. "That is why the position of Israel is simple: we did not interfere, and we will not interfere with this war of all against all. There Russian could not guide an order, so to us and it is not necessary to try. Dot blows will be are put not from desire to affect on balance of forces, but only for decrease in level of threats".
The old enemy is worse new than two
Sometimes the wounded insurgents creep on the Israeli party, receive treatment in local hospitals, and come back back. It does not bring any changes in an alignment of forces, only supplies the Israeli investigation by the additional information. Any of ethnic or religious groups does not possess even a share of that potential of threat which held in the hands of Asad. Which besides, unlike them, was the legitimate governor presented to the United Nations. Whether means it, what the situation has improved?
"Earlier in territory of Syria of the Iranian military men was not - now there elite KSIR, without disappearing, leads fights. It is dangerous, if Iran can grasp too there positions", - marks Ron ben Ishaj, an observer on safety issues of the Israeli newspaper "Jediot Ahronot" and site Ynet.
The scenario at which Saudi Arabia implements the threats is not palatable and will send here large land contingent, and trace the infantry and armour will be landed by Iran. But it also is not so probable. Meanwhile all of them (and also Turkey) prefer to be at war another's hands. And the main feeler ajatoll in the Near East - the Lebanese organisation Hizballah. Saudity recognised as its terrorist, YOKES (it is prohibited in Russia - "Expert Online") the same status has received from Russians. On this grouping which hates Shiits, cease-fire conditions did not extend. Here also are at war.
From February, 28th Netanijagu has opened session of the Israeli government words: "we welcome any attempts to achieve long, stable and real cease-fire in Syria. Everything that will help to stop this awful slaughter - is important from the humanitarian point of view. However during too time it is important to understand that any agreement across Syria should contain a condition of complete suppression of the Iranian aggression against Israel. We do not accept delivery of the newest weapon to Hizballah, we will not suffer creation of the second, terrorist front on Golan heights. It for Israel red line which we will not allow to cross".
In the present Syrian conflict the Hizballah already has lost not less well trained 1200 fighters in collisions with enemies of Asada. From 5 thousand which are at war on the Syrian-Lebanese border and in Syria. Everything, by estimations of the Israeli investigation, the organisation is capable to mobilise to 15 thousand insurgents. Groups move on off-road cars, there are high-speed motorcycles, they have and modern anti-tank missiles, and PZK. At the disposal of Hizballah today there are rockets scud-d, with range of summer in 700 km, scud-c range to 300 kilometres, "fadzhery" (about 40 km), "frog-7" and ss-21 (about 70 kilometres), SR-250 (more than 100 kilometres). Platforms for their start are located in 160 villages with the Shiit population. Not without reason the Hizballah repaired there apartment houses after last war with Israel. Presumably, the organisation has in an arsenal about 700 rockets of distant radius of action, 5500 rockets of average radius and to 100.000 rockets induced at the north of Israel. Plus more than 150 pilotless flying machines - as a rule, Iranian, or bought up in Africa. The Israeli military men consider the scenario at which daily after the Kirjat-frisk, to Metule and north settlements will start to 1000 rockets, plus to 50 average radiuses, and nearby 10, capable to overtake Dimony. Possibly, boats of the Israeli Navies will be fired also.
According to the Israeli investigation, the Hizballah can have complexes of ABM SA-17. For them the Air Forces of Israel have destroyed by bombing cargo of rockets in 2013. The threat proceeding from this Lebanese organisation, surpasses threat from all other groups together taken that is why the position is simple: we will beat on Hizballah and on Asadu when we will consider possible to weaken thus Hizballah and the Iranian positions in Syria. The rest we watch, but we do not interfere. In 2013 Israelis bombed the Syrian caravans four times, in 2014 twice, two more blows have put in 2015. This February army Asada positions in vicinities of Damascus have undergone to air strikes.
The secretary general of Hizballah Hasan Nasralla did not hide earlier the triumph concerning joining of Russia to operations in Syria. But nobody knows, however strongly it is angry close Israeli-Russian cooperation. Recently the information has been thrown in a network that the Hizballah, ostensibly, has started to receive the weapon from Russia - does not look authentic. "It is intended lie, - Ron ben is convinced by Ishaj." The Hizballah intentionally extends similar forgeries, in hope of crisis in relations between Israel and Russia. It can receive the Russian weapon - but only from a mode of Asada, and that old. Russia does not deliver there the newest arms, moreover, after each attempt to transfer the weapon to Hizballah Russian press on Asada, demanding from it explanations ".
Let's add that Nasralla reads the Israeli newspapers, them for it translate, so it is familiar with moods of local public, and to direct at Israelis discontent to the necessary parties is able. Recently he, for example, promised to destroy by bombing ammonia warehouse in Haifa - for what has received a sarcastic gratitude from hajfskogo the mayor for "the help in attraction of attention of the government to city problems". Also it is interesting that the information on a leakage of the Russian weapon the Beirut correspondent of the American site "The Daily Beast" has transferred to the Lebanese Shiits Dzhejsi Rozenfeld, referring to commanders of Hizballah. Other horror story - about the Hizballah which has become tempered in fights with insurgents so now capable to break on the Israeli territory - was painted with other American magazine, "Foreign Police". So can be, not only Nasralle are not pleasant the Israeli-Russian contacts?
"Really, the Hizballah has gained offensive fighting experience. Probably, during the following war with Israel will undertake attempts to go over to the offensive, for example, around mountain Dov, or village Radzhr, that is in territories which the Hizballah Israeli does not recognise. But such attempts were performed by insurgents and during the first Lebanese war, our army is ready to them, - makes comments on Ron ben Ishaj. Besides," danger is represented, of course, by concentration of extremely radical Islamic groupings, their militarization - each of them at some instant can try to attack, and then our first answer should beat off desire to repeat similar experiences. The task of Israel - to observe, constantly increasing own potential of restraint ".
"Real threat of existence of Israel is not present"
It head of investigation Mossad, Tamir Pardo, in last interview to departmental magazine has told. Pardo in the beginning of January has left a post. Describing a situation in the Near East, it used the term "Friendemy". "We live in peace, where everyone is the friend and the enemy simultaneously. In a flash it the enemy, and in another already the friend. Each of forces which act in the Near East, or as a whole on a planet, has uniform purposes and there are reasons for a competition".
The scout with 35-year-old experience, Tamir Pardo did not begin to concretise, but observers have assumed that he hinted thus at Dzhebhat at-Nusra which dominate lengthways our border, but does not develop the weapon in our party. And to Saudi Arabia which, as well as Israel, sees the enemy menacing to its existence in Iran. In this reality Israel increases own possibilities of restraint, resources both defensive, and offensive. Also observes, how most cruel of its enemies destroy each other.
Emil Shlejmovich
---