Home
/
Defence and security
/
Civil war in Syria: preliminary conclusions and lessons
/
Articles
Putin, Erdogan and Rouhani have agreed on the future of Syria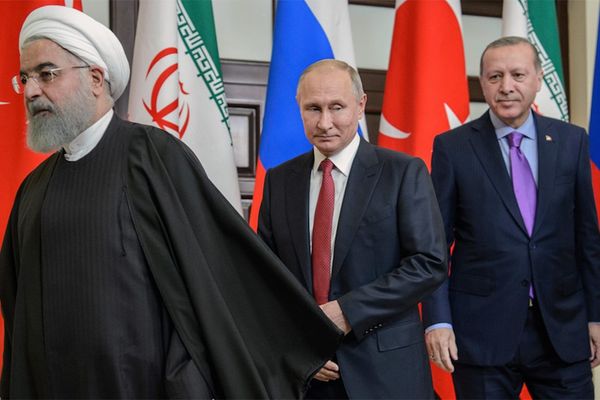 In Sochi ended the trilateral negotiations of the presidents of Russia, Turkey and Iran, which discussed the settlement of the political situation in Syria.
About the last conversation of the journalists, informed Vladimir Putin, Erdogan and Hassan Rouhani. The live broadcast of the briefing was led by the TV channel "Russia 24".
Putin, in particular, said that he had informed his Turkish and Iranian counterparts about the meeting with Syrian President Bashar al-Assad. "Noted expressed the Syrian leadership's commitment to the principles of peaceful solution to the crisis, the willingness to carry out constitutional reform and free elections controlled by the UN," said Putin after the meeting.
The results of the trilateral meeting, Putin, Erdogan and Rouhani agreed on a joint statement. As explained by the Russian President, the essence of the statement lies in the fact that the successes on the battlefields in Syria open a new stage on the path to resolving the crisis in that country. "I mean a real prospect of achieving long-term, comprehensive normalization in Syria, the political arrangement in the post — conflict period," he said.
Putin called the talks constructive. "We discussed the basic aspects of the Syrian settlement, agreed to continue to work hard to solve the main tasks — establishing peace and stability in this country, preserving its sovereignty, unity and territorial integrity," Putin said.
Iran's President Hassan Rouhani added that the meeting discussed the issue of forming an inter-Syrian national dialogue Congress. All three presidents, he said, supported the Congress in Sochi. Rowhani added that Iran, Turkey and Russia call on all countries to support the establishment of peace in Syria, including the creation of conditions for the return of Syrian refugees to their homeland.
Turkish leader Recep Tayyip Erdogan, for his part, said that the results of negotiations the participants agreed on the need to provide support for the implementation of large-scale, free and fair political process under the leadership of the Syrian people.
At the meeting the leaders of Russia, Iran and Turkey was also attended by the heads of the defense ministries and foreign Ministries of the three countries.
Before the meeting, Putin said that thanks to the efforts of Russia, Iran and Turkey in the fight against terrorists in Syria failed to prevent the collapse of the Arab Republic. According to the Russian leader, after the application of the "decisive blow" there was a "real chance to put an end to years of civil war" in Syria.
The trilateral meeting in Sochi was preceded by a personal meeting of Putin and Assad, which took place in Sochi on Monday. After the meeting with the Syrian leader, President of Russia held a series of telephone conversations with world leaders, including US President Donald trump, during which informed them about the meeting with Assad.
Maria Bondarenko
---
Source: https://www.rbc.ru/politics/22/11/2017/5a15a0089a7947735e91f8d3?from=main