Home
/
Defence and security
/
Direction materials
FSB general: Gunmen in Ukraine operated 90% of its own motion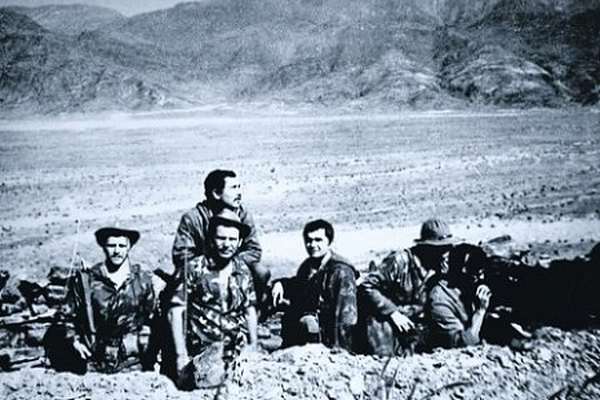 Material posted : Administrator Publication date: 20-12-2014
They say that there is not similar wars.
And the premise that pushed them to the top, too, are always different, but the purpose and may be repeated from time to time, through the decades and even centuries.
But the motivations of people to take up arms, almost always the same.
Someone for the attack, someone - for defense.
Everything else - the nuances.
Major-General retired FSB Gennady KAZANTSEV (a pseudonym, but his real name is known to us) - a man with a rich and diverse experience of action in conditions of war.
Worked in intelligence and counterintelligence, fought in Afghanistan and to make a plan of the Chechen campaign, wrote the book.
Therefore, evaluation and comparison of past wars and what is happening today in the east of Ukraine are of particular interest.
Especially since it was he who took the time to serve in the "office" of the graduate of History and Archives Institute Igor Girkin, now well-known as a former army commander Donetsk People's Republic Igor Strelkov.
- Tell a little about itself. You after all were in Afghanistan?
- Yes, in 1981 I was in Jelalabad as a part of group "Cascade" group "Tibet". Then in 1985-1988 - the adviser in a province of Badahshan and then the analyst in our representation (the representation of KGB of the USSR, has been accredited at security service of Democratic republic Afghanistan. - M. M).
"Cascade" was considered as elite subdivision, apparently, children there should be prepared. And can believe: a fig we were not prepared, at least in "Tibet". Here just we kept fountain pens, shot at a dash, carried out sports specifications. And suddenly us send on war.
We were just the same guerrillas, as present civil guardsmen on Donbass. Difference was only that for us there was a huge strong country. And we all the same were aimed matching, observing discipline. In Novorossii with it it is much more difficult. And children same with what we were in due time. As we tried then to be kept «in frameworks», and broke everything that it is possible to break. People in the war almost always the equal. Now I see myself of young Donetsk in defenders. We after all even military men were not. Only there have learnt to shoot really.
AS BECAME EMPLOYEES OF KGB
- In what your activity consisted? In battles shared?
Are were both operations, and survey, both counterintelligence, and the organisation of provisions, and work with local field investigators from the state security Ministry (HAD), they were called "hadovtsy".
- And how you there have got? In general to what extent all it occurred on a voluntary basis, or simply it was necessary to obey the order?
- Will not believe - I have asked. Has put here in what. Both I of the grandfather have been subjected to repression under 58th paper. One sat in Mari camps, another - on the Solovki. When me took in bodies, I have agreed only from the third trying.
- On what you as a result have enlisted?
- Me did not hire, and at once took on a permanent appointment. And three times offered, I two times have refused. Two times in army offered, and once already on the citizen. As a result I have agreed. I not that that have broken - I wanted … to revenge obkomu Komsomol that they me, the commissioner of the best in area strojotrjada, have not started up abroad.
When you arrive on service in KGB, there is a check: the father-mum, brothers-sisters, and all. If you go on reconnaissance, there muster already more thoroughly. When I in special department signed deeds, me have asked: «your close relatives were exposed to persuit?» I speak: «Yes. Both grandfathers sat under 58th paper». And then the chief of special department speaks to me: «You the muzhik quite good, we you take, only you about grandfathers more speak to nobody». And then to me, as well as any employee of territorial bodies, it wanted in survey. Each counterspy at heart dreams to become the scout. All want to be Shtirlitsami.
Well, present: I worked in counterintelligence in far Novosibirsk, the youthful vanity demanded bolshego. The heads have met me. Speak: «Gennady Nikolaevich, we will send you to institute (Krasnoznamennyj of a name JU.V.Antropov institute of KGB of the USSR, nowadays Academy of external survey. - M. M), and you there will have training prospecting preparation. I was simply happy! And suddenly after a while speak:« Listen, and at you that, grandfathers sat? "-" and I never also did not hide it ». -« Yes, a pancake. A problem ». Then I also speak:« Send me to Afghanistan. That I blood could redeem, so to say... »Nonsense, certainly. But in survey it would be desirable. So I have gone to Afghanistan the volunteer. And then all the same has completed KI Antropov's name, studied there in 1982-1985.
- You say that military preparation at you was not. What, absolutely any?
- We, of course, were engaged in hand-to-hand battle, shot from automatons of times at half a year and every week - from pistols. All. More than any preparation. I passed military service in army in the capacity of the officer of air defence (typical "jacket" on slenge regular officers). Moreover, in our group "Tibet" where group "Cascade" entered, almost all had any dark stains in the biography. Passionate fans of women and binge, slovens and hooligans. More shortly, "zaletchiki".
- Type shtrafbata?
Is was not official shtrafbat. Simply so territorial administrations got rid of a ballast. When we have already got acquainted, that, happened, we ask each other: «for what have sent You?» - «for women». - «And you for what?» When say that there there were any cool guys - do not trust. Normal children, only with a head. I consider that the bulk of large power operations becomes a head, instead of the arm and feet. We were at war not bad. Better even in any sense, than troops. Such here paradox.
- Than this war differed from what have begun after Union disintegration in its territory?
- In comparison with the Chechen and Ukrainian our war was a play in a button catcher. The Ukrainian war more bloody. The Chechen war more bloody. And to be at war in the shadow of such big strong state as the USSR, in adjacent territory when the population basically not bad refers to to us, was much easier.
- And the population not bad referred to?
- Yes. Simply each Afghan wanted to earn a few money. Americans gave them money and spoke: you do some shooting there and there. Certainly, were freezed. But generally it was business. Usual country business. In the afternoon he ketmenem in the field potjukal, has put on equipment in the evening and has gone to do some shooting in Russian. Has then returned, has hidden the weapon - and next morning again in the field. The American financing there was comparable with ours.
And still such aspect: drugs. When I there have arrived, no drugs existing. They have gradually appeared. We have noticed such regularity: as soon as there are Americans, there and then there are also drugs. Here we have left with the troops. In Afgane new authority, have hung up Nadzhibullu. There are no drugs. Americans come. There are drugs. As fighters Americans to us of that time, by the way, and in soles do not suit. Look: go, as aliens, in helmets. We on operation went almost in cowards and in vests. Usual dark blue sateen cowards, from above in a large grid wide trousers, krossovochki. Any bertsev. I ran in the Polish autumn half boots. By the brought down helicopter I then have burnt them. But we were at war fine, and us for it respected.
THE PERSON FROM THE CIRCLE OF MONARCHISTS
- You any time were Igor Strelkova's chief. And how it in general has got to bodies?
- Igor took casually. The Moscow management of FSB had any business on group, apparently, monarchists. When monarchists sit somewhere at themselves on kitchen and talk on a theme: «We will result the tsar, the weapon we undertake», that, naturally, special services have a question, the probability is how much great that they indeed will take up arms. Therefore of them observed. But all uselessly. They only tryndjat: «For belief, the tsar and fatherland","Honour I have","your nobleness» - but no more that. To real acts do not pass. And Igor among them deposited mind and ingenuity. It has already passed plus two wars, and to it there was a certain piety. Just the same piety has arisen at my subordinates. They esteemed him, have listened, probably, and at last have met it, and have then come to me and speak:« Gennady Nikolaevich, is one good candidate for work. Give we it we take, as we now send to the Chechen Republic young employees on a running-in. And it already has a military experience ». When I have learnt that it is the figurant of business operucheta, and group, I had doubts. But business was in 90, the time was dashing. And these two colonels have persuaded me.
- You were their immediate superior?
- I was not at them the direct curator, but we were friends on service in other management. They had the chief a remarkable general, the fine Russian muzhik, do not want it to shine here. We with it have together helped to close business about this group. Children have pulled out Igor and after a while result it in me: «Gennady Nikolaevich, here our new employee». It was pleasant to me. We have talked to it: the intelligence at it on a place, a head well works, historical reminestsentsii from memory without problems pulls out. I asked its notes and deeds to me to show. I look: writes, how god. And in any office, especially such as we if reports are written by correct language, with commas, with points is was considered as "advanced flying". And it has started to work successfully enough.
- And how Marksmen has gone on hooking? Has easily agreed? It after all all the same was the informal member, and this medium cooperation with FSB is considered "zapadlo".
- And it was no hooking. Hire an agency, and it was the invitation to work. On service. I after all not was directly at negotiations with it. I know those children who took it in bodies. They were pleasant to me. Very decent muzhiks. Igor, probably, has agreed at once. And someone is knocked on doors and speaks: «I want to work». But we to initsiativnikam always had a guarded relation.
Is what there was a year?
- It seems, 1995. I to that a time already have had time to gain the general.
- It is gained, what in the mid-nineties (already after disintegration of the USSR) FSB continued to work on far-outers? Business have got …
- What means "far-outer"? There was a suspicion that monarchists have not considered weapon. These informal groups at least should be scanned. Also what means «case is opened»? And means nothing. Forces and means simply deposit to be knocked down in the phenomenon. Have developed the whole business. Have looked: it is empty, a zero. Have closed business, in archive have assumed. All. From installations anybody knows nothing. When I to Igor it have told all, he has been very surprised. He did not know that was installation. He thought that it have simply noticed, such gallant, children from office have come and have told: «Igor Vsevolodovich, instead of you would like to serve?» And why for the native land not to serve? Really, we should not take it under such circumstances.
- And then you have made friends?
- We were recut incidentally. At it two small spiders, at me one big, naturally, at me cares sufficed and besides it. But I humanly sympathised with it, truth, with some share of kind humour. It the purposefulness, severity amused all opersostav. And the nickname at it was playful - Itself. Type: «Attention! Itself goes!»
- I look, there at you the big jokers were …
- The best an opera, by the way, are children with humour, hooligans, frequently - boozers and ladies' men. If you not "zaletchik", you not operas. If you the exemplary family man, the sportsman, in all positive - from you is not gained present operas which digs, as an animal, works all night long which can plan and perform graceful operation. In militia an analogous situation. The thin long skeleton - with the hollow eyes, perpetually smoking, nervous - here it also is operas.
I kept an eye on Igor. It is impossible to tell that there was a friendship: what friendship between the general and the lieutenant? But there were good human relations. What is there was at that time a general? Here I was the colonel, have appropriated the general. The wife asks: «Why at you became less money?» I answer: «I not should drink now vodka, and whisky. And to smoke not"Chesterfield", and"Malboro". From the colonel to the general the difference was - two blocks" Мальборо "and one bottle of whisky.
On a lack of money I have decided to make European-quality repair by own arm, using for this purpose the holiday. Holiday has flown by, and I am not in time. And even a family I can not bring to apartment. Then I have asked young officers: children, help. And among these officers there was Igor. It as father Karlo, and then staid overnight tilled. We with it stirred. And then there were already off-duty relations which allow to speak humanly. Especially "heroic" I in it did not notice anything. There are people who like to brag of the military experience. It only allow to talk about what they were heroes. But Igor never told about war. It in it knocked me, after all it has passed two wars, at me passed third. I could not and assume that it becomes the hero. And that it has made in Ukraine, - I consider, it is heroism.
MISSION IN UKRAIN
- And in Ukraine Marksmen on service was engaged?
- Any side on the functional duties it concerned the Ukrainian subjects. It traced that there occurs. Also has gradually started to be horrified. He told that real banderovtsy have entrenched in Moscow, in particular, in libraries of the Ukrainian literature, in other places. The presents banderovtsy which fiercely hate Russian, hold meetings, hire new followers. All it is absolutely opened.
At me a question: and we than were engaged at this time? Why such nonsense has happened? Why sent ambassadors to Ukraine "pogoreltsev", how Tchernomyrdin? I talked one of these days to one diplomat. Sarafannoe radio of the Ministry of Foreign Affairs informs interesting things. That Tchernomyrdin drank, - is fine, what Russian does not drink. But it could be gone for two days, and anybody in embassy did not know, where for it to search. Tchernomyrdin did not become. But how Zurabova there have put? Sits to itself, it it is not audible and it is not visible. When all it happens, I hoped that it at least will remove. Have removed, how … And where our office was? And where was SVR? They that, did not see, what is created? My personal opinion: in the Ukrainian events we are guilty and only we! Even fault of America is less, than ours. They at least settled the interests and advanced.
- From what time you in resignation?
- I have retired in 2000. I consider, it is good that has left. Much has changed. Even at Yeltsin was, as speak, any dvizhuha. Something raged, there were first oligarchs, at someone shot. We in the work improvised, completed new receptions. And there has then stepped such epoch when one was required only: to be very true and betrayed. But devotion and fidelity will not replace creative work. At us the director has exchanged. Before never on tables chiefs of departments, directions did not have portraits of the director. And here have instantly appeared. I have felt that my time has left. My time is when it was possible to oscillate any ideas, to upbuild combinations. And now it was necessary to serve and listen to the heads simply. It has not approached me. Me have sent in Security council. Then it was a place of the reference for all losers - generals and politicians. Two years I have worked in Security Council and too I feel: somehow all not so. I will not hide, and I am grateful for it, me conducted with honour.
- And relations with Rifle proceeded?
- Igor to me came, when I have already left office and was engaged in political consulting. We talked much. We had friendly relations. Friendly relations is when conversations «for zhist» and about women and when conversations on business, on the politician is still friendly relations. Igor resulted interesting people in me. We spoke about how to improve a situation in Russia. To present details not to a camp, but the obscene lexicon was present. Igor - the military person, and it really prepared for war. Prepared well, thoroughly. But I, for example, at all did not know that he participates on the move rekonstruktorov. I knew that it goes with a mine detector and searches for any artefacts on places of battles. Probably, somewhere inside at it expectation of any war sat.
Igor - the remarkable muzhik. It is not expelled that it has any secrets. I do not know, whether it in the war was rigid personally. I, for example, was. I had to shoot the person. I then two myself not so well felt year. It was Afghani insurgent, the accomplice dushmanov. But one business - to shoot from entrenchments, from apart. And to shoot the one who faces you at arm's length, here is how you sit, it absolutely another. It is very unpleasant. It was at me once. And I for it have paid - the soul long ached. In general, not my this business.
- You knew, what it collects to Ukraine?
- No, certainly. When it has left to businessman Konstantin Malofeyev has been very occupied, and we seldom met. It from our organisation, it is possible to tell, have politely asked, and was for what. Igor was not the thoughtless executor and the doubts concerning political realities before colleagues not especially hid. Were orgshtatnye changes. Thus all are inferred for staff and anew employed. To it long did not give a post. Have then offered, apparently, somewhere in Krasnoyarsk region, moreover with reduction. Igor has disagreed, though wanted to serve. We called up to it in November or December of 2013, I knew nothing about its plots. I have learnt its voice when Ukrainians have hung out the first radio interceptions SBU on the Internet.
REFUND HOME
- And after its leave from Ukraine you met?
- For the second day after its refund to Moscow we have met on any apartment. There there was some more person. Old for a long time not seeing repair "dvushka", the shabby sofa, the cut sausage on a table. He said that in Moscow nobody has met him. I have asked: «You met someone from a management?» - «yes you that». Its colleague talked To it on FSB which to it have gated out in the capacity of the curator only. And that reaches the ridiculous. Igor to it has told: «you fathom, what me now can kill simply? I can bear at least arms?» - «bear the arms, Igor Ivanovich, only it is very snug. Do not shoot at anybody».
- Means, its native "office" has gated out to it the curator?
- It FSB store room. This organisation cannot it so to launch. At least it is necessary to contact to the former employee. Naturally, contact. And at good level.
- And hearings went that it was accepted by the president …
- Bosh. He after refund was aimed at once legitimizirovat the rule here: «Children, you as perceive me? What do you want to do with me?» - «Igor Ivanovich, ezzhaj on the north, have a rest, catch a small fish. There monasteries are. Descend in a monastery». Well, it has gone, descended in a monastery, a small fish polovil, has had a rest. Tries to adjust somehow dialogue with authority. It after all was not that that the oppositionist, but the disagreement with some trends of development of the country did not hide. From Ukraine it has arrived with such thought: «All can soon collapse, and the unique clamp - the present president». From insurgenta, karbonarija has turned almost to an authority pillar. The logic in it is.
- All the question who has sent it to Ukraine, of course, interests.
- I think, on 90 % everything that it did and it "strelkovtsy", it was its own initiative. It, probably, was helped by its employer Malofeyev. It does not mean that there any million has been gated out. When Fidel's group was jolted in Cuba, at them money was much more, than at Igor. I am assured what to go to Donbass is its personal solution co-ordinated, maybe, with a management of Crimea, was possiblly, with any specialists occupying not the highest rule. Igor did not meet neither our top management, nor with someone from Presidential Administration.
- With whom the response of Strelkova from Donetsk has been co-ordinated?
- I think, have co-ordinated at the highest level. Because it all the same became a significant figure. As it so - to start up similar on a gravity flow. There was a situation when round it any expectations of people were focused. It has come to Slavyansk with several tens fighters. Then round it thousand have collected. They after all to it have come. Why to Igor all were pulled? Because have felt sincerity. He behaved as the present devotee. Slept in an office, any abrupt wheel barrows, money, anything. And others? Banquets, oysters, prestigious cars, dwellings. Not everything, but many commanders it play about.
Here the Cossack general Kozitsin. I know it personally. We have got acquainted with it even before war. Such typical ataman. How many it already has squeezed there guns? It has sat down just on roads on which there is a supply, and is simple ottiral it to own advantage. Here there has arrived general Antjufeev. On the Internet about it to esteem is as a picaresque romance. Me knocks: it has been presented as the general of FSB in a stock. Strange, in my time transition in mature age from militia in security service was impossible. Yes, it has helped Igor at difficult o'clock, and such was, but as a whole it followed the direction from above about elimination of Strelkova from a command post and refund to Russia.
- In «your time» it is more strict to business approached?
- In KGB if you there worked anybody from your relatives had no right there to arrive. That domesticity was not. And now on service go amicably families. At first in the higher school, then in Krasnoznamennyj institute. And here the whole family sits. I at times ask: muzhiks, well you here the children to vanity? After all all this prospecting and counterprospecting formation - higher education profanation. Has got out for gate - and you anybody. Though again take in the arm textbooks.
- So, Marksmen became a symbol, a brand …
- Yes, to it have believed very many. What for it was required to clean it? A unique explanation: it began to deposit very strongly. Even its this foolish decree about a mat interdiction was to it in plus. All died laughing, but respected. And the people to it have believed.
Whether for this reason or any another, but to it have categorically commanded to be refunded to Moscow. And already about the boundary line it with the group has got to a heavy scrape. They have already decided that everything, to it the end. It have recoated road. And they have got to an environment: neither forward, nor it was impossible to be propelled back. Them were nearby 10 persons. Children have prepared for the worst. They have already decided to go on breakthrough. But at this time the first wave of "holiday-makers" has towards gone. So they have been rescued.
- The Ukrainian agents of national security, it is gained, knew, what goes Marksmen?
- Probably, knew. But it only my assumption.
- Tell, and Borodaj, colleague Strelkova and the former prime minister DNR, it too concerns special services?
- At me such information is not present. But, I think, it contacted to ours. Moreover, I can tell that more and more or less interesting persons contact to FSB. At the time of the USSR we always traced clever, talented people and always with them to some extent came into contact. Without fail. And on the compromising evidence and on money at us hookings almost were not. 98 % were hired, as then it was accepted to speak, on "a morally-patriotic" basis. When I left Novosibirsk, I had almost 30 agents, and it were very significant and worthy people. I should with them with all say goodbye. I was tipsy 30 days on end. Then many of them to me came to Moscow with families.
I to you will tell more. A democratic revolution of 1991, all these demsojuzy and other. It on 50 % - an acting agency of 5th management of KGB, management "Z" (Protection of the constitutional system. - "NVO"). It have told: «Everything, children, democracy has come. We release you». And we took the cleverest, courageous, beautiful, interesting. Naturally, they also have headed this process. But any more under our management.
CRIMEA PREDETERMINES FUTURE novorossii
- In your opinion, how the situation in Ukraine will develop?
- Anything good will not be. We take Crimea. It a small isthmus incorporates to the big territory which is called as Ukraine. Communications with Russia are not present. A bridge have collected to build. To buy up all officials in areas of historical Novorossii more low-costly and easy there to enter, than to build this devil's bridge. If there will be no Novorossii, what we with Crimea will do?
- What for Novorossija from two areas? It was supposed, like that it will be more …
- I think, Igor has gone to Donbass because has been absolutely assured of a reality of such plot and hoped that it will support.
- Any assurances were given to it?
- I think, Marksmen has gained not assurances, and something like blessing. Type «I bless you, the son divine, go, be at war, we to you if it is necessary, will help». But it is what level? Here there is the Kremlin, towers kremlja, and there are basements. Here such level. We, whether that, a Maidan zaludili? When to us was plots to compose? It was already clear that business goes to civil war. But I never will believe that all it for half a year prepared. Also that for three months - I will not believe. For a month - it is is possible. For two weeks - I will believe.
Well I do not believe that we have planned capture of Crimea. You sometime after 1991 saw at us good study of any operation? I participated in working out of the Chechen war. «A bath, women, vodka» - here there was an arsenal and tooling for decision-making. What president of that time was, its troops was such also. The strange Russian soul also consists in that that at us such brothel that to it any artful plot will not oppose. Here we also win contrary to all.
- So further will be with Crimea?
- I know beyond doubt that in Crimea wait, when instead of a bridge will make normal overland transition to Russia. To leave one Crimea is a full nonsense. I think, any breath-taking situation will develop in territories fitting to to Kiev - guerrillas will be disturbed, "holiday-makers" will arrive, will earn voentorg - who knows that happens. But the overland exit to Russia is necessary to Crimea. And it, of course, will appear. So it seems to me. It as seemed to Igor that to it will help. And too it seems to me that so will be. And as there will be actually - goodness knows.
Marina Martova
---
Source: <http://nvo.ng.ru/nvo/2014-12-19/1_interview.html>