Home
/
Defence and security
/
Direction materials
The most crushing defeat of America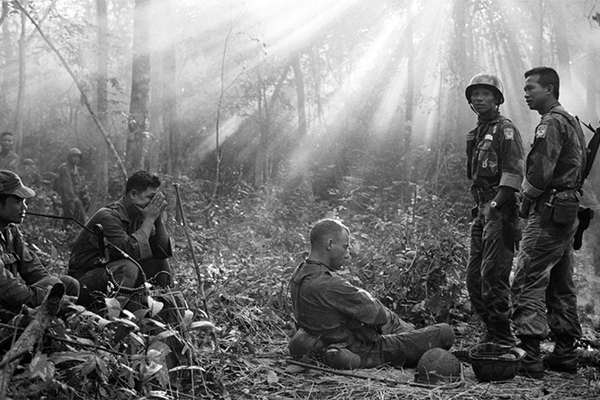 Material posted : Administrator Publication date: 04-05-2015
April 30, 1975

troops

of the Vietnam

People's Army

entered the capital

of South Vietnam

.

Taking

the North Vietnamese

Saigon

became

the de facto

end of

the Vietnam War.
In spite of the fact that since then have passed four decades, defeat in the Vietnamese war to these is considered the biggest failure of the American army in a military history of America.
War in Vietnam has lasted without small two decades (1957-1975), and it «the American period» - 10 years (1965-1975), but up to its most end operations avoided Saigon. Once in a city, truth, has broken small group Vietnamese the guerrilla, but them have sweepingly annihilated. Happened, of course, from time to time and rocket firings of capital, but in comparison with northern capital - Hanoi it was impossible to name Saigon a front city.
Thanks to delivery of the South Vietnamese troops by order of general Zyonga Van Minja it was possible to avoid not only firing of a city from heavy artillery, but also street battles for which groups VNA prepared. Vietnameses then still for a long time joked that northerners have captureed Saigon, without having broken even any bulb.
Certainly, it not absolutely so. The South Vietnamese troops did not collect to hand over capital without resistance. Battles, of course, were both battles bloody and hardened, but only on approaches to a city. War has avoided Saigon and this time.
Therefore in the morning on April, 30th, 1975 when Saigon was entered by troops of Democratic republic Vietnam (DRV), in a city the unusual silence reigned. In streets life did not boil, as usual. In Saigon streets and the squares was, marvellously, it is poorly populated and it is silent. Sajgontsy sat on dwellings and preferred not to get out without special need on streets because did not know how winners will lead.
Saigon has emptied. The American embassy more similar to a fortress has emptied. The governmental buildings and establishments and a presidential palace have emptied. President Nguen Van Thieu has repudiated from authority still on April, 21st. The new president ran from capital on April, 28th when in a city the cannonade was heard. Become after its flight by the president general Minju could correct Southern Vietnam only two days.
When Zyong Van Min has solemnly declared to the North Vietnamese officers that is ready to delegate authority has heard in the answer that it cannot transfer what at it is not present.
Certainly, the authority of president Minja was full imagination, but Saigon lived in the same imaginations many last weeks before city falling. On the eve of capture across Saigon the most improbable hearings walked. Certainly, sajgontsy were afraid of reprisals, but hoped that on that, as they, and northerners were Vietnameses.
And still the fear was such strong that with drawing off troops, and also already after a taking of the city of Saigon have left in total almost million the persons anyhow connected with a former regime. After evacuation of Saigon there was a new term - people in boats. By boats and small courts fugitives went to a dangerous way.
First the North Vietnamese tanks have entered into Saigon. At 11.30 over an independence Palace flag DRV has been lifted. Soldiers VNA have been dressed in a little baggy green form and were not similar to blood-thirsty monsters with whom they were drawn by the South Vietnamese propagation. They a little than differed from southerners. Winners were obviously happy with that war was completed, and they not only remained are live, but also became direct participants of a great victory.
In some days in Saigon military parade after which the majority of the North Vietnamese troops have left a city has taken place. Remained, to surprise sajgontsev, behaved politely and even it is a little shy. But despite shyness they were excellent soldiers, as proved during the extremely rare skirmishes with the firm supporters of the former authority who have remained in a city.
The West knew that occurs in Saigon because in a city remained two-three ten foreign journalists, in the core of Frenchmen and Japanese. There were also some British and one or two Americans who were giving out for Canadians.
Certainly, reprisals has not managed. The southern Vietnameses who were co-operating in a regime of Thieu and not running with Americans, passed "re-education" in so-called «new economic zones». Such name have gained labour camp. However as a whole the union two Vetnamov has passed more or less easy and without serious consequences.
War in Vietnam deposits among confrontations of the second half of 20 centuries in the scales and scope. It has had very strong affecting on life and crop not only its main participants - Vietnam and the USA, but also China, Soviet Union, other countries of Indochina.
In the Vietnamese war have appeared very many countries are retracted, therefore it is beyond a regional conflict. To Vietnam rendered the serious help and on its party the Peoples Republic of China, the USSR, Democratic People's Republic of Korea, democratic Laos, CHSSR, Cuba and Bulgaria were at war. At the head of a coalition supporting Southern Vietnam, there were United States. It also included South Korea, Thailand, Australia, New Zealand, Cambodia, kingdom Laos. The help to fighters with communism in Indochina was rendered by Taiwan, Philippines and Spain.
The taking of Saigon has completed the war stretched on the whole generation; war in which from different directions, but mainly, of course, from Vietnameses, million persons has perished. To them and Americans it is necessary to add and about 300 thousand Cambodians and 60 thousand Laotians, too victims in that war.
War has cost much to America and literally this word. The American tax bearers have paid for the Vietnamese adventure of 111 billion dollars. In conversion on the present prices this 833 billion to Vietnam it has, of course, managed immeasurably more expensively.
The Vietnamese war, especially, its second half which was passing with participation of the American troops, which quantity during the separate moments exceeded a half-million the person, it has appeared surprising in many respects.
Most it has left a scar in California. The matter is that most of all among victims in Vietnam the American soldiers was natives of California.
War in Indochina has strongly struck on a genofund of the American people. Two thirds made of 58 thousand perished Americans of the young man more youngly 21 years.
Except «people in boats», it has given to the West in whole and America in particular much. «The Vietnamese syndrome» is most of all known, of course, forced Americans to oppose all military operating periods in which the American military men participated. The term was thought up, by the way, by the future US president Ronald Reagan.
It is enough to remember well-known «the Marching on the Pentagon» in October, 1967. Then to Washington from all ends of America have arrived to protest against war apprx. 100 thousand young Americans.
Anti-war traffic has attained in days of the Vietnamese war of unknown force, but it though has forced the White dwelling to complete war and to disengage the American troops from Vietnam, nevertheless has not managed to prevent the United States the next forty years almost continuously somewhere with someone to be at war. The impression is made that America cannot endure till now rout in far Indochina and as though tries to indemnify it in such a way.
«First, ourselves plainly knew nothing, - explained defeat one of« architects »the Vietnamese war, the general Maxwell Taylor. - we thought that we enter new Korean war, but it was other country. Secondly, we did not know our South Vietnamese allies … Even less we knew about Northern Vietnam. Anybody really did not know, for example, who such Ho Shi of Minute It follows from this that until you learn the enemy, allies and, at last, itself, it is better not to climb in such dirty business, as war. It is very dangerous …»
Many Americans blame the Congress preventing the military man to be at war for defeat. But the main fault nevertheless lies on generals. In the Pentagon have strongly underestimated the opponent. The North Vietnamese management has been steeled in thirty-year struggle, and VNA has been very not bad prepared and thanks to allies is armed. Vietnameses were skilled soldiers who have managed to break the Frenchmen possessing farly not last army on a planet.
But most of all in Washington have underestimated durability and courage of the Vietnamese people.
«On each perished soldier you can kill my ten people, - told Ho Shi of Minute - But even at such statistics you will lose, and I will win a victory».
During war the American airplanes have dumped to Vietnam St. 6,7 million tons of bombs. For comparison: in the Second World War allies have dumped to Germany of 2,7 million tons.
By the war end only in Southern Vietnam was more than hundred thousand survived victims: 83 thousand amputantov, 30 thousand gone blind and 10 thousand people who have lost hearing.
Nevertheless, Vietnameses have, seemingly, managed to overcome "the American" syndrome. Between two countries now it is possible to name relations almost friendly. By the way, the dream of Ho Shi a Mine has in this respect come true, which else in 1945 dreamt of friendship with America in spite of the fact that its references to Americans with the request for the help against colonialists of Frenchmen remained meek.
Sergey Manukov
---
Source: <http://expert.ru/2015/04/22/sorok-let-spustya/>