Home
/
Politics and Geopolitics
/
On the national idea
/
Articles
Generation on travel: young Russians are looking for an opportunity to blame the West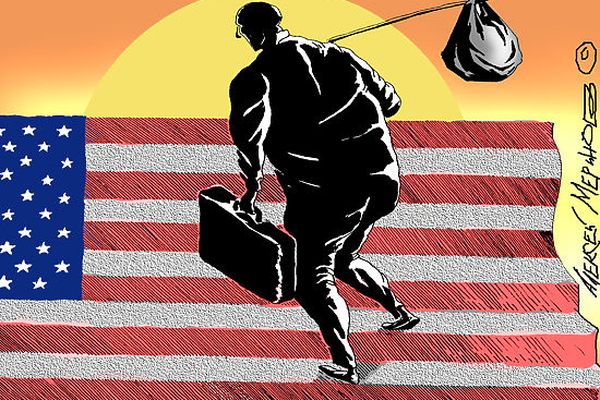 Nice to be young... If you don't like in one place — easily picked up and moved to another. Without an old man's fears, doubts and worries. Have the strength to cope with the crossings, which are known to be equal to the fires in the ratio of 3:1. (Perhaps this came up saying the elderly.) Working smartly soobražalka — you can learn a new profession, to improve the educational level, to learn a new language. Lack of energy, curiosity and sociability to growing in a new, unfamiliar environment after five years, this environment will be native.
Bad when young, using their natural advantages, are leaving their country to others, which will soon become their own. No, for them it is not bad. And blame them not: fish is looking for where it is deeper, man — where better. Bad for their homeland: youth is its future. Future "knocks over the hill"...
Who, why and what goes? Some idea of this can be obtained by reading the personal ads on the websites of the Russian emigration. A lot of them in the USA, Germany, Israel, and other countries. The account goes on millions. And this account has increased in recent years. Movement in the opposite direction — from abroad into Russia — almost none. If it were otherwise, the Federal television channels have long been told about the success of the state program on attraction to Russia of compatriots living abroad. Once it was narrated enthusiastically talked about the great prospects. But this topic has long since disappeared from the state media. Left an infrequent single figures, Western actors, and athletes, suddenly wishing to become citizens of the Russian Federation.
So read ads on the Internet. "I'm 28 years old. Looking for a job of electrician. Work experience more than three years. Have 4 of the first group of permit (work up to 1000 V and above), able to read and engineering drawings. I live in Russia, in Volgograd." The author of this ad specifies a mobile phone with a new York number. So, I guess that first came to America, and then began to look for work in the specialty.
"Looking for a job as a waitress. Languages: Ukrainian (native), Russian (native), English (fluent), Polish (fluent), Spanish (average). Extensive experience in the service sector in such countries..." Then lists the European countries where he worked this girl. Based on the knowledge of languages, it is most likely from "zapadentsev", they are in the States very much. In Western Ukraine the work is hard to find, payment sickly and in America requires a nanny-babysitter, cleaners of private homes and apartments, the same waitress... In the United States for work coming from Ukraine young girls and very young aunts, strong guys with experience of construction or other physical work. Many try to cling and stay, others telechat back and forth, but all their earnings to feed the hungry mouths in the Ukraine.
Here's another announcement — keep it spelling: "Russian, Lithuanian, a man speaking ikeuchi a lot of experience in different countries in water and Sewerage sector is looking for a job in this sector for exploitation, construction, sales". Maybe "talking man" from Russia, maybe from Lithuania, where the employment situation is also APB, worse than Russian. The benefit of Lithuania is in the EU, it is possible to go to work in England, Ireland, Scandinavia... Which was done during the years of Lithuanian independence, according to the European migration network (EU project), about 870 000 Lithuanians — almost a third of the population. Yes, the integration of the European labour market — all is good, but not inspires such statistics do not Bode well for the country's prospects. A couple of years ago I was in Lithuania, I saw there are a lot of young guys who loiter and beg money from tourists. Something is wrong...
The following message to the employers and I quote in translation — she wrote it in English: "Hello! My name is Julia, I from Russia, I am 19 years old. Looking for a job — any, seriously! I study in University to be an economist, but I don't want them to work..." the Phone shows Russian — has not left, but wants. Sad. Even if I chose wrong, at the age of 19 can be changed and one and two — to go to school for a different major or, instead of studying to find some work. At home, in Russia. But Julia somehow does not want — is looking for a job overseas.
Another girl writes: "Hello, looking for a job in the USA, she is from Russia but now I live in Poland, recently received a bachelor's degree taught in English that is the language problem will not be there..." This is the left, but wants out of the "almost middle" countries to move "very far." Not the fact that it is better for her: in America there is such a generous social safety nets as in Europe, there have more and harder to work with. However, if someone suddenly get out to the upper deck of the "American dream", where Shine these figures with many zeros, which are not available anywhere else in the world. But there get one.
What else attracts people to the States? America is a country of immigrants, where the adaptation of immigrants from abroad is easier than in other countries. No shocking Russian or Chinese accent, not surprised and not worried about the turban Indian Sikhs or the hijab from Muslim women. (Individual xenophobes, of course, are found in America, but rarely.)
Continue reading ads. "Hello. I would like to find work in the United States. I live in Russia, study in two universities, remained the protection of the diploma. For the professions of law and journalism." This ad was placed in may 2016 I hope that the thesis defense was held successfully. And what about work in the United States — of course, I wish you success, if the decision is taken, but why would a young specialist with two professions in my pocket no desire to look for work in your country? In America, these professions also does not go far: the journalists, in fact, useless — close biggest newspaper, young journalists meager salaries; lawyers in the US as much as them the rest of the world, and a foreign law degree in America do not recognize — it is necessary to pass the exams, and in each of the 50 States your bar exam, one license.
It is considered that emigration — forced extreme measure: it resort people who are dangerous or at least uncomfortable to live at home. For most people, the homeland is the perfect, natural location, but with a caveat: if there normal living conditions. Ivan Bunin, Vladimir Nabokov, Igor Sikorsky, albert Einstein, Marlene Dietrich fled from countries where normal life has become impossible.
I called the author of one of the Russian ads on the us site, it reads: "a graduate of the prestigious Russian University looking for a job in USA on a specialty "engineer-Builder". Speak English almost freely. Ready to go back to College to retrain and pass additional exams to begin work as a technician or mechanic". Change the name and place of residence of that person. Let it be Denis from Kaliningrad. My question is about the motives of the planned departure, Denis said that he had two small children and he doesn't want them to grow "in a country that is reviving Stalinism and a label of "foreign agents" on all dissent." "The Russian economy, — said Denis, — backward, raw, it needs Western credits and technology, but instead we are fighting in Syria and Ukraine, and we are told that we should be proud of it. I'm not proud of it."
...Another ad: "Looking for a formal job in USA in any city. Currently living in Russia. Economic education (USA), legal (in Russia). English fluent, PC user". Yes, in Russia, as we know, formed some overproduction of financiers and lawyers. But a person with such a qualification, which specifies the author of this post, probably, could find a job in Russia — if not in Moscow, in other city. But he is interested in the city in another country...
From the ad in English translation: "hi, I'm in Russia. I have a visa B1/B2 (to enter the U.S. for business or tourism. — I. B.). I want to move to USA to there officially to live and work. Consider any offers, preferably in the IT (information technology. — I. B.): engineer quality control, project Manager, systems analyst..." Yes, this is a running specialty, but this segment of the labor market already saturated — including manpower from the former Soviet Union. In high-tech firms of Silicon valley, near San Francisco, I speak in Russian no less than in English.
"Looking for a job ANYWHERE in the U.S., writes also in English, is another applicant. — I am 35 years old, I have a bachelor's degree in management..."
I read these ads, and I'm sad. Because I've seen the same at other American sites. The trend is called.
Ilya Paranicas
Source: http://www.mk.ru/social/2017/01/29/pokolenie-na-vyezd-molodye-rossiyane-ishhut-vozmozhnost-svalit-na-zapad.html