Home
/
Politics and Geopolitics
/
On the national idea
/
Articles
Full text of the joint statement of the Most Saint Patriarch Kirill and Papy Rimscogo Francis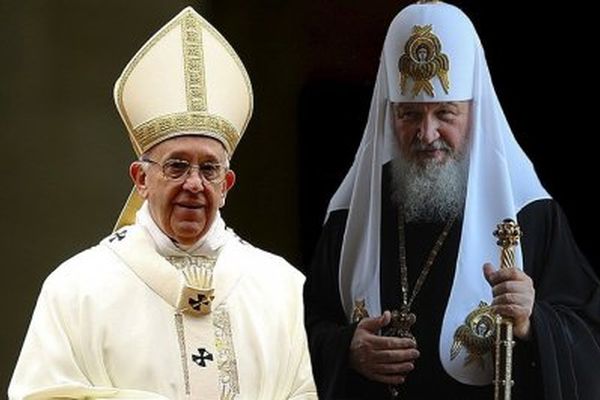 In Cuba the historical meeting between the Patriarch of Moscow and all Russia Kirill and Papoy Rimschim Francis took place. Negotiations of religious leaders were completed with signing of the joint declaration. RT publishes the text of the document completely.
«Good fortune of the Lord of our Jesus Christ, and love of God of the Father, and dialogue of Svjatago of Spirit with all of you» (2 Barks. 13:13).
1. At will of God and the Father from Whom any gift, in a name of the Lord of our Jesus Christ, assistance of the Holy Spirit of the Comforter proceeds, we, Frantsisk, the Pope, and Cyril, the Patriarch of Moscow and all Russia, have met nowadays in Havana. We render gratitude in the Trinity slavimomu to God for this meeting, the first in the history.
We have met pleasure as brothers on the Christian belief, met that «to speak lips to lips» (2 In. 12), from heart to heart and to discuss mutual relations between Tserkvami, essential problems of our flock and prospect of development of a human civilisation.
2. Our brotherly meeting has occurred in Cuba, at a crossroads of ways between the North and the South, the West and the East. From this island - a symbol of hopes of "New light» and drama events of history of the XX-th century - we turn our word to all people of Latin America and other continents.
We rejoice to that today here the Christian belief dynamically develops. The powerful religious potential of Latin America, its centuries-old Christian traditions implemented in life experience of millions of people, are pledge of great future this region.
3. Having met far from old disputes of "Old World", we with especial force feel necessity of joint works of Catholics and orthodox, called with mildness and awe to give to the world the report in our hope (1 Pet. 3:15).
4. We thank God for those gifts which we have received through the phenomenon in the world of Its Only-begotten Son. We divide the general spiritual Legend of the first millenium of Christianity. Witnesses of this Legend are Presvjataja Mater Bozhija, Maiden Maria, and sacred which we esteem. Among them - the uncountable martyrs who shown fidelity to the Christ and have become by "a Christianity seed».
5. Despite the general Legend of first ten centuries, Catholics and orthodox throughout almost thousand years are deprived dialogue in Evharistii. We are divided by the wounds put in conflicts of the far and recent past, divided and the distinctions inherited from our predecessors in understanding and explanation of our belief in God, uniform in Three Persons - the Father, the Son and Spirit Sacred. We grieve over loss of unity, turned out to be a consequence human weakness and the sinfulness which have occurred contrary to the Pervosvjashchennichesky prayer of the Christ of the Savior: «Yes will all common as You, Otche, in Me, and I in You, and they yes will in Us common» (In. 17:21).
6. Realising numerous obstacles which should be overcome, we hope that our meeting will bring the contribution to business of that achievement bogozapovedannogo unities for which the Christ prayed. Let our meeting will inspire Christians of the whole world with new jealousy to call the Lord, praying for complete unity of all Its pupils. Let it - in the world which expects from us not only words, but also acts - becomes a sign of a hope for all people of good will.
7. In determination to apply all necessary to overcome disagreements historically inherited by us, we want to unite our efforts for the certificate on the Gospel the Christ's and general heritage of Church of the first millenium, jointly answering calls of the modern world. Orthodox and Catholics should learn to bear the concordant certificate of true in those areas in which it is possible and it is necessary. The human civilisation has entered the period of epoch-making changes. Christian conscience and vicarial responsibility do not allow us to remain indifferent to the calls demanding the joint answer.
8. Our look is directed first of all to those regions of the world where Christians are exposed to persecutions. In many countries of the Near East and the North Africa our brothers and sisters in the Christ are exterminated by the whole families, villages and cities. Their temples are exposed to barbarous destruction and plunder, relics - to defilement, monuments - to destruction. In Syria, Iraq and other countries of the Near East we with a pain observe a mass outcome of Christians from that earth where distribution of our belief has begun and where they lived since apostolic times together with other religious communities.
9. We call the international community for immediate actions for prevention of the further replacement of Christians from the Near East. Raising the voice in protection of pursued Christians, we empathize also to sufferings of adherents of other religious traditions becoming victims of civil war, chaos and terrorist violence.
10. In Syria and in Iraq this violence has carried away thousand lives, having left without a roof over the head and means of subsistence millions people. We urge the world community to rally to finish violence and with terrorism, and simultaneously through dialogue to promote the prompt achievement of the civil world. The large-scale humanitarian assistance to the suffering people and numerous refugees in neighbouring countries is necessary.
We ask all who can affect destiny of all stolen, including the metropolitans Aleppsky Pavel and John Ibragima grasped in April, 2013 to make all necessary for their prompt exemption.
11. Vossylaem prayers to the Christ, the Savior of the world, about an establishment on the earth of the Near East of the world which «truth business» (Is is. 32:17), about strengthening of brotherly coexistence between the various people being on it, Tserkvami and religions, about returning of refugees in the houses, about healing of wounded men and rest of souls innocently lost.
We address to all parties which can appear involved in conflicts, to a hot appeal to show good will and to sit down for a negotiating table. At the same time it is necessary, that the international community has used all possible efforts to finish terrorism by means of the general, joint, co-ordinated actions. We call all countries involved in fight against terrorism, for the responsible, weighed actions. We call all Christians and all believing in God for an especial prayer to the Creator and the Prothinker of the world that It has kept The creation from destruction and has not admitted new world war. That the world was strong and reliable, the special efforts directed on returning to general values uniting us, based on the Gospel of the Lord of our Jesus Christ are necessary.
12. We admire courage of those who at the cost of the life testify to true of the Gospel, preferring death to renunciation of the Christ. We believe that the martyrs of our time occurring from various Churches, but united by general suffering, are pledge of unity of Christians. To you, sufferers for the Christ, turns the word Its apostle: «Beloved! … as you participate in Christ's sufferings, rejoice, and in the phenomenon of Its glory vozraduetes and will triumph» (1 Pet. 4:12-13).
13. During this disturbing epoch interreligious dialogue is necessary. Distinctions in understanding of religious trues should not interfere with people of different beliefs to live in peace and the consent. In present conditions religious leaders bear separate liability for education of the flock in the spirit of respect for belief of those who belongs to other religious traditions. Attempts of the justification of criminal activity by religious slogans are absolutely unacceptable. No crime can be made for the sake of God, «because God not is God neustrojstva, but the world» (1 Barks. 14:33).
14. Testifying to high value of religious freedom, we render thank goodness for unprecedented revival of Christian belief which occurs nowadays in Russia and in many countries of Eastern Europe where decades atheistic modes dominated. Today fetters of militant godlessness are dumped, and in many places Christians can freely profess the belief. For quarter of the century here vozdvignuty ten thousand new temples, hundreds monasteries and theological educational institutions are opened. The Christian communities lead wide charitable and social activity, rendering the diverse help to the needing. Orthodox and Catholics quite often work side by side. They defend general spiritual bases of a human hostel, testifying to evangelical values.
15. At the same time our concern is caused by a situation developing in so many countries where Christians even more often face restriction of religious freedom and the right to testify to the belief, to live according to them. In particular, we see that transformation of some countries in sekuljarizovannye the societies alien to any memory of God and Its truth, involves serious danger to religious freedom. We are disturbed by present restriction of the rights of Christians, not to mention their discrimination when some political forces, being guided by ideology sekuljarizma, so often becoming aggressive, aspire to force out them on a roadside of public life.
16. The process of the European integration which has begun after centuries of bloody conflicts, has been apprehended by many with hope, as world and safety pledge. At the same time we warn against such integration which does not respect religious identity. Being are opened to the contribution of other religions to our civilisation, we are convinced that Europe needs fidelity to the Christian roots. We call Christians Western and the Eastern Europe to unite for the joint certificate on the Christ and the Gospel that Europe has kept the soul generated by two-thousand-year Christian tradition.
17. Our sight is turned to the people who are in a difficult situation, living in conditions of extreme need and poverty when material riches of mankind grow. We cannot remain indifferent to destiny of millions migrants and the refugees knocked at doors of the rich countries. Impetuous consumption, characteristic for some most developed states, promptly exhausts resources of our planet. The growing inequality in distribution of earthly blessings increases feeling of injustice of spread system of the international relations.
18. Christian Churches urged to defend requirements of justice, respect for traditions of the people and effective solidarity with all sufferers. We, Christians, should not forget that God «has selected unwise the world, that posramit wise, and ailing the world God, that posramit has selected the strong; and not notable the world and unichizhennoe and nothing meaning God has selected to abolish meaning that no flesh was praised before God» (1 Barks. 1:27-29).
19. A family - natural centre of human life and a society. We are disturbed by family crisis in many countries. Orthodox and Catholics, dividing the same representation about a family, their readiness for a birth and education of children, solidarity between generations and respect for the ailing urged to testify to a family as ways to the sanctity, showing fidelity of spouses under the relation to each other.
20. The family is based on marriage as the act of free and true love between the man and the woman. The love fastens their union, learns them to accept each other as gift. Marriage is a school of love and fidelity. We regret that other forms of co-habitation are nowadays equalised with this union, and the representations consecrated with bible tradition about paternity and motherhood as special calling of the man and the woman in marriage are forced out from public consciousness.
21. We call each inherent right for respect on life. Millions babies lose the possibility of birth. A call of the blood of not born children vopiet to God (the Life. 4:10).
Distribution so-called evtanazii leads to that the aged and sick start to feel themselves as excessive burden for the relatives and for a society as a whole.
We express concern in more and more wide application of biomedical reproductive technologies for the manipulation human life is an attempt at bases of life of the person created on an image Bozhiju. We consider as the debt to remind of unalterability of the Christian moral principles based on respect for advantage of the person which is called for the life concordant with a plan of the Creator.
22. We want to turn today a special word to Christian youth. To you, young, it is necessary not to bury the talent (Mf. 25:25) but to use all granted to you God of capability for the statement in the world of true Christ's, for an embodiment in life of evangelical precepts about love for God and near. Be not afraid to go against the stream, defending truth of Bozhiju to which are no means always conformed modern sekuljarnye standards.
23. God loves you and from each of you expects that you will be Its pupils and apostles. Become world light that associates, seeing your good deeds, glorified the Father your Heavenly (Mf. 5:14-16). Bring up children in belief Christian, transfer them a precious pearl of belief (Mf. 13:46) which you have received from your parents and ancestors. Do not forget that «you are purchased dorogoju tsenoju» (1 Barks. 6:20) - tsenoju death on Bogocheloveka Jesus Christ cross.
24. Orthodox and Catholics are united not only the general Legend of Church of the first millenium, but also mission of the sermon of the Gospel Christ's in the modern world. This mission assumes mutual respect of members of the Christian communities, excludes any forms prozelitizma.
We not contenders, and brothers: we should proceed from this understanding in all our actions under the relation to each other and to an external world. We call Catholics and orthodox in all countries to learn to live together in the world, love and edinomyslii between myself (Rome. 15:5). Is inadmissible to use unseemly means for compulsion of believers to transition from one Church in another, neglecting their religious freedom and their own traditions. We urged to realise a precept of apostle Pavel and «blagovestvovat not there, where the name Christ's was already known not to create on another's basis» (Rome. 15:20).
25. We hope that our meeting will bring the contribution to reconciliation there where there are friction between Greek-Catholics and orthodox. Today it is obvious that the method "uniatizma" the former centuries, assuming reduction of one community in unity with another by its separation from the Church, is not a way to unity restoration. At the same time church communities which have appeared as a result of historical circumstances, have the right to exist and undertake all necessary for satisfaction of spiritual needs true, striving for peace with neighbours. Orthodox and Greek-Catholics need reconciliation and a finding of mutually acceptable forms of coexistence.
26. We grieve over opposition in Ukraine, carried away already set of the lives, caused uncountable sufferings to civilians, vvergnuvshem a society in deep economic and humanitarian crisis. We call all parties of the conflict for prudence, public solidarity and active mirotvorchestvu. We urge our Churches to work in Ukraine for achievement of the public consent, to abstain from participation in an antagonism and not to keep the further development of the conflict.
27. We express hope that split among orthodox believers of Ukraine will be overcome on the basis of existing initial rates that all orthodox Christians of Ukraine will live in peace also the consent, and Catholic communities of the country will promote it, that our Christian brotherhood was even more obvious.
28. In the modern world - many-sided and at the same time united by general destiny - Catholics and orthodox are called bratski sorabotnichat for announcement of the Gospel of salvation, for the general certificate on moral advantage and original freedom of the person, «yes the world» (In will believe. 17:21). This world in which spiritual foundations of human life are promptly undermined, waits from us for the strong Christian certificate in all areas of personal and public life. From, whether we can during a critical epoch together bear the certificate of Spirit of true, the mankind future in many respects depends.
29. Bogochelovek Jesus Christ, our Lord and the Savior spiritually strenghtening us not false obetovaniem will help with fearless announcement of truth of Bozhiej and a salvaging Good message yes to us: «be not afraid, small herd! For your Father had a kind feeling to give you the Kingdom» (Lk. 12:32).
The Christ - a pleasure and hope source. The belief in It changes human life, fills with its sense. All were convinced of it on a private experience about whom it is possible to tell words of apostle Peter: «the people, and nowadays the people Divine there is no time not; there is no time not pardoned, and are nowadays pardoned» (1 Pet. 2:10).
30. The performed thanks for the gift of mutual understanding shown at our meeting, we address with hope to Presvjatoj of Mother Bozhiej, appealing to It words of an ancient prayer: «Under Your favour we resort, Virgin Devo». Let Preblagoslovennaja maiden Maria Svoim predstatelstvom will strenghten a brotherhood of everything, Its esteeming that they in God certain time have been collected in the world and edinomyslii in the uniform people Divine, yes the name will become famous for Edinosushchnoj and the Inseparable Trinity!
---
Source: <https://russian.rt.com/article/148309>