Home
/
Politics and Geopolitics
/
On the national idea
/
Articles
Talking. "I'm a nurse, earning 16 Grand a month"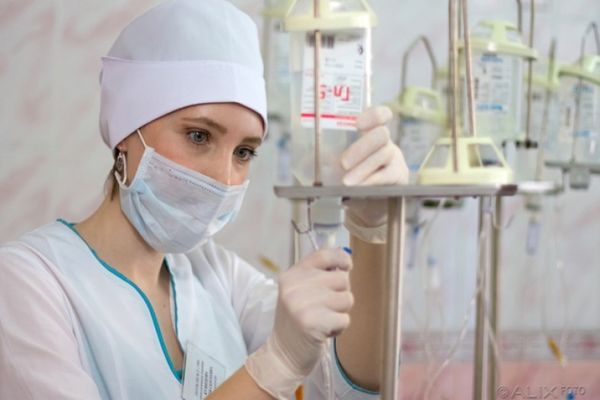 A resident of the Kuban on the condition of anonymity told the "Yugopolis" about how much efforts should be made to district nurse with 20 years of experience to the end of the month to receive a salary in 16 thousand roubles.
On equal terms with the nurse
Curing people is my vocation since childhood, I liked to play with the bottles, to study and collect medicinal herbs. Chose a nurse's job, because in the mid-90s when I graduated from high school, enroll in med school I did not Shine — my family just didn't have money for the "entrance fee". So I went to med school. Here at admission also had to pay 600 thousand rubles. A decent amount, considering that loaf of bread at that time cost 2 thousands, if not mistaken.
He graduated from medical school in 1997, received the diploma nurses in General practice, which gave the right to work in the clinic, and in any Department of a hospital. I wanted to work in the hospital, but vacancies at the time was not, and the management of CDH has offered me a place nurses in the clinic.
Then and now nurses is the most in demand in the municipal and public health. But in the 90s and early 2000s nurses lacked in the first place — in clinics. Because in the hospital you worked your shift and went home. And in the clinic, your work goes with you.
The first years I worked with specialists, laboratory, vaccination and treatment rooms, avoiding places the district nurse. Because then her salary is almost equal to the salary of a nurse. First in the early 2000s received 800-850 rubles a month, the second – about a hundred rubles less. The requirements for both are not comparable. Nurses, by and large, need only keep the premises clean, medium — work an appointment with the local doctor, fill out a stack of papers, to visit patients at home, etc.
And in 2006, after Putin decided to pay for the work of district nurses and of General practitioners and pediatricians, respectively 5 and 10 thousand rubles (they subsequently became known as "presidential"), I went to work the doctor. Net of income tax, my salary has reached 7-8 thousand rubles.
From 1 January 2012, the then Governor of Kuban Tkachev "planted" the social workers a bit more money, the district nurses — 3 thousand rubles.
However, few have reported that we took away virtually all local payments, so we do not really have benefited from the "Governor".
We are not subservient
I teach kids from 0 to nearly 18 years. By the standards of the norm the pediatric area – 800 children on my 900. The doctor working in shifts – from eight in the morning, or hour of the day. My working day is 7 hours and 42 minutes, of which half an hour – lunch time. However, I never managed to dine in all the years of practice, because it is physically impossible – the patients too much. Besides the sanitary standards in the office not to eat or drink tea, coffee, are allowed only water in bottles. Dining room or reception rooms we have no food, so the lunch break for nurses is a mere formality.
The reception lasts 4 hours. I have come to work 15 minutes early to prepare the room: ventilate, wipe the surface with descrestion, turn on the quartz lamp, to handle a changing table. Then go to the reception for the first batch of pending patient records and test results that come from Krasnodar.
A few years ago during one of the reception we provided medical care to approximately 25 young patients. Now it cannot be that for the reception we received less than 30 people. In summer, reaches 70 patients in four hours. The Ministry of health has approved the standard industry norms of time for initial reception of the child — 15 minutes. If you follow these recommendations, in one step we can take 16 patients, 20 – if you reduce the time to 10 minutes. But then what to do with the turn in the hallway? Five minutes with one patient will not conduct to the office door began to break mother screaming: "Doctor, why so long?"
The birth rate is increasing, pediatricians and nurses are not enough, and our office, instead of having to push a bill to raise the salaries of medical workers that would attract health care personnel, decides how many minutes to spend on patient acceptance.
Nurse "sorts" part, as in war: severely ill — go ahead. I'm exaggerating, of course — seriously ill children from hospitalitynet. To us, basically, come to the vaccine, colds, colic, for references to various institutions, etc. However, I have to divide patients into groups and call them according to the standards. Precedence should go to children with fever who were enrolled in a vaccination within netcalendar and children with disabilities.
But what if half of the children with a temperature, and the second half came on a shot? Will not cause a child with fever – his condition may deteriorate, you're not the first kid who needs to be vaccinated, he may become infected by that fever, and then from vaccination useless.
Talking. "I'm a nurse, earning 16 Grand a month" Russia, You stay here, donapost, Medicine
Before the beginning of the epidemic season for influenza at the end of last year, we did a lot of vaccinations, but children with SARS are missing. Sometimes temperaturewhich so much that standing in the hallway like a fool, and don't know whom to call first. In the end, cause at first those who have a thermometer (I distribute them at the start) shows 39 degrees.
This offense mother, whose children the temperature half a degree below, as well as parents, leading children to checkups after the disease, justly reproached us that their child may get sick again, will wait until their turn. To calm parents, we have to speak with them as with children: affectionate, puppy-dog looking eyes. Otherwise they immediately call on the hotline of the regional Ministry of health, that gives us a headache.
But sometimes their rudeness over the edge, and then threatening to call "where necessary", we propose to apply directly to Putin.
Maybe then something will change and the clinic will send additional medical staff. But this is science fiction.
We are required to take the entire queue, "tail" can be left out. About an hour before the end of the shift the Registrar tries to us no more to send, but only if the emergency temperature, for example. But some patients manage to come five minutes before the end of the reception and demand to be accepted. They show for the remainder of the queue of five people — no effect: "You have to, I have a sick child!" That is, they did all their work, and a visit to the doctor left then, but we are obliged to accept them. And the fact that my children are in kindergarten and 15 minutes left before it closed, they don't care.
Generally arrogant parents. They think we owe them. Have to explain that we were not their underlings, and the same people, like everyone else, and after work want to go home to family, not to linger due to the fact that somebody overslept the time of admission.
Go to sleep after midnight
Responsibilities of a district nurse — in bulk. After working a shift at the clinic, the remaining 3 hours 12 minutes I have to spend on the site. By the standards of the day need to visit at least five patients. But how to do it in three hours if they live in different parts of the city? While one drive on the bus (the machine is given only the doctor and the public transport is paid for out of their funds), half an hour passes, and his need to see mom to talk, perform medical procedures that are assigned to a pediatrician. It is clear that during on site visit time, no one fit.
The most time consuming patronage — visit newborns at home. Until the child turned one month, I have to visit him every week. Then another five months — once in two weeks. Sometimes in a month on my site is born of 10-12 children. They added to what is already there, and then I almost of the night running around the site. Over the years of this running has earned varicose veins.
Children after vaccination is another numerous category of my players. Part of the national vaccination calendar is done repeatedly in certain periods of life. The reaction to them can sometimes be somewhere on the second day, somewhere from the fifth to the seventh day, sometimes on the tenth day. And I have to get all the kids to check up on her.
My duties also include regular visits to socially disadvantaged families in the area. This should be done at least once a week, while on vacation — every day. I come to these family, look in their fridge, making sure there is food in children are not frozen they live there at all. Unpleasant procedure, to admit. At the same time I for her not a penny underpaid. And I have to plot three such families.
During work on the site I need to write in the card baby, but I just don't have time. Have to do this job at home, after I feed the family, do some work around the house, check the homework in the older child, put younger. Go to bed well after midnight. After all cards from the site – this is nonsense, we still have to write to the cards of those children that were at the reception.
And then there are a dozen journals that I must maintain. For example, the monthly journal of planning, vaccinations, annual planning of vaccination, journal of preventive work. The latter is generally a throwback of some kind. Why is it needed? You this work and spend so orally whenever we communicate with parents. The themes are the same: the advantages of breastfeeding, prevention of influenza and acute respiratory viral infections, intestinal diseases, value pripravimo, massage, gymnastics.
Passport of the pediatric area is also annoying: why in this observation table for children under one year? We recorded all their data in the card. Or require a duplicate in the log information about what number and what the narrow specialist child went, what diagnosis was put by the doctor. These data are available in card and dispenser worksheet are entered into the computer.
Much confusion with documentation on the newborn. The card for the child needs to have a clinic, but due to the limitation of the budget guidance requests that parents bought them for their own account. As a result, all cards unsuited — one notebooks, one notebooks, all different sizes and thickness. Once one mother got a card with multiple we need graphs and tables. So we otkserili and now when the copy ends, ask friends, acquaintances, and good-natured parent to do still. Our copier in the clinic forever, broken or idle for lack of paint. We insert these sheets in a notebook, and a already breathing easier.
Card making, decorate, line and fill all boxes. Then I enter it in all the magazines in the passport section, with about 15 tables that also need to fill; in the census in the journal policey of the census, census of population for years... Besides, I need to have child 63-th form — it's vaccination card. It takes about 40 minutes. And that's just one child.
Talking. "I'm a nurse, earning 16 Grand a month" Russia, You stay here, donapost, Medicine
Generally, the paperwork we have to do during the reception, but this is unrealistic. Somehow my pediatrician, at the very beginning of his career, tried to do everything "right" according to the requirements of the Ministry of health, but the parents quickly weaned from this: who will agree to wait 15-20 minutes, make another person's child? It would seem that computerization was supposed to simplify our work, but it has added: we now keep records in electronic and in paper form.
Standard salary
The salary of the district nurse number of patients does not depend on appointment of 10 persons or 50 — accountant no difference. There are certain standards, doing that a hundred percent I get my 16 thousand rubles, "pure", of which about 7 thousand "presidential" and "Governor" (net of tax). For example, if I carry out the plan of examination on 100%, I will pay 900 rubles, less than even a percent — 0 rubles. Do immunizations 98-100% of the plan — will get 900 rubles, less than 98% is 0 rubles. Will pass at least 5 kids a day will take 1000 rubles, will be disciplinary action — again surcharges to be seen.
In this case, my salary — nurse with 20 years experience is less than 6 thousand rubles. It's about $ 100 at current exchange rate. Humiliating!
Nothing to be surprised that the medical staff runs out of health clinics in private medical centers — they are many in the city. However, their open doctors that used in the CRB worked, nurses with a calling. Salary there is a third more and work significantly less.
I recently also got an offer to go to work in a private clinic, and inclined to accept it.
Oksana Fadeeva
Source: http://www.yugopolis.ru/articles/razgovorilis-ya-medsestra-zarabatyvayushaya-16-tysyach-v-mesyac-102582