Home
/
Politics and Geopolitics
/
On the national idea
/
Recommended
Repko S. I. The Chronology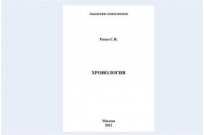 Scientific monograph reveals the content of the main chronological systems events 1200-1302, the history of Russia and other States, the geopolitics of the continental control center in Genoa. Analyzed information war on the falsification of history Х111 century, the false myths of Russian history.
Repko S. I. The Chronology. – M.: Academy of geopolitics, 2012, 240 p.
UDC 94(3)
BBK 63.3 (0) 4
(Cron)
Full book can be downloaded from the author's website.