Home
/
Politics and Geopolitics
/
On the national idea
/
Analytics
Russia in the mirror of international rankings: year 2011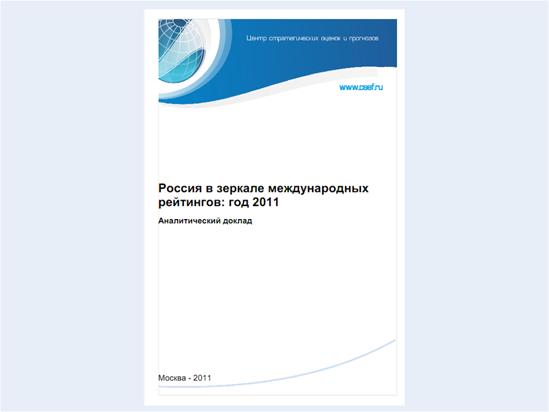 Material posted: -
Publication date: 11-06-2011
Russia in 2011 – this is the average country (by the standards of the UN) having a number of negative trends in the economy, socio-political, social and other spheres of society, which leads to gradual deterioration within the foreign policy situation and the decline in international rankings. Improving the international position of the country is possible only as a result of deep and comprehensive reforms and modernization of the main spheres of Russian society.
The modern world is dynamic and multifaceted. Try to engage in planning and forecasting its development relying on traditional techniques and methods it means in advance to agree with the excessive complexity of the process, when the receipt of the result of the world situation may change dramatically. That is why in recent years so widely the development of various indices and ratings.
The development of such integrated assessments can be used for organization of control of complex systems of modern society. Visual indices, to allow wider participation of the expert community. And although in recent years the ratings and indexes seriously "stained" their reputation, when it turned out one of the tools of manipulation in the hands of unscrupulous businessmen and became one of the factors that exacerbated the already difficult situation in the global economy, however, they remain a tool for efficient and visual demonstration of the slice of the current development of society, economy or state.
Analysis and evaluation of a number of such integrated assessments shows that in recent years Russia and Russian business continue to roll through the hierarchy of the rating system is kind of different indices and rankings. You can talk about the imperfection of methods of forming one or another index or ranking, but when the vast majority of integrated assessments suggests that the situation in the country deteriorates, this is an alarming signal.
Sustainability trends suggests that often the measures taken to stabilize the situation in the country are operational and are not consistent with the long-term trends of development of society. This leads to the fact that, correcting the immediate situation and without deciding the question of principle, in the future we may face increased problem. Offer readers as the illustrations themselves to appeal to the most popular international integrated assessments and to assess the current situation in Russia and Russian business.