Home
/
Politics and Geopolitics
/
On the national idea
/
Articles
Scenarios of development of Russia: total recall...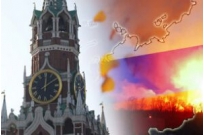 To begin economic reforms, which are inevitable for Russia, the political elite and society first must decide "what kind of country we are going to build". This will be discussion in the international club of experts "Valdai", a regular meeting which opens on 22 October 2012 in St. Petersburg.
In discussions with them will include representatives of the Izborsky club, whose experts develop the idea of Eurasianism as an alternative to liberalism.
Discussion between experts of different ideological persuasion is expected on the second day of the meeting of the Valdai club. On behalf of the Valdai experts dispute will lead Sergei Dubinin, Chairman of VTB, the head of the Central Bank in 1995-1998 on behalf of the Izborsk club – Sergei Glazyev Executive Secretary of the Commission of the EurAsEC Customs Union, one of the leaders of the Motherland bloc in 2003-2004
Prepared four scenarios of possible economic development of Russia in the next ten years. It is scheduled to present at the world economic forum in Davos.
In this regard, we recommend the readers to read articles with our author, which was written 10 years ago in 2002, and which were also analyzed 4 possible scenarios of development of the country and their reflection in the message of President RF to the Federal Assembly 2002 the article was announced under the title "the Sign of four" but in the journal "Energy East" № 6(9) 2002 published under a different title – "Our future in dreams and in reality".
It seemed to us interesting comparison of predictions of a decade ago, perhaps somewhat naive and incomplete, with the existing reality. Maybe something can be useful to current and future futurologists, especially if they compare their predictions with today's reality by 2022.
A. Fomin, "the Sign of four.Four variants of Russia's development and their reflection in the President's address to the Federal Assembly", 2002