Home
/
Politics and Geopolitics
/
On the national idea
/
Recommended
Shabaga A. V. "the Historical subject in search of his I"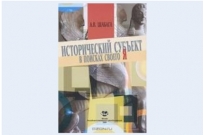 The book discusses the problems associated with the methodology of the study of the historical identity of the subject, and justifies the study of social processes in the paradigm of social chronotope and the social window. The work pays great attention to the teleological aspects of the evolution of identification processes, as well as issues of typology of the phenomena and effects of the identity of historical actors. The work contains many interesting illustrations of the processes of evolution of the historical actors.
Designed for professionals and students studying social philosophy, sociology, history and international relations theory.
Publisher: Publishing house of Russian University of friendship of peoples
ISBN 978-5-209-03160-4; 2009