Home
/
Politics and Geopolitics
/
On the national idea
/
Articles
"Rokhlin's murder was not household"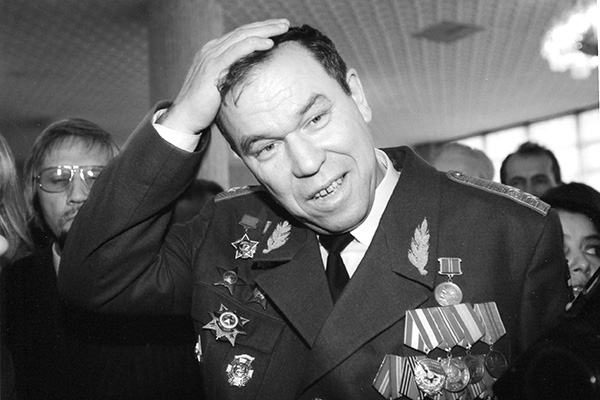 The deputy of the Supreme Council of Latvia Victor Alksnis about the 90th years.
"Lenta.ru": the Member of the Political bureau of the Central Committee of the CPSU, the first secretary of Communist Party of Latvia Alfreds Rubiks at press conference has declared on August, 19th, 1991 that welcomes GKCHP «not only with pleasure, but also with pride» and that «it was dream of our Communist Party». And you remember that day? What occurred in Riga?
Alksnis: today nobody speaks About it, but Latvia was unique union republic where GKCHP has won. The message on the committee creation, sounded in the morning on August, 19th, 1991, has caused shock and trembling in a management. They have seriously believed that now GKCHP will start to put things in order in the country, and to it in this situation not pozdorovitsja. The commander of that time of troops of Baltic military district Feodor Kuzmin later to me told, how in the morning on August, 19th it was called by the chairman of the Supreme body of Latvia, the former secretary of the Central Committee of Communist Party of Latvia on ideology Anatoly Gorbunov and has started to convince that it was and remains the communist, is ready to execute strictly the Constitution of the USSR and the committee order. After Gorbunovym other heads of "independent" republic have started to call.
On August, 19-21th the Riga OMON (all about two hundred fighters) has taken over the control of almost all major objects, including Ministerial council of Latvia. The most remarkable that these days nobody left on streets of Riga and other cities of republic to protest against GKCHP. Supporters of secession of the USSR sat on houses and scaredly waited, than for all of them it will turn back.
On August, 21st the OMON has planned a capture of last strategic object of Latvia - a building of the Supreme body of republic. But from Moscow news has come: members GKCHP have departed in Foros to Gorbachev to surrender. The OMON has departed on the base in suburb of Riga and has occupied all-round defence, having declared that will not surrender. From Moscow the order to military units of Baltic military district and marines of the Baltic fleet has arrived to disarm mutineers. In military units fermentation has begun, officers and soldiers refused to disarm the companions as whom they considered as heroes.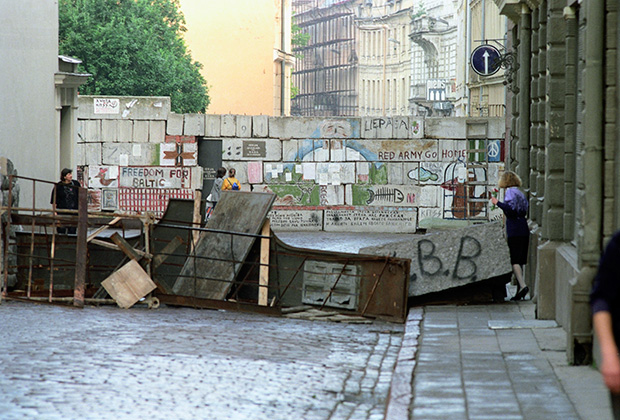 Barricades in streets of Riga
There is an opinion that if not Yeltsin those days, Latvia would be now autonomous republic as a part of Russia.
After the army and fleet have refused to execute the order, the situation has started to "be shaken", there was a danger of military mutiny. That it not to admit, Boris Yeltsin takes off for Riga with a blitz-visit. As a result of negotiations with a management of Latvia the arrangement on amnesty to all staff of the Riga OMON and its redeployment on territory of RSFSR to Tyumen has been reached. Planes of military-transport aircraft have been directed to Riga. OMON fighters with families by buses, with the weapon and combat material have passed through all city on airdrome. By cars there were headers «We still will return!», and on sidewalks there were hundreds the people, many cried.
Despite of the reached arrangements on amnesty, on fighters of OMON hunting has begun. After inquiry of Latvia (under the order of the Public prosecutor of RSFSR Stepankova) in October, 1991 has been given out the first the assistant to the commander of OMON Sergey Parfyonov whom the Latvian court has sentenced to four years of prison. Simultaneously Stepankovym have been given out warrants on arrest and delivery of Latvia some other fighters, but they had time to leave base of OMON in Tyumen and some years disappeared.
The head of department of the State Office of Public Prosecutor of the USSR Victor Ilyukhin who has raised against Gorbachev in 1991 business under article «treason to the Native land», wrote in the memoirs: «Gorbachev has betrayed Rubiksa, has betrayed the Riga OMON, public prosecutor's workers in Lithuania and Latvia, till the end of remained true to the Union and legality». You agree with this estimation?
Yes, Gorbachev has betrayed Soviet Union. After all it was the president of the USSR, the higher official of the state. Considering realities of those days, and also positions of the constitution of the country, it possessed huge powers, but the finger about a finger has not struck to carry out the presidential duties on protection of the Organic law of the state. He always ducked out and tried to shift it on others. He betrayed everything, including the friends and the colleagues entering into its nearest environment, for example - the former Minister for Foreign Affairs of the USSR Edward Shevardnadze who was, probably, the most its close friend and a companion.
SHevardnadze not itself personally formed and put into practice self-destructive foreign policy of the USSR of the end 80 - the beginnings of 90th years. He conducted Gorbachev's line. Nevertheless, when group "Union" and personally I throughout one and a half years consistently and methodically "wetted" Shevardnadze and have achieved its resignation in December, 1990, Gorbachev has never supported also protection of the friend. It has simply handed over it, as handed over other people and before, and after.
In January, 1991 I was the committee-man of national rescue of Latvia. At session of this organisation I personally had to observe, how its chairman Alfred Rubiks called on the governmental Vch-communication (the closed system of governmental and military telecommunication in the USSR, using high frequencies - a comment of "Lenty.ru") to Gorbachev and co-ordinated with it our actions. Though I perfectly understood that itself the president of Soviet Union represents, at the beginning it was surprising and opposite to me, when after those or other events in Latvia, co-ordinated with it, he publicly declared that anything about it does not know and has learnt about them just.
Victor Alksnis acts on meeting of the protest against decisions of the Supreme body of Latvia, 1990
Gorbachev has betrayed members GKCHP who on the eve of events have arrived on August, 19th, 1991 to it in Foros for the coordination of plans of introduction of state of emergency. After all he has told it: «Lines with you, operate! And I am sick». Members GKCHP happy that the incapable will not operate in a critical situation Gorbachev to supervise over introduction of the state of emergency, received from it the consent to its introduction, have departed to Moscow. The president already wrote down at this time the statement in which repudiated from committee - just in case on video.
In the morning on August, 23rd after a failure of GKCHP Rubiks has been blocked by insurgents of the Popular front at itself in an office in the Riga building of the Central Committee - to arrest him they did not dare, being afraid of reaction of Moscow. Vch-communication in an office still worked, and he has called to the Kremlin to Gorbachev, after all Rubiks was a member of the Political bureau of the Central Committee of the CPSU, as a matter of fact - the inhabitant of heaven. For some minutes in a tube silence has hung, and then the secretary has told Rubiksu that the president will not talk to it and has asked not to call any more.
You knew the minister of the Ministry of Internal Affairs, participant GKCHP Boris Pugo? In memoirs Gennady Janaev writes that Pugo has not committed suicide, it have shot. What do you think of it?
In a situation with Boris Karlovicha's so-called suicide really a lot of not clear. How much I knew it, it was the good, pleasant person in dialogue, besides very kind. I sometimes was surprised, how with such character he has managed to hold so high posts demanding absolutely other qualities, especially in respect of rigidity.
As it is represented to me, commit suicide and admit death of the wife the person of absolutely other morally-strong-willed qualities which Boris Karlovich did not possess could only. It is possible to assume that his death is included into the tragical list of mysterious death of several high-ranking functionaries of the Central Committee of the CPSU which have finished the course of life right after failure GKCHP.
When you last time were in Latvia? How, in your opinion, life in 90th years there has changed?
I have left Latvia in October, 1992 and after that there was not. Then I have been dismissed from numbers of the Russian army where served as the senior engineer-inspector of a combat training division of an Air Force Staff of the Northwest group of forces (the former Baltic military district). On the eve of dismissal I was invited to itself by the chief of a special staff division (military counterintelligence) and has informed that according to them against me criminal case under article «treason to the Native land» the criminal code of the Latvian Soviet Socialist Republic (at the Latvian Republic of the criminal code at that point in time yet was not) is brought.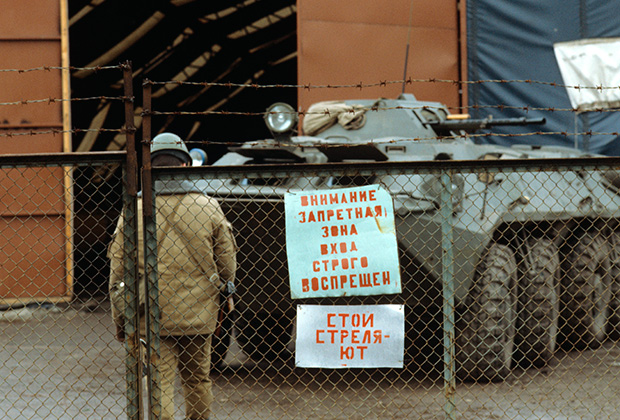 Base of the Riga OMON. A photo: Sergey Titov / RIA Novosti news agency
As I at that point in time still officially was the military man of army of the foreign state me did not touch. But me have warned that as soon as I will receive documents on dismissal and I will turn to the usual citizen I will be held back. It has recommended to me immediately to leave Latvia as I and have arrived.
«Treason to the Native land» to me have made for my deputy and political activity directed against an exit of Latvia from structure of the USSR. What now a situation with this criminal case - I do not know. Since 1992 I remain the persona non grata as I continue political activity, according to the Latvian authorities, causing a damage to the Latvian Republic. In Riga there lives my almost 90-year-old mum and the sister, my father on which tomb I was not 23 years in the same place is buried.
Latvia for years of independence has achieved that? It obezljuzhivaetsja in the face of, process of departure for the PERMANENT RESIDENCE in more safe countries already reminds flight. In 1992 in Latvia lived 2 643 000 persons, and in 2015 - 1 973 700. In Riga in 1991 lived more than 915 thousand persons, and it was going to become a city-millionnikom, and in 2015 remains all 640 thousand.
Last years on the West Latvia leave about 40 thousand persons annually. On the official statistics, more than 10 percent of citizens of Latvia are born in Great Britain, on informal, this figure twice is more. Today the state debt of Latvia is that that for its repayment each inhabitant of the country should give not less than 5 thousand euro. In the Latvian Soviet Socialist Republic in government sphere worked 8 thousand persons. In independent Latvia today such officials of 60 thousand!
On a standard of living this country has not reached till now level of the Latvian Soviet Socialist Republic of the sample of 1990 where was about 500 enterprises which most part exported production, including to the western countries. Now the majority of these enterprises is not present, and Latvia from industrial republic where the hi-tech industry was an economy basis, has turned to the country living at the expense of external loans with accumulation of debts (on the average on billion dollars a year). Almost all national economy is under control of the foreign companies, first of all the Swedish.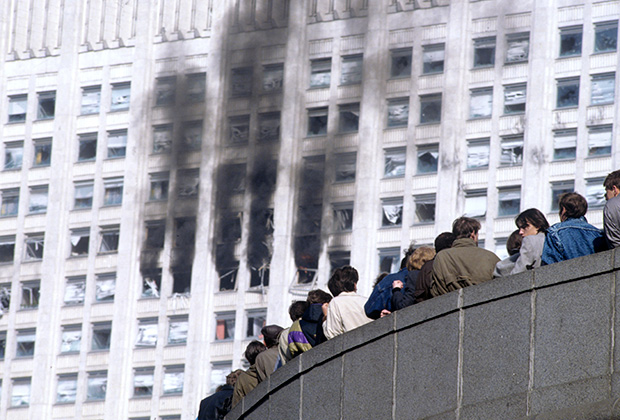 In 1993 you take active part in Yeltsin's opposition and Houses of Councils. Why on the party of Councils? You passed on operative reports of the Ministry of Internal Affairs as one of organizers of mass protest actions in streets of Moscow. What was most of all remembered?
When on September, 21st, 1993 Yeltsin has published the notorious decree about dissolution of Congress of People's Deputies of RSFSR, I did not have doubts that is attempt of revolution to which should be counteracted. For this reason in the evening on September, 21st I have arrived to House of Councils and took active part in the subsequent events.
I was the ordinary participant, all the days long have conducted not in the White house where came to have a sleep only on a floor, and in streets of Moscow. Basically was engaged in propaganda and propagation, organised meetings and demonstrations. I on a breast had a badge of the People's Deputy of the USSR, tens people approached to me, I told it about an event and urged to counteract state revolution. Agitated military men blocking House of Councils and militiamen, explained them a situation, warned about responsibility for participation in revolution.
The technology was simple. I approached to a chain of military men, it was represented: «I the People's Deputy of the USSR colonel Victor Imantovich Alksnis. Who at you here the senior? Will invite him, please». The officer approached, I was again represented and it asked it to be presented too, having control over a notebook and the handle. It was remembered that more often officers were represented by Ivanovs and hid the real names. It made very strong impression upon soldiers who started to understand that it looks crooked.
I began conversation with the officer in the presence of soldiers, and, as a rule, in the answer one sounded - «we people military men, to us have commanded». That is interesting, any attempts somehow me to neutralise from the authorities was not undertaken, though my activity was appreciable.
On September, 29th me all the same have caught. In the evening at an input in underground "Krasnopresnensky" protest meeting has been appointed. Has arrived on station, and there on a platform shouts and cries: above commits atrocities OMON, exhausts people in the underground. I had a megaphone, I have urged all to go on station «Street of 1905» and to collect there at a monument. Gradually the people began to arrive, and I have led people behind myself to block street Red Presnya.
We expected that the OMON will attack from the White house, but it has appeared with opposite and has there and then started to knead people bludgeons. I could be harboured in the underground, but have shown unnecessary heroism, have started to shout in a megaphone: «All to depart in the underground!», and itself through crowd has rushed towards to militiamen, shouting: «Stop! Same peace people!» Has there and then received two strong blows to the head and a neck and has failed on asphalt.
As eyewitnesses then told, OMON fighters have begun me lying on the earth without consciousness, to beat feet and bludgeons. Fortunately, I did not feel it, having received omonovskuju "anaesthesia". Has regained consciousness minutes through ten. I lie one in the middle of empty street (the OMON has surrounded encircling territory) and I hear: «Alksnisa have killed!» The head is ill and hoots, a body too, anybody does not approach to me. I feel that the person I lie in a pool, has tried a hand - sticks, has understood that it is blood.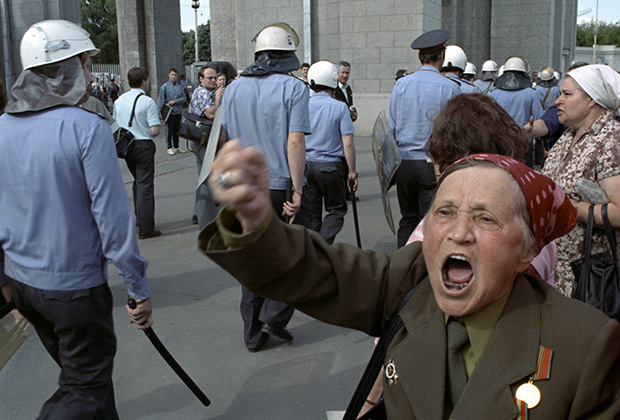 Collision of OMON and oppositional demonstrators on the area of the Riga station
At last the OMON chain has parted, and to me have run up some persons, have deduced for a chain and have started to brake the car. Me has amazed that the first, despite of my appearance, has stopped, the driver has helped to set me on a back seat.
In hospital of Sklifosovsky me have examined, have made a X-ray, have imposed on a hand plaster and have offered hospitalisation. But the nurse has approached and has told that it is impossible for me in chamber, - for me the militia has come. Literally in five minutes me have put in an ambulance car and have brought on apartment of my companion of the People's Deputy of the USSR Anatoly Chehoeva. I have spent the night at it, and then with a view of safety me have transported in other place otlezhivatsja. On October, 2nd me all tied up have brought on the Garden ring to a building the Ministry of Foreign Affairs where I have acted on meeting. But felt badly, and in events on October, 3-4rd participation any more did not accept.
Whether there was a hope of a victory? Why have lost?
The hope of a victory was. The power, especially on October, 3rd, rolled on the earth, and there was nobody it to pick up. Alas, anybody from heads of the Supreme body and the ministers appointed it has not fallen outside the limits the White house, being afraid of arrest. But I know authentically that if then Rutsky have arrived to the Joint Staff, the army immediately would pass to party VS.
Employees of the Ministry of safety of the Russian Federation (present FSB) at general meeting have adopted a resolution about transition to the party of the Supreme body and Barannikova waited for the minister of safety of the Russian Federation appointed the Supreme body, but it has not arrived. Instead have sent tens unarmed people to take "Ostankino", that is it is simple on slaughter. And here Yeltsin was not afraid in the night from 3 for October, 4th to arrive to the Joint Staff and to force to begin storm of House of Councils. He has been perfectly informed on Antiyeltsin moods of army, but nevertheless has gone. As a result of its state revolution it has appeared successful.
In the mid-nineties you closely co-operated with the Lion Rokhlin. As far as I know, you the supporter of the version that have killed him on political grounds for military coup d'etat preparation. Tell about it.
Yes, today it any more a secret. Really, Lev Jakovlevich, leaning against huge popularity in army, prepared a military coup d'etat to discharge Yeltsin and it kamarilju. Rokhlin's plan had chances of success, but all kept on its figure. As far as I know, Rokhlin counted on some military units, including its Volgograd case with which he was at war in the Chechen Republic. Still it was supported by commanders of some connections situated near Moscow and units.
Those days in Moscow on the Humpbacked bridge there passed the well-known action of miners. Rokhlin has found sources of financing and expected to bring to Moscow about 20 thousand officers which should join miners and arrange in the centre of Moscow disorders. During them it was planned to grasp the governmental buildings and establishments, having arrested a Yeltsin environment. Besides, into Moscow assumed to enter military men, their primary goal consisted in a non-admission in a city of the military units which have remained true Yeltsin. For this purpose commanders of military units situated near Moscow should block roads to Moscow.
To hide military coup d'etat preparation it was not possible, and Yeltsin on the eve of murder of the rebellious general has said: «We smetem these rohlinyh!» And Rokhlin really "dared". On July, 3rd, 1998 he has been killed on the summer residence. Circumstances of murder so mysterious that allow to draw an unequivocal conclusion that it was completely not household. After that the revolution plan was instantly scattered, among its heads there were no people of the same scale, as Rokhlin.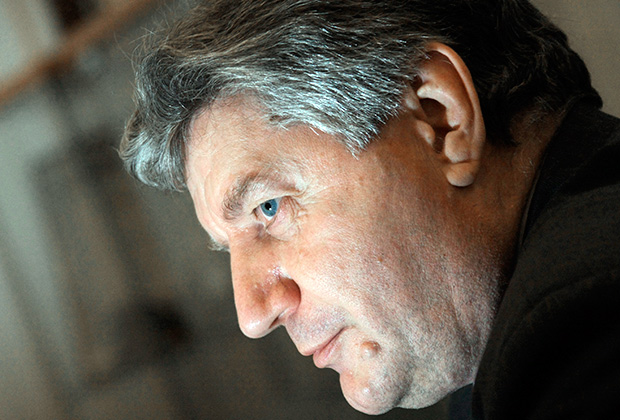 What did Rokhlin collect to do, if Yeltsin's overthrow has taken place?
I repeatedly heard from it that it is not torn to the power. There was a problem only to discharge Yeltsin and its command, and the people by the Constituent assembly choice should solve the further fate of a country. But, in my opinion, if you undertook this business, there is nothing to hesitate: it is necessary to be ready to incur responsibility not only for the revolution organisation, but also for the further fate of a country.
As though you have characterised 90 in your life and country life?
It were years of a great distemper which, despite of today's so-called political stability, as a matter of fact, proceed. After all as then we have gone to a false target so there and we go: development programs at the country are not present, the purposes are not present. Therefore I with pessimism look ahead. Unfortunately, times of great shocks yet have not passed. All of us still live in conditions of the postponed accident. A unique positive - damned 90 have inoculated the majority of our fellow citizens against the western liberalism, and the next years, and even decades, the Renaissance of liberal ideas to us does not threaten.
Alexey Sochnev talked
---