Home
/
Politics and Geopolitics
/
On the national idea
/
Events
The re-establishment of the society of adherents of military knowledge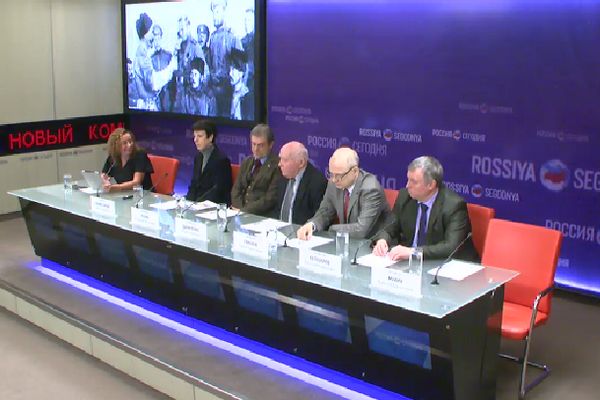 Multimedia press conference on the re-establishment of the Society of adherents of military knowledge.
In press conference took part:
— General Director of the Center for strategic estimates and projections Sergey GRINYAEV;
— General Director of the Center for political information Alexei MUKHIN;
— Deputy Director of the Central Museum of the Armed Forces of the Russian Federation for exposition and exhibition work Vladimir LUKIN;
— major General, Professor, author and supervisor of the publishing project "anthology of Russian political and military thought" Ignat DANILENKO;
— head of the Department of political science Institute of international relations and social-political Sciences, Moscow state linguistic University Vasily BELOZEROV;
— the granddaughter of Russian and Soviet military leader A. Snesarev Anna KOMISSAROVA.

On 21 February, on the eve of defender of the Fatherland Day traditionally celebrated on February 23 in the Central Museum of the Armed forces of the Russian Federation in the framework of the meeting of the Geopolitical club. A. Snesarev was recreated by the Society of adherents of military knowledge, which encompassed military scientific activities in Russia in the period 1896-1914. the Revival of such a public platform should strengthen the exchange of views between the military force, the scientific community, veterans of the Armed Forces and the public concerned.

About understanding knowledge outstanding Soviet and Russian military commanders to evaluate the experience of our enemy in the course of a number of local and regional conflicts, which can be useful for countering new challenges and threats of the modern world, was discussed at a press conference.
---
Source: http://pressmia.ru/pressclub/20170222/951419168.html