Home
/
Politics and Geopolitics
/
Russia - Germany: a new alliance?
/
Recommended
A. V. Vasil'chenko `Secret society of the Third Reich`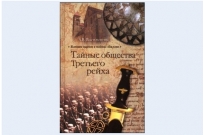 It seems that the history of national socialist Germany thoroughly studied and documented. So far, however, it is possible to find "white spots". A new book by historian Andrei Vasil'chenko devoted to a series of events, which to date has eluded the gaze of the domestic researchers.
Actors become mystics, alchemists, occultists. Politics became intertwined with a mysterious doctrines, attempts to synthesize gold and discover a miraculous cure - a cure. Historical investigation of Andrey Vasilchenko will look at the events of bygone days, from unusual point of view.
ISBN: 978-5-9533-5436-3
Publisher: Veche