Home
/
Politics and Geopolitics
/
Russia - Germany: a new alliance?
/
Recommended
Anton Schindling, Walter Ziegler `Emperors. The Holy Roman Empire, Austria, Germany`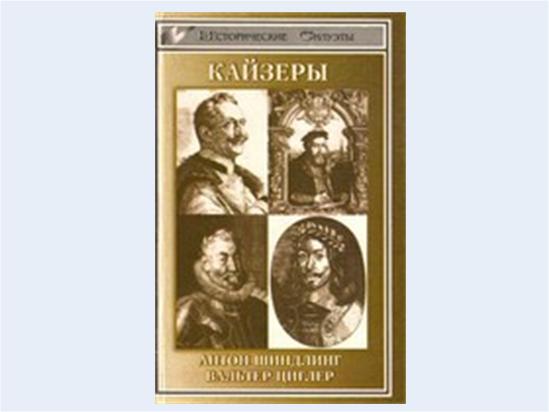 Before you the history of the emperors of the new time. This is not a biography of the chosen from those who wore the Imperial crown, not the history of the dynasty and not the overall history of Germany. Before you historical work is not quite normal. The main intention of this book were two motive. First, the emperors, the life and activities of which are described below in chronological order, in modern times up to 1918 represented the highest state authority over the German-speaking peoples. Never these emperors weren't purely representational figures at the top of the state, which are the most modern monarchs.
Secondly, in recent decades there has been an increasing interest of scientists and publicists both in Germany and Austria and other countries to the German Empire in the form in which it existed in the initial epoch of New time, i.e., since the era of reform Empire at the turn of the sixteenth century to the late eighteenth century. The book offers a wide range of readers.
Publisher: Rostov-on-don. Phoenix
Year: 1997
Pages: 640
ISBN: 5-222-000222-2