Home
/
Politics and Geopolitics
/
Russia - Germany: a new alliance?
/
Recommended
Walichnowski T. `Israel and Germany`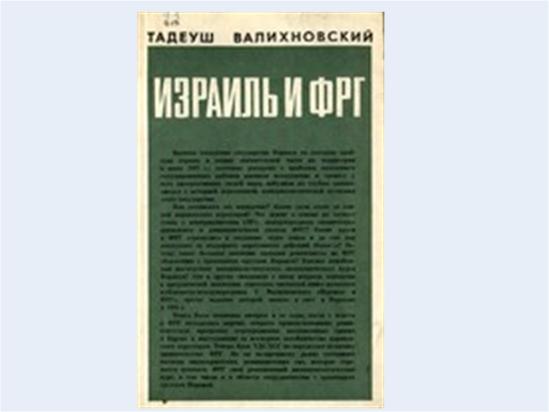 The author proposed to the attention of the Soviet reader book - Polish writer on international Affairs, Peru which owns a number of works on problems related to the revival of West German revanchism. His book "Israel and Germany", published in Warsaw in 1967, within a went through two editions. Currently, the Russian edition of this book is a translation from the Polish of its third edition with some reductions, changes in the text (as well as additions, which set out the events of the years 1968-1970), made by the author for the Russian edition.
The text of the book Preface Preface to the first, second and third Polish editions of her written by the famous Polish historian M. Wojciechowski.

Publisher: Progress (Moscow)
Year: 1971
Pages: 168