Home
/
Politics and Geopolitics
/
Russian-Armenian partnership
/
Recommended
"21st CENTURY", №5, 2012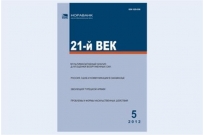 Was published the fifth issue of the journal "21st CENTURY" thematic core to the issues of multiscale analysis of the armed forces (R. Arzumanyan), the evolution of the Turkish army (S. Sargsyan), foreign policy factors and their role in the South Caucasus (Zakharov, D. Babayan), as well as some aspects of political science (V. Soghomonyan, A. Martirosyan, M. Margaryan, R. Melikyan).
Below we present abstracts of articles in Russian and summary in English.

GEOPOLITICS
Hrachya Arzumanyan the APPLICATION of MULTISCALE ANALYSIS of COMPLEX SYSTEMS TO ASSESS the ARMED FORCES AND the OPERATING ENVIRONMENT
Vladimir Zakharov the POSSIBLE ROLE of RUSSIA AND the CSTO IN the UNBLOCKING of COMMUNICATION ROUTES IN the CAUCASUS
Sergey Sargsyan the EVOLUTION of the TURKISH ARMY IN the CONTEXT of POLITICAL CHANGES IN the COUNTRY
David Babayan , the CAUCASUS AND OTHER post-SOVIET REGIONS IN the FOREIGN policy AGENDA of the PRC
SOCIETY
Victor Soghomonyan PUBLICITY POWER: LINGUISTICS OR political SCIENCE?
Arman Martirosyan PROBLEMS AND FORMS of VIOLENT ACTION of VARIOUS INTENSITY (the concept of nonlinear development of political violence)
Mariam Margaryan, Roman Melikyan POLITICAL GR IN the PROCESS of UPGRADING the INFORMATION SECURITY of the Republic of ARMENIA
Shopping: in "Noravank" Foundation Address: Yerevan, str. 23/1 Garegin Nge
Tel: +374 10 44 04 73, +374 93 54 31 71