Home
/
Politics and Geopolitics
/
Russian-Armenian partnership
/
Recommended
Russian-Armenian partnership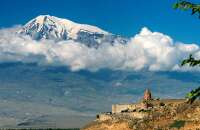 Armenia is Russia's key partners in carrying out a balanced foreign policy, not only in the Caucasus, but also in several other regions of the world. Significant role of the Armenian diaspora in Russia's domestic politics. In this context, the question of cooperation between Russian and Armenian experts, exchange of views between them is essential to deepen mutual understanding. This project actually involves a reflection of results of joint research of Russian and Armenian experts on topical issues of modern society.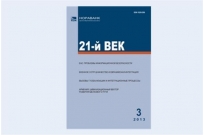 Was published the third issue for 2013. Key the challenges and prospects of integration processes Eurasian (G. Harutyunyan, S. Sargsyan, B. Khoussainov), European (Abisoghomonyan), as well as in the framework of the CSTO (S. Minasyan) or historical retrospect (E. Danielyan). Special attention is paid to the formation of the Caspian region and its characterization (A. Sabirov).
24-06-2013 admin 4540 0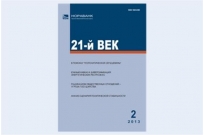 Published the second issue of "21st CENTURY" for 2013. It includes materials on integration challenges and opportunities of the South Caucasus (A. Konkov, O. Nikogosyan, A. Yeghiazaryan, R. Abisoghomonyan), theoretical aspects of the understanding of radicalism and political stability (I. Korzh, A. Martirosyan), as well as international legal aspects of the use of nuclear material for peaceful purposes (A. Aramyan) and some features of the myth about the "great Azerbaijan" (G. Ayvazyan).
25-04-2013 admin 4971 0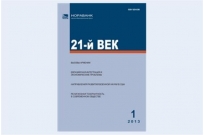 Published the first issue of the journal "21st CENTURY" for 2013. Its conceptual core was publication about the challenges facing Armenia in the globalizing world (G. Harutyunyan), the possibility of Eurasian and European integration (A. Safarian, S. Grinyaev), the forms of economic cooperation on post-Soviet (T. Manaserian) and Chinese (D. Babayan) directions. Special attention of analysts deserve the problems of development of military science in the USA (R. Arzumanyan, S. Grinyaev) and ensure religious tolerance (A. Simavoryan, V. Hovyan).
13-02-2013 admin 5497 0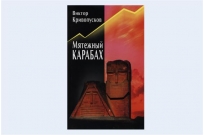 The book is about the dramatic events of the period of Nagorno-Karabakh 1990-1991. The author — a Russian officer, while the chief of staff of the Investigative group of the interior Ministry of the USSR in NKAO, managed to break through the muteness of the troubles in Karabakh and with documentary precision to leave reliable evidence about the participants and leaders of the Karabakh movement and the underground and the MVD of the USSR, the officers and the men of the internal troops, who managed in extreme conditions to combine the performance of duty with the dictates of conscience. Designed for a wide range of readers.
11-02-2013 admin 3441 0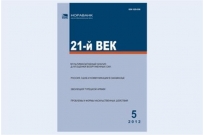 Was published the fifth issue of the journal "21st CENTURY" thematic core to the issues of multiscale analysis of the armed forces (R. Arzumanyan), the evolution of the Turkish army (S. Sargsyan), foreign policy factors and their role in the South Caucasus (Zakharov, D. Babayan), as well as some aspects of political science (V. Soghomonyan, A. Martirosyan, M. Margaryan, R. Melikyan).
23-11-2012 admin 4237 0