Home
/
Politics and Geopolitics
/
The future of Russia and the world: estimates and projections
/
Articles
Energy center of gravity shifting to the East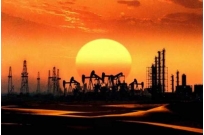 Alexander Oliveira, EY partner, head of group on rendering of services in the oil and gas industry in emerging markets, talked about trends in the oil and gas industry in Russia and prospects of the Asia-Pacific region as a consumer of hydrocarbons and also explained why the forecasts for production and supply of shale gas - a thing ungrateful.
Mr. Oliveira, let's discuss the issue of shale gas revolution. What do you think about this trend and its perspectives on the global energy market?

This is a very good question. When I travel the world and visit various oil and gas companies, this question is in the first place due to the increase of production in North America. I think that there is a tendency to over-simplification of this phenomenon of shale gas revolution. I mean that economic factors are the basis for the extraction of shale gas is much more difficult than people think. There are a lot of different difficulties like known environmental issues and not just cost issues.

Anyway, shale gas and tight oil are much more complex subject than people realize. There are several big assets and companies, who benefit from their huge benefits, but at the same time and a lot of write-offs in shale plays. And it's not the typical easy extraction and exploration, everything is more difficult. In fact, shale gas is a revolution, it has a strong influence on the cost of gas on the world market and even on the price of oil. But in General, this direction is more complicated than people think.

What is the impact of this trend on the global energy market and, in particular, on the European?

As you know, there are big plans for exporting gas from North America as a result of the shale revolution. We advise you to be careful because of economic factors and the experience of companies in the field of shale gas production suggests that it not always makes a profit: in some cases, these projects contribute to increasing debts and losses. Thus, the question is, how long the players of the energy sector will be able to Fund these projects for exploration and production of shale gas. Of course, these companies in addition to shale gas employed in other segments where they are quite successful.

To date, there are projections on the supply of large volumes of gas from North America, but I would advise to companies and countries very carefully and cautiously to treat this direction, to analyze it and to understand how real are these predictions on the supply of shale gas. If those predictions were real, then of course it will put some pressure on gas prices, which is good for economies, but not so good for gas producers. And I strongly suggest to be very careful with estimates and projections: you need to carefully consider each investment in the extraction of shale gas from the point of view of the profitability and benefits of a particular project. I think we need more analysis, more evaluation and estimate of potential yield of shale gas projects.

Why is this trend most relevant for North America and not for Europe or Russia?

There is a whole range of factors. I think any analyst will tell you that the situation in North America is unique, it differs from the situation in Russia, China, Poland, Argentina and various countries with a large potential of shale gas. The reason for this situation is the huge number of entrepreneurs, people who understand the oil and gas sector and want to invest in this area. There is a huge hectares of land in the possession of and right to the hydrocarbons in the earth, and they have incentives for exploration, extraction of these resources and attract entrepreneurs and investments. This contributed to the emergence of thousands of wells in North America and its quest for shale gas.

In North America there is much more information across the country. There are large amounts of capital, money capital, invested in shale gas. Of course, some of this capital has been written off because some projects were not successful. But other volumes of capital left in this direction. If we take, for example, the UK for comparison, as shown by our recent analysis of the economic feasibility of shale gas production in the country, the complexity here is much more: there is a higher population density, a stronger environmental pressure from environmental lobbyists, compared with North America, and the overall performance is lower due to the smaller number of zones maximum petroleum saturation to obtain economic feasibility of extraction.

We have not yet discovered in China, Russia or Poland for the same conditions as in the USA. China recently began slowing work on shale gas projects: for example, Shell recently announced the reduction of work on one of the shale projects in the PRC. Hope in Argentina: some companies, like Petrobras and Chevron, are investing in Argentina. But then again, if you look at economic factors like the cost of shale gas production in Argentina, then here it is still a bit higher than in North America.

It is sometimes said that perhaps in the future North America will be difficult to reduce the cost of shale gas production, but in other countries production costs are even higher. These reasons, along with the number of businessmen and land ownership, are key to the situation that we see with shale gas in North America.

If we talk about the Arctic, what are alternative partners of "Rosneft" or "Gazprom" in these Arctic projects?
To start I must say that the Arctic has great potential, there have been discovered some large fields. But again production there is a very difficult time in connection with high cost and environmental risk. We saw the news about the formation of joint ventures for working in the region, news about development projects. But the situation is quite complicated. The fact that few companies have the same abilities and opportunities to work in the region, as the existing partners of the Russian companies.

So there are issues associated with finding alternative partners. And I think that such partners may make international oil giant Petrobras is one of the examples, or Petronas is another example. I'm not saying that these companies is a guaranteed option, but their level of competitiveness comparable to BP, Exxon and Shell, and they in the past decade actively increase their capabilities and increase capacity. So it's the big oil companies, which have the potential to become an alternative, but we hope that the current situation will be normalized and the current company will be able to participate in these projects.

What do you think, what strategy is optimal for Russian companies in the Arctic in the future?

Working in the Arctic poses large technological challenges. And although Russia has made great efforts to ensure technological capabilities, still many of them are terrestrial, and to work in the Arctic, there are other requirements. And the world's oil giants have the technology necessary for the country to obtain commercial benefit from Arctic resources. Arctic road reserves in production; and it is necessary to understand whether there is and whether commercial sense in the production of hydrocarbons. This is the first question.

The second question is, what are the technologies and service of oil companies is needed for production. We have a number of issues, so the companies are starting from trying to understand the Arctic region and the volume of its reserves. It is impossible to answer all the questions not yet determined the size of the deposits: billions, millions or thousands of barrels, because this will depend on what you need the technology and infrastructure to develop those reserves. So it is too early to say, but I think above all, it requires very advanced technology, and while they are not all there is .

What do you think about European plans for gas purchases? Will Germany deliver gas to other European countries in case of shortages?

Each country has its own EU strategy. I can't speak for them regarding their desires and plans for the future. I can only say that the center of gravity of the energy sector is shifting to the East. This means that for Russia and its companies is very important to improve relations and communication with the Eastern markets, like China, and other Asian countries, like India. For the export of oil and gas there are many opportunities in the East. European future depends on the decisions of specific countries, but, of course, Europe depends heavily on Russian gas, so I'm hoping for dialogue, for mutual understanding, in order for this region has remained important to this country.

What do you think about alternative sources of energy supplies for European markets? For example, Azerbaijan, Iran or shale gas from North America?
We have already raised the issue of LNG supply from North America, and I can only repeat that it is necessary to carefully analyze the possible export volumes from North America. The big question is how much gas you can actually put in North America. As for Central Asia, the ongoing gas exploration in Azerbaijan, Turkmenistan and other countries. And I repeat that the demand is shifting towards Asia, this trend to export and growth.

Forecasts of different organizations suggests that in OECD countries, particularly Europe, will be stable or even declining demand, including in the background of the development of renewable energy sources, like solar energy. So in the future, I think, the main direction for the market is East, and Asia, while in Europe may be reduced or stability. And personally, I don't see a strong distortion of the gas market at the expense of gas from North America. And the volumes that are mined in Central Asia, while not so large to greatly affect the markets for Russia in Europe.

The development of new energy sources depends only on the cost or are there other factors?

First of all, of course, from the cost factor, because every economy strives for competitiveness and cost of energy influences the cost of production of goods and services. So the cost factor is very important. But there is still an environmental issue that must be considered. We welcome some recent initiatives aimed at reducing carbon emissions. Some oil companies have taken steps to reduce CO2 emissions into the atmosphere. In General, the final decision depends not only on economic factors but also on environmental.

Of course, these factors militate in favour of gas, that is, the direction to reduction in the use of coal and increase in gas resources. This should contribute to the growth of demand for gas and reduce the use of coal for energy generation. I see good prospects in the market for gas, particularly towards reducing carbon emissions. The gas occupies an increasing part among different sources of energy, and it is becoming more important in Asia where economic activity than in Europe.

I would like to return to the issue of the shortage of gas in Europe. Are there any prospects of such shortages in the near future, this winter, for example? What to prepare Europe?

Each European country has its own plans. We see the possibility of increasing the use of coal in Europe in the field of energy production, which creates some concerns from the point of view of ecology. I don't see any reason for larger concerns about energy shortages in winter. Currently available large volumes of LNG that can be supplied from other countries, especially in light of some deceleration in China (but may soon be again the acceleration). But given the slowdown in China means lower demand for gas and available volumes of gas can go to Europe. So no big concerns, but some concern is present and actively discuss, as a possible alternative.

The interview was conducted by correspondent of TC "Russia-24" Sergey Batishchev.
---