Home
/
Politics and Geopolitics
/
The future of Russia and the world: estimates and projections
/
Articles
Erdogan admitted the possibility of a new coup attempt in Turkey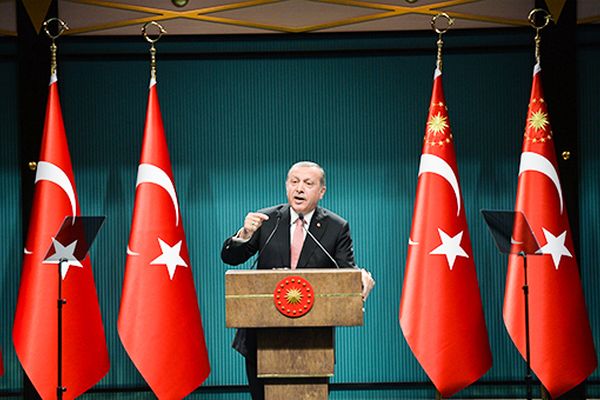 In Turkey can happen a new attempt a military coup, said in an interview with the President of the country Recep Tayyip Erdogan. Previously, the government imposed a state of emergency, suspending the European Declaration of human rights.
Turkish President Recep Tayyip Erdogan in an interview with Reuters did not rule out re-attempted coup in the country. However, he said that now authorities will be better prepared for a possible destabilization.
Erdogan also said that in intelligence work was significant drawbacks. "It is obvious that our intelligence was significant gaps and deficiencies, there is no point in trying to hide or deny it," he said.
The President added that the country declared a state of emergency may be extended more than three months.
According to the President, in a coup killed 246 people, not counting the coup, with 2,185 people were injured.
July 20, erdoğan announced the introduction of a state of emergency for a period of three months. However, he noted that this does not mean the introduction in Turkey of military rule and economic reforms in the country will continue. The introduction of a state of emergency, Erdogan explained the aims of the "protection of democracy, rights and freedoms of citizens and the rule of law." Deputy Prime Minister Numan Kurtulmus told reporters that in the period of the emergency rule to be suspended the European Convention on human rights (ECHR).
The head of EU diplomacy Federica Mogherini and member of the European Commission on issues of neighborhood policy and enlargement Johannes Hahn called on Turkey's government to respect the rule of law, rights and freedoms of citizens in connection with the announcement by the authorities of a state of emergency.
"The EU is concerned about developments in Turkey, where authorities declared a state of emergency and the measures taken in the field of education, the judiciary and the media are unacceptable," — said in a joint statement, Mogherini and Hahn.
As already wrote RBC, during the week that has passed since the attempted coup, were without work more than 53 thousand people, including almost 9 thousand people — MIA 21 thousand workers of education, 6 thousand soldiers, almost 3 thousand judges and prosecutors and 1.5 thousand University deans. In the framework of the investigation of the coup more than 6 thousand people were arrested, including more than 100 generals.
---
Source: http://www.rbc.ru/politics/21/07/2016/579134859a794726d8b9bf29