Home
/
Politics and Geopolitics
/
The future of Russia and the world: estimates and projections
/
Recommended
Estulin D. `the secrets of the Bilderberg club`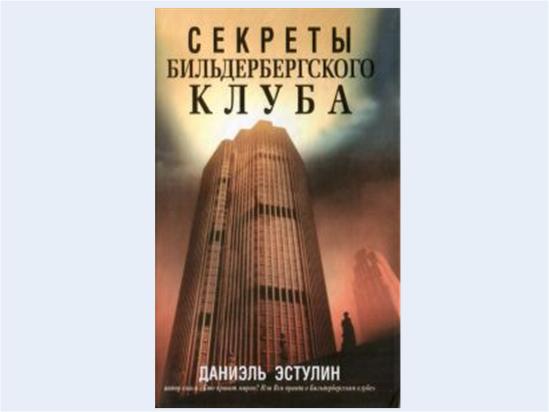 Daniel Estulin has devoted fifteen years to investigate the activities of the Bilderberg club, the most influential secret society. In his new book, he reveals the complex mechanism by which powerful politicians, bankers, Industrialists determine the fate of the world and peoples. For a wide range of readers.
In 1954 many of the most influential people in the world met for the first time under the patronage of the Royal family of the Netherlands and the Rockefeller clan in a luxury hotel "Bilderberg" in the small town of Oosterbeek, to discuss the future of the world. After the meeting, they agreed to meet each year to exchange ideas and analyze international development. They named themselves the Bilderberg club and since then, every year going in one weekend in any hotel in the world. Among the current members of this club are bill Clinton, Paul Wolfowitz, Henry Kissinger, David Rockefeller, Angela Merkel, Jacques Chirac, Donald Rumsfeld, Tony Blair and George Soros, and many other heads of government, businessmen, politicians, bankers and journalists, some of whom are known to the Spaniards, such as Rodrigo Rato, Mathias Rodriguez Inciarte, Juan Luis Cebrian, Joaquin Almunia, Pedro Solbes, Loyola de Palacio, josé Borrell, Jaime Carvajal de Urquijo and Javier Solana.
Bilderberg is not a secret society, but a very official institution, which published a number of articles. However, more than fifty years of meetings, which are attended by the most rich and powerful people of the world, never has leaked information about what they discuss. The press never was able to attend the meetings, and was not made a single report of the conclusions reached by those present.
The secrets of the Bilderberg club / D. Estulin;
translated from Spanish by I. V. Zhuk. — Minsk: "Potpourri",
2009. - 304 p. + 24 p. incl.
ISBN 978-985-15-0812-5.