Home
/
Politics and Geopolitics
/
The future of Russia and the world: estimates and projections
/
Recommended
Muradyan I. "security Issues in near-Eastern policy of the United States"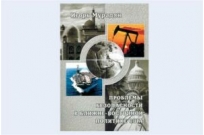 This paper investigates the patterns of development of U.S. policy regarding the Arab-Israeli conflict, U.S.-Iranian relations in the Caucasus and the Caspian.
In the framework of these tasks are considered regional, geopolitical, geo-economic, military–political, ethno-political and internal political problems of different States, their influence in shaping American policy in the region. The work is in the nature of situational and political analysis relates to a small between 2000 and 2002. The author proceeded from the assumption that politics and political technologies of the USA in the region of "greater Middle East" has a decisive influence on the formation of geopolitical situation in the South Caucasus, the fate of which particularly concern the author. The work is designed for politicians, political scientists, analysts.
Series: Miscellaneous
Publisher: Antares, Yerevan 2003
Language: Russian
Softcover, 480 p.
ISBN: 99941-32-01-6
Circulation: 500 copies